Tomatin single malts deserve to be better known. So, we're shining our New Arrival spotlight on a 2009 special bottling from this Highland distillery by Gordon & MacPhail of Elgin.
Poor Tomatin came in for a bit of beating recently. Not only did the Highland distillery lose a court case against the Tomatin Trading Company over its plan to build a multi-million-pound hotel and food/retail village in the town of Tomatin claiming that the development's name infringed on the distillery's trademark but the judge Lady Wolffe stated that the distillery is "not well-known even to the average consumer of Scotch whisky." Ouch!
Only known by aficionados
It got worse, the lawsuit continued: "It is not known by a significant part of the general whisky-drinking public, which is the relevant market. The evidence has established that the reputation of the pursuer's 'Tomatin' brand has not extended beyond the limited class of consumer ('the aficionado') of the pursuer's products."
So in short, you really have to know your whisky to have heard of Tomatin, and not get it confused with Tomintoul or even Tormore, which are both in Speyside. This is a shame as Tomatin's single malts are usually excellent. The 14-year-old finished in Port casks is something of a classic bottling among the cognoscenti, just check out all those positive comments on the Master of Malt site. And its very obscurity means that it offers better value than some of its more illustrious rivals.  
The distillery has had a chequered history. It was founded in 1897 about 15 miles south of Inverness. It's in the Highland region though just on the edge of Speyside. Tomatin means in Gaelic: 'hill of the juniper bushes', so it seems like a missed marketing opportunity that the distillery doesn't market its own gin.
Whisky loch
Originally it had just two stills but its owners added to it over the years so by 1974 it was the largest malt whisky distillery in Scotland with 23 stills and a capacity of 13 million litres of pure alcohol per year. It was terrible timing to get so big with the whisky loch filling up. The resulting bust when it came was terrible for the industry, DCL closed such famous names as Brora and Port Ellen while Tomatin went into liquidation in 1985. It was rescued by one of its Japanese customers, drinks group Takara Shuzo Co who still own it to this day. Tomatin was the first Scotch whisky distillery to be bought by a company from Japan.
The distillery generally produces unpeated whisky though some peated is also made. It's known for its sweet, fruity whisky. Around 80% of its production goes into blends including the Antiquary range of premium whiskies (which are named after a novel by Walter Scott) which Tomatin bought in 1996. This is perhaps why it's not so well known.
Our New Arrival is an independent bottling from Elgin legends Gordon & MacPhail as part of its 'Discovery' series. It was distilled in 2009 and bottled earlier this year at 43% ABV after being wholly matured in ex-bourbon casks. The sweet American oak really complements the orchard and stone fruit flavours of Tomatin. In short, a bottling that demonstrates why Tomatin deserves to be better known. Are you listening, Lady Wolff?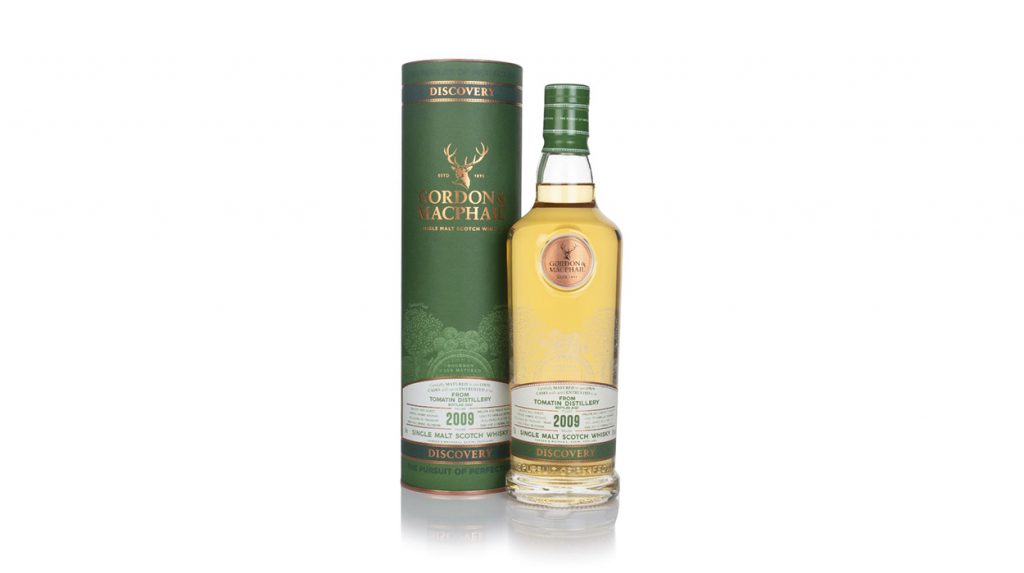 Tasting Note by The Chaps at Master of Malt
Nose: Rich, floral honey and sweet orchard fruits, gentle toasted oak, and silky vanilla.
Palate: Fragrant fruit continues alongside orchard blossom and soft-skinned peaches, creamy vanilla pokes through with a whiff of green oak.
Finish: Sweet, floral fruit, malty caramel with a herbal hint and dash of pepper on the end.
Tomatin 2009 (bottled 2021) – Discovery (Gordon & Macphail) is available from Master of Malt. Click here to buy.