It's all about Ireland this week with St. Patrick's Day coming up and a Slane Special Edition, only the second ever bottling from one of our favourite producers. But that's not all! Buy a bottle and you can win a trip to Slane Castle in Ireland. 
Slane whiskey was created by Alex Conyngham whose family have been at Slane Castle in Co. Meath since the 17th century. Their house is famed for its rock concerts. The first took place in 1981 and 30,000 people turned up to watch U2 and Thin Lizzy. Since then such names as The Rolling Stones, Bob Dylan, Bruce Springsteen, Queen and David Bowie, through to Oasis, Robbie Williams, Kelis, PJ Harvey, Madonna, The Foo Fighters and Eminem have all graced Slane Castle.
40 years of music
To celebrate 40 years of rock 'n' roll, Slane has released a special bottling which is only the second ever release from this brand. Yes, we do realise it's now 41 years but the global pandemic rather put the kibosh on birthday celebrations.
But before we take a look at the new bottling, a brief recap on the history of Slane whiskey. Alex Conyngham's background is in whiskey rather than music. He worked as a brand ambassador for Jameson in Australia. In 2015, he launched his own whiskey, a blend with an interesting triple-cask ageing technique. In 2018, the brand was bought by Brown-Forman giving Slane access to some extremely high quality wood. 
They use a mixture of virgin American oak, heavily toasted and made specifically for Slane at the Brown-Forman cooperage, ex-Jack Daniel's barrels, and finally ex-Oloroso sherry butts. "That's kind of influenced by my granddad, because he loved his ex-sherry Irish whiskeys," Conyngham told us. "The balance between them as we blend back together is where Slane lands."
At the moment Slane is a blend of bought-in whiskey but in 2018 with help from Brown-Forman, Conyngham installed a distillery at Slane Castle. We'll have to wait a bit until we taste something from there but in the meantime, there's a delicious new 40th anniversary bottling to try. 
Slane Special edition is inspired by the 45 rpm single so the quotient of new oak casks has been upped from 35 to 45% making this extra spicy. It's also bottled at punchy 45% ABV compared with the standard's 40% ABV.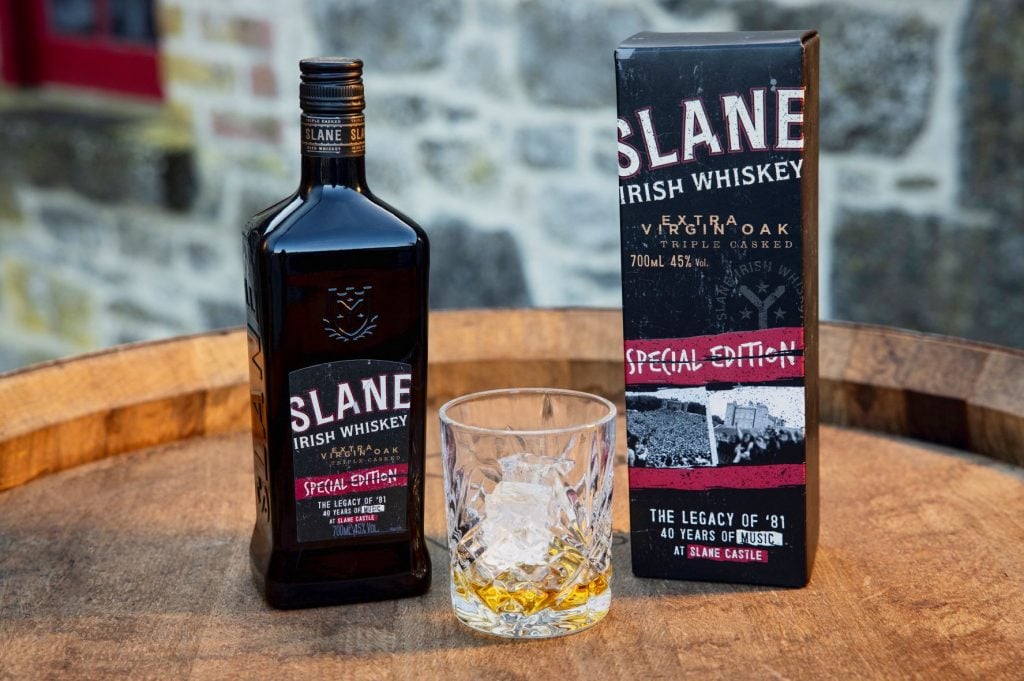 Tasting note for Slane Special Edition
Nose: Bold toasted oak and vanilla spice with subtle hints of orchard fruit.
Taste: Toasted marshmallow and rich dark fruit with layers of oak.
Finish: Warm and lingering with the sweet flavours  of smouldering wood
Sounds pretty tasty doesn't it?
Win a trip to Slane Castle!
Well that's not all because if you buy a bottle of Slane Special Edition Irish Whiskey or Slane Irish Whiskey, you will be automatically entered into a competition to win a trip for two to Slane Castle in Ireland. All you have to do is buy a bottle!
Here's what the prize consists of:
-Standard or economy flight travel for 2 people from an airport closest to the winner's usual residence in the United Kingdom to Dublin Airport in Ireland;
-Standard accommodation one double room in Slane at the Slane Castle for one night for two people (subject to availability and to be arranged by prize provider); 
-Complimentary Slane Distillery tour including whiskey tasting for 2 people at Slane Distillery;
-Complimentary dinner for two people on the night of arrival;
-Complimentary breakfast at the Slane Castle on the next morning for 2 people;
-Complimentary transportations to Dublin Airport from Slane on the return leg
-Complimentary Walking Tour at the Rock Farm Slane – for 2 people (subject to availability).
Sounds pretty amazing doesn't it? All you have to do is buy a bottle of Slane Special Edition or Slane Irish Whiskey and you will be automatically entered. You must be over 18 to enter and a UK resident, excluding Northern Ireland. Competition opens at 10am GMT on 14 March  2022 and closes at 23:59:59 GMT on 20 March 2022.
Full T&C's below.
Slane Special Edition is available from Master of Malt. Click here to buy.
View Full Terms and Conditions.