Today, we're looking at a brand of rum, Plantation, that announced last week it is in the process of changing its name because of the word's unsavoury connotations. We're shining the spotlight on two particularly interesting bottlings, one from Fiji and the other from Jamaica. 
Before telling you about the rums that have just arrived at MoM HQ, we're going to start with the news that Plantation is in the process of changing its name. "As the dialogue on racial equality continues globally, we understand the hurtful connotation the word plantation can evoke to some people, especially in its association with much graver images and dark realities of the past," says the brand's founder Alexandre Gabriel. "We look to grow in our understanding of these difficult issues and while we don't currently have all the details of what our brand name evolution will involve, we want to let everyone know that we are working to make fitting changes." We will let you know as soon as we learn more.
When you think of rum, your mind probably goes to Caribbean and Latin America, but sugar cane spirits are made all over the world. According to Alexandre Gabriel from Plantation rum (as the brand is still called for the time being), sugar cane which is native to Asia would have been planted in Fiji long before it was brought to the Caribbean. The country is made up of over 300 islands which together have a landmass about twice the size of Jamaica and produce about 160,000 tonnes of sugar annually. The variety planted, which Gabriel calls 'noble cane', was wiped out by disease in the Caribbean in the late 19th century but still thrives in Fiji.  
It's hard to say how long rum has been made in Fiji though. Gabriel thinks it dates back a long time: "You cannot help human beings from making booze, it's been happening throughout the world. It's a rule that's never been broken." He has found evidence of distilling from the early 1800s but thinks it goes back further. 
The distillery that our New Arrival of the Week comes from, however, is more recent. It was built about 50 years ago by the Fijian government at Lautake on Viti Levu, the largest island (which is roughly the same size as Jamaica) to process molasses from the nearby plantations. In 1980, it was bought by a private consortium, the Rum Co. of Fiji. 
As well as using exclusively Fijian sugar cane, Gabriel said: "The yeast you use, how you ferment, how you distill, how you handle it is as important as your raw material. The sense of terroir in a holistic way including the local know-how that perpetuates itself from that one generation to the other." He then filled us in on production methods: "The Rum Co. of Fiji uses both wild yeast and cultured yeast, depending on what they're trying to achieve." Fermentation of the molasses takes around five days depending on the batch. The distillery has two pot stills, both adapted with double retorts to produce rum by John Dore & Sons, and an old column Canadian column still which produces spirit a little over 80% ABV. Gabriel describes the country's style as combining some of the weight and intensity of Jamaica with the elegance and balance of Barbados. 
The team at the distillery are all Fijian except head distiller Liam Costello. An Australian, his background is in wine but he married a Fijian woman and moved to the island: "And fell in love not only with a wonderful Fijian woman, but also with the country and became the master distiller at the distillery," said Gabriel. 
Today, the distillery produces two brands Ratu and Bounty (not to be confused with the brand of the same name from St. Lucia) as well as selling bulk rum. Which is where Gabriel stepped in. He explains: "I met Liam five or six years ago, I knew about his rums and I really liked them. I said one day: 'I think we should do something together' and he says 'yes'. So we kept on communicating until one day he called me and he says: 'You know I sold some of the bulk here and there and I was very often disappointed with what they did with my rum.'"
So Gabriel and Costello hatched a plan to bottle some spirits that will show off the Fijian style to the full. There's a popular blend but Plantation also bottles some special vintage offerings. The latest batch of which comes only from the column still. According to Gabriel, even with just the column, you still get that intensity but, as he puts it "in a very elegant way."
The rum was aged for 14 years in Fiji in ex-bourbon barrels before being shipped in cask to France: "The interaction with the wood and the elements is incredible," he said. This is how rum was shipped in the old days, and Gabriel thinks it really makes a difference and this is apparent not just in taste but through analysis with gas chromatography.  "I can show you a chromatography before and after you've shipped the rum," he said, "the ester elements, the fruit elements are totally boosted, you have wood extractions that's 10% more, just during that journey."  Once in France, it is transferred to old Cognac casks and aged a further year. It's bottled at 50.2% ABV with 4 grams per litre of sugar added. The result is something that is elegant and fruity with notes of toffee, mint, apples and crème brûlée with spicy ginger and cinnamon. A gorgeous luxurious rum that pays tribute to a rum tradition that deserves to be better known.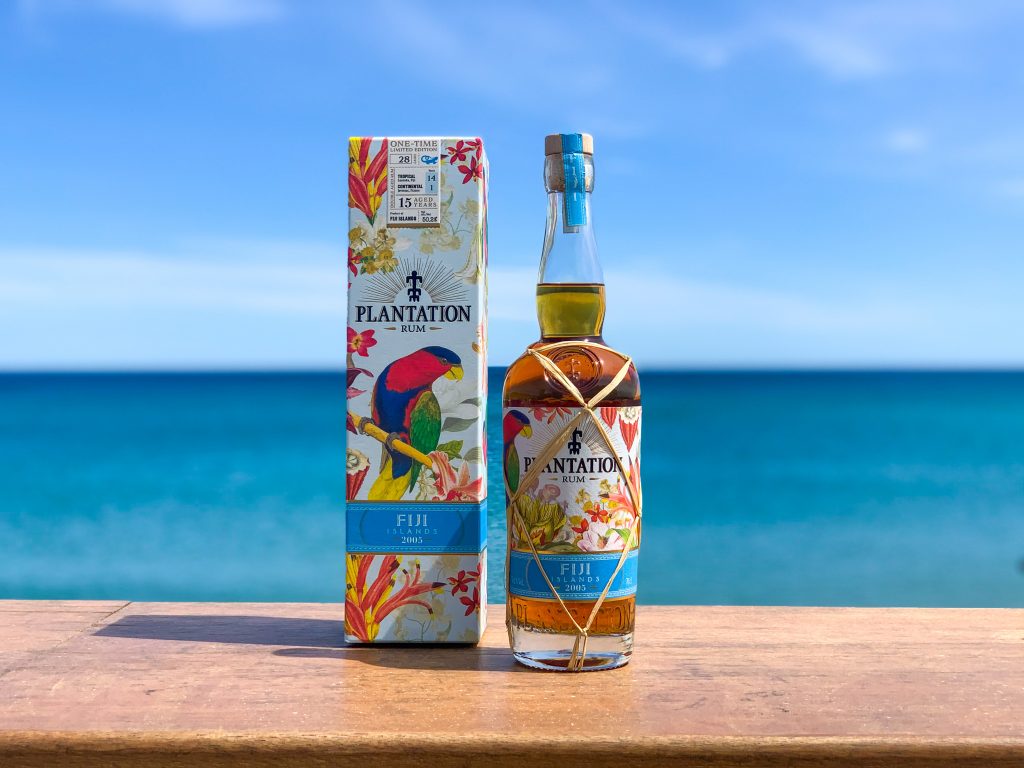 But today's excitement doesn't stop there: in addition to this exclusive Fijian rarity, we've got something very special from Jamaica. It's a rum from Clarendon distillery distilled in 2003. It's a high classic high ester style (422 g/hl)  known as a Monymusk Wedderburn (a designation created in the 19th century by rum blenders) produced from a two week ferment followed by distillation in a Vendome pot still. It's aged for 16 years in Jamaica in American oak before spending a year in Cognac. It's bottled unsweetened at 49.5% ABV. "I do a dosage depending on what I'm trying to showcase," Gabriel said, "Here I wanted to really bring forward this rustic, in a good way, feel". As you would hope, it's packed full of high ester goodness like overripe banana and pineapple melded with chocolate and spice cask flavours. 
So there we have it: two utterly different, unique Plantation rums.
Plantation Fiji 2005 and Jamaica 2003 are now available from Master of Malt.