Glenmorangie has just released a brand new single malt specifically designed for cocktail use. It's called Glenmorangie X, and we put it through its paces behind the (home) bar.
Makers of single malts nowadays will trip over themselves to show how cocktail friendly their products are. They're trying to give Scotch whisky a fresh urban down-with-the kids image in contrast to the tweed, spaniels and slippers marketing of yore. Though, on a cold winter night, don't those three things sound very appealing?
Single malt cocktails
There's no doubt that single malts can be great in cocktails. Recently, I had a Espresso Martini at Boisdale restaurant in Belgravia made with Ardbeg Uigeadail that was pretty much unbeatable. 
But, I wonder, how many people spending £50 or more on a bottle of single malt are going to mix it. It would be interesting to read some market research on this but I'd wager that at least 90% of malts are still sipped reverentially with some water on the side, and perhaps some tweed, spaniels and slippers.
When people do make cocktails with Scotch, most people will reach for a blend, which is a problem for a whisky company that wants to tap into the cocktail market, like Glenmorangie. It's already got the hip new image, now it just needs a mixable whisky. 
The company used to market a wonderful blend called the Bailie Nicol Jarvie which contained a high malt percentage, around 60%. I remember it being the whisky of choice for the impecunious connoisseur when I worked in Oddbins in the late '90s. 
Sadly, it was discontinued in 2014 though there were rumours of a revival in 2016, which came to nothing. Glenmorangie's head of whisky creation Dr Bill Lumsden told me a few years ago that he was very fond of the blend and would love to revive it, but at the moment Glenmornagie could not spare the stock.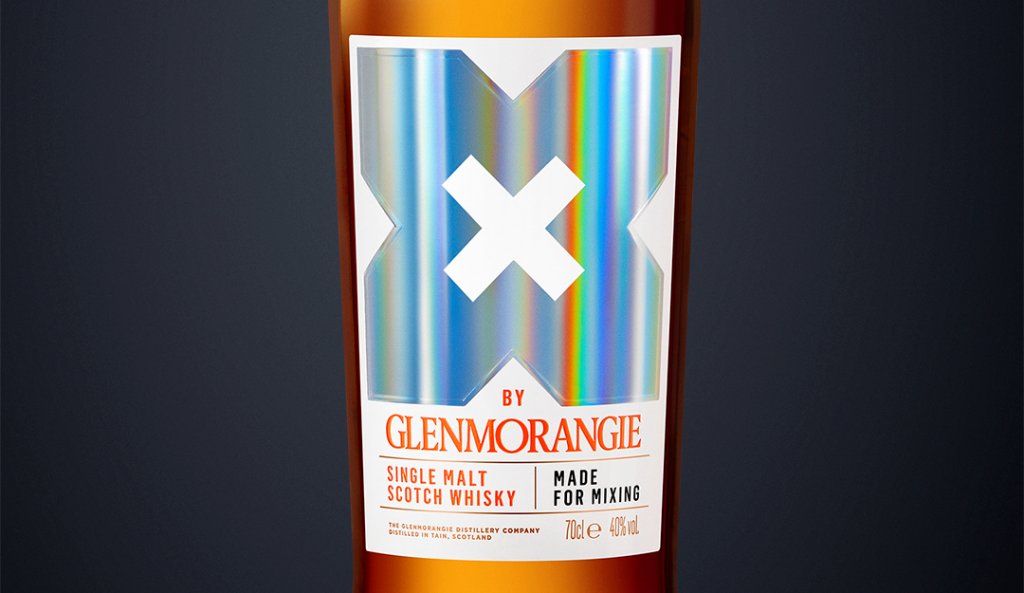 A mixable Glenmorangie
Now, however, the company has whisky that might be able to fill that BNJ-sized hole. It's a NAS single malt called Glenmorangie X, and it's specifically designed for mixing. 
Dr Bill explained: "X by Glenmorangie came from our dream of creating even more flavour possibilities, with a single malt that's made to mix. Consulting with top bartenders, we crafted this sweeter, richer single malt for all those enjoying mixing at home."
The PR team sent me a little sample to play around this and really enjoyed it. It's light, sweet and fruity with flavours of peach, honey. vanilla and orange. In fact, it's very much the 10 year old's baby brother with similar flavours but without the depth or complexity, and with a little youthful spirityness. In short, perfect for mixing.
I was planning to give it a thorough road test in an Old Fashioned, Rob Roy etc. but it was only a little sample so I ended up just drinking it with soda, orange bitters and a slice of orange in a Highball. A test it passed with flying colours. GM also sent me a delightful batched cocktail called Glenmorangie X Grapefruit.
I have one reservation, however, the price. It's only £5 less expensive than the 10 year old. From experience, I know that the 10 is a good mixer too but it's also got the complexity to sip on its own. If I was spending around £30 on a Glenmorangie, I know which one I'd take home. Also, it's bottled at 40% ABV and when mixing a little more alcohol would stop it getting lost when diluting. 
But, if you're running a bar and getting through cases of the stuff, then £5 will make a huge difference. And that is, ultimately, who Glenmorangie X is aimed at; it should be a huge hit with the pros. 
For us home bartenders, though, please bring back the BNJ, Dr Bill!
Tasting notes from the Chaps at Master of Malt
Nose: Honeyed malt with underlying lemon and apple, plus a touch of nutmeg bringing oaky warmth.
Palate: Lots of vanilla and apricot notes, with more apple coming along too. A hint of flaked almond later on.
Finish: The honeyed orchard fruit theme continues on the finish, with a pinch of peppercorn.
Glenmorangie X is available from Master of Malt. Click here to buy.