You don't hear about Glen Elgin as a single malt very often, mainly because 95% of its production goes into blends. So, we thought it's time to celebrate this little workhorse of a distillery by shining the MoM torch on a Douglas Laing single cask bottling.
There's under-the-radar distilleries and then there's Glen Elgin. Despite its name, it's about five miles outside the town of Elgin, in a little hamlet called Fogwatt. Actually hamlet isn't quite the right word as there's very little there apart from some houses and the distillery. Motoring down the A941 towards Rothes, you'll pass famous distilleries like BenRiach and Longmorn, but you wouldn't even know that Glen Elgin was there. That's a shame because it's an elegant little distillery in a beautiful setting.
The buildings were designed by Charles Doig who worked on some of Scotland's greatest distilleries like Macallan, Glenlivet, Talisker and Mortlach. It's best known, if is known at all, for being the last distillery to be built in Speyside for 60 years. Work began in 1898 just as Pattison's Whisky went bankrupt. The company, it transpired, had been committing fraud, passing off cheap spirit as finest Glenlivet, and owed money all over the industry. The resulting scandal nearly collapsed the Scotch whisky business. So, not great timing! Glen Elgin finally opened in 1900 and immediately ran into financial difficulties. But after this uncertain start, it's had a tranquil last 90 years, bought in 1930 by Distillers Company LImited, forerunners of Diageo, and has remained there ever since. 
The distillery's rural situation was due to the proximity of Loch Millbuies which provides the water for distillation. For all you fans of technical details, here is a little extract from the excellent recently-published World of Whisky Book by Ridley, Smith & Wishart:
"Glen Elgin was rebuilt in 1964, with a new mash house and still house, and steam heating replaced the coal-fired boilers in 1970. It uses unpeated barley and operates a stainless steel, Steinecker full-lauter mash tun, nine larch washbacks  and six onion-shaped stills." The fermentation is long and precise to yield a clear wort, and the stills are run slowly to encourage catalysis and produce a lighter, fruity spirit despite being condensed in traditional copper worm condensers."
 The capacity is 1.8 million litres of pure alcohol per year but you don't see it very often as a single malt because 95% of production goes into blends like White Horse (there's a blend you don't see very often in the UK, sadly) and Bell's. Charlie Maclean described it like this: "A superb whisky that deserves to be better known. Ranked as 'top class' by blenders." The 12 Year Old expression has a certain following in Japan and Italy, but it's not one that Diageo puts any marketing muscle behind. There's no visitor centre.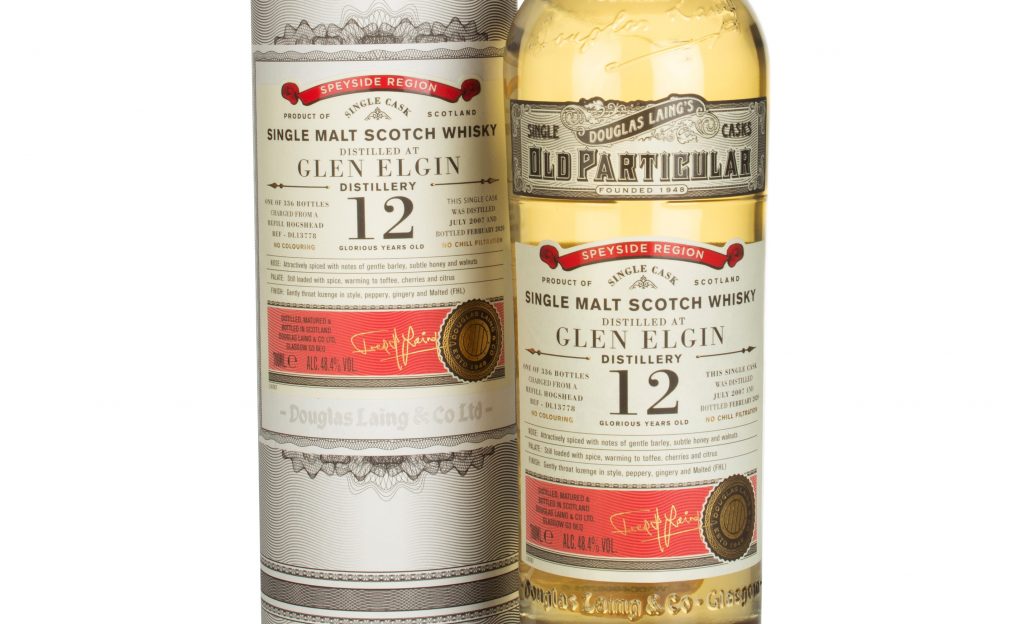 You do, however, sometimes see rare bottling from Gordon & MacPhail, That Boutique-y Whisky Company and, as here, by Douglas Laing, a company which, I am sure, needs no introduction to Master of Malt customers. This week's New Arrival is part of the family firm's Old Particular series of rare bottlings. It was distilled in 2007 and spent 12 years in single refill hogshead (cask number 13778, to be precise) before being bottled in January of this year. 338 bottles produced at 48.4 % ABV with no chill filtering. So, if you fancy something a little bit unusual, it's worth taking a punt on this hidden distillery. 
Tasting Note by The Chaps at Master of Malt:
Nose: Toasted teacakes, clove and ginger. Some blackberry sweetness lingering.
Palate: Slightly peppery and warming with barley and honey. Waxy citrus peels plus a touch of juicy apple.
Finish: Malty chocolate, vanilla pod and stem ginger once again.
Glen Elgin 12 Year Old 2007 (cask 13778) – Old Particular (Douglas Laing) is available to buy here.