Just this week a load of delicious apple brandies has just landed at MoM towers, fresh off the boat from Normandy. So we're shining our New Arrival spotlight on one in particular: Domaine Dupont 12 year old Calvados.
We were having one of our regular discussions at MoM towers, over brandy and cigars naturally, about which was the most civilised time to have a drink. Some proposed the traditional cocktail hour between 5 and 7 o' clock. Yes, we are aware that that is two hours. There were votes for the 12 noon pre-lunch aperitif as the most agreeable drink of the day while others put in a spirited defence of the nightcap, especially as that's the name of our weekly news round-up. 
A little digestif? Don't mind if I do
But in the end, we all had to agree that there's no better drink than a digestif. A little nip of alcohol at the end of the meal, to aid digestion (perhaps), conversation (definitely) and to signal that the meal is over but the evening has only just begun.
It's a great excuse to get out that fine bottle that you've been keeping for special occasions. Most places have a specific drink for just this purpose like grappa in Italy or fruit brandies in central Europe but it's the French who probably do the digestif better than anyone. Even the word is French. There's Cognac from Charente region, Armagnac from Gascony, and then from Normandy there's the mighty Calvados.
The perfect time to drink Calvados
This superb apple brandy has been undergoing something of a renaissance in recent years. It's certainly been flying out the door at Master of Malt. Old producers have been revitalised and new ones are springing up bringing a more modern aesthetic to what can be seen as a very traditional category. There are even maverick producers like Christian Drouin going outside the appellation contrôlée and doing crazy things like ageing in Japanese whisky casks.
Some of the newer brands like Avellen are aimed squarely at the cocktail market, to make such delicious drinks as the Diamondback or the Corpse Reviver No.1, but today's New Arrival, Domaine Dupont 12 Year Old Calvados, is very much an after dinner sipper. Though you could make some pretty extravagant cocktails out of it, if you were feeling fancy. 
Domaine Dupont, a family affair
The estate is owned by the Dupont family and dates back to 1887. Originally Jules Dupont worked as a tenant farmer on the estate when it was called La Vigannerie, before buying it outright. It remained in the family ever since, and is currently run by the brother and sister duo of Jérôme Dupont and Anne-Pamy Dupont.
The 74 acre estate is located in the Pays d'Auge region of Normandy and grows 13 kinds of special cider apples.  The family makes all kinds of boozy appley things (see the full range here) including cider, Calvados, pommeau (a mixture of Calvados and apple juice rather like Pineau des Charentes in Cognac). They even make a very tasty Calvados cream liqueur – yes, a bit like Bailey's.
Cider which is destined for Calvados will be aged on the lees for six months (dead yeast cells which provide richness and texture) before being double-distilled. Our New Arrival is then aged for 12 years in toasted French oak barrels, a quarter of which are new, before bottling at 42% ABV. In our Norman shipment, we've also got some vintage Calvados from 1975 and '77, a 30 year old and a magnificent Pomme Captive. Which Francophones will be able to work out contains an actual apple – wouldn't that look splendid on the table?
But back to the 12 year old. It's the kind of bottle that after a long meal with old friends, when they are making taxi noises, you produce with a gleam in your eye, and suddenly the night is young. The only problem is that nobody will want to leave.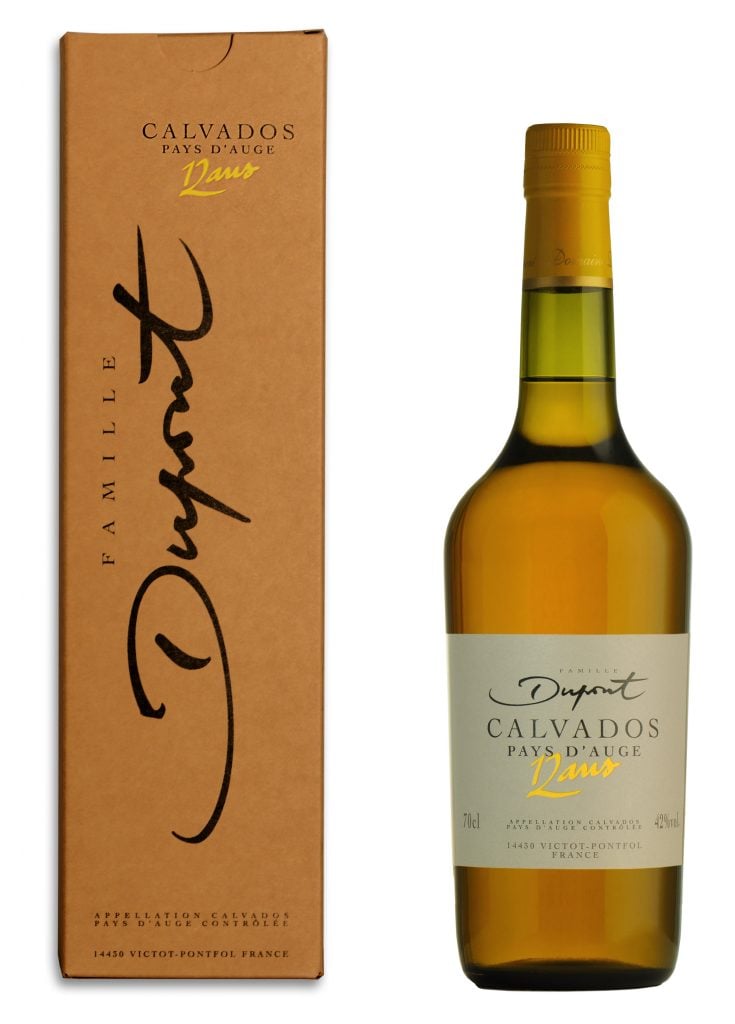 Tasting note from the Chaps at Master of Malt
Nose: Coffee, apple and vanilla.
Palate: Rounded, with well developed fruit bitterness and layers of complexity.
Finish: Long. A finish that evolves with each new contemplative sip.
Domaine Dupont 12 Year Old Calvados is available from Master of Malt. Click here to buy.