The first release from Aber Falls distillery sold out in 40 minutes. Thankfully, the second batch is now here, and even better, it's very reasonably priced which is why Aber Falls Single Malt Autumn 2021 release is our New Arrival of the Week.
Whisky has always been expensive but it does sometimes seem that prices have been going particularly bananas of late. At the top end five figures are not unusual while new distilleries often release their three year old whiskies for north of £50.
Aber Falls Single Malt Autumn 2021 release 
So it's refreshing to see the price of the second release from Aber Falls in Wales. Just £26 (at the time of writing). Roughly the price of a good blend. And for that you're getting a small batch single malt whisky made entirely from local barley. And this isn't some light fruity little whisky, it's packed full of flavour from its complicated ageing regime. The distillery is going for maximum flavour in the young spirit. How do they do it for the money? 
The Aber Falls set-up is an interesting one with a mixture of copper pot and stainless steel stills. The 2021 release was then matured in a mix of ex-Oloroso and PX sherry casks, ex-bourbon casks, and virgin oak casks, before diluting with local spring water and bottling at 40% ABV. It's a little more conventional than the inaugural release which included ageing in orange wine casks – yes, wine made from oranges. 
A big signing
Aber Falls began distilling in January 2018. The distillery is located in a beautiful part of North Wales located just south of Abergwyngregyn between the A55 and the Menai Strait. Earlier this year, parent company Halewood caused waves in the whisky world when it signed Dr Kirstie McCallum as its master blender earlier. She had only just joined Glen Moray in 2019 from Distell which owned Bunnahabhain, Deanston and Tobermory, but seemingly relished the challenge of joining a company where there was everything to play for. Halewood has many booze pies (mmmmm, booze pies) including the Crabbie's single malt distillery in Edinburgh which is yet to release its inaugural whisky – more on that later this week.
McCallum commented on the Aber Falls 2021 release: "The perfect whisky is made up of exceptional ingredients, ideal conditions and well considered casks made of top-quality wood. In particular, the two sherry casks used for this single malt have provided a very enjoyable flavour that we're incredibly proud of."
The inaugural release sold out in 40 minutes
MD James Wright, who has been with the distillery since it was founded, added: "We are thrilled to release our 2021 Welsh Single Malt whisky, following the successful inaugural release earlier in the year, which saw 2,000 bottles sell out in just 40 minutes! We're a distillery that proudly produces 100% Welsh whisky, capturing the Welsh craft and heritage in every bottle. As a result, our products are extremely sustainable, enabling us to benefit Wales at every stage of production, including returning any waste ingredients to local farms for use as fertiliser or cattle feed".
Naturally there's also a signature cocktail. Welsh Bartender Alex Mills has come up with an Old Fashioned with a Welsh twist that's loosely based on the flavours of a Bara Brith, a spiced tea cake common in North Wales. The signature serve consists of ingredients from the four corners of Wales, including 15ml of honey from Nature's Little Helpers in Cardiff, a pinch of black Welsh tea from Tea Traders in Carmarthen, five drops of coffee bitters from Dyfi Coffee in Machynlleth and, of course, 50ml of Aber Falls single malt.
With Aber Falls releasing whisky, there's now something of a Welsh whisky scene alongside Penderyn's Brecon Beacons distillery which was founded in 2000. Penderyn is now expanding with an outpost in Llandudno open and one in the pipeline in Swansea. Meanwhile we were fortunate enough to try some very promising new make from the In the Welsh Wind distillery in Cardigan Bay in South Wales. Let's hope it follows the Aber Falls model of good whisky and reasonable prices.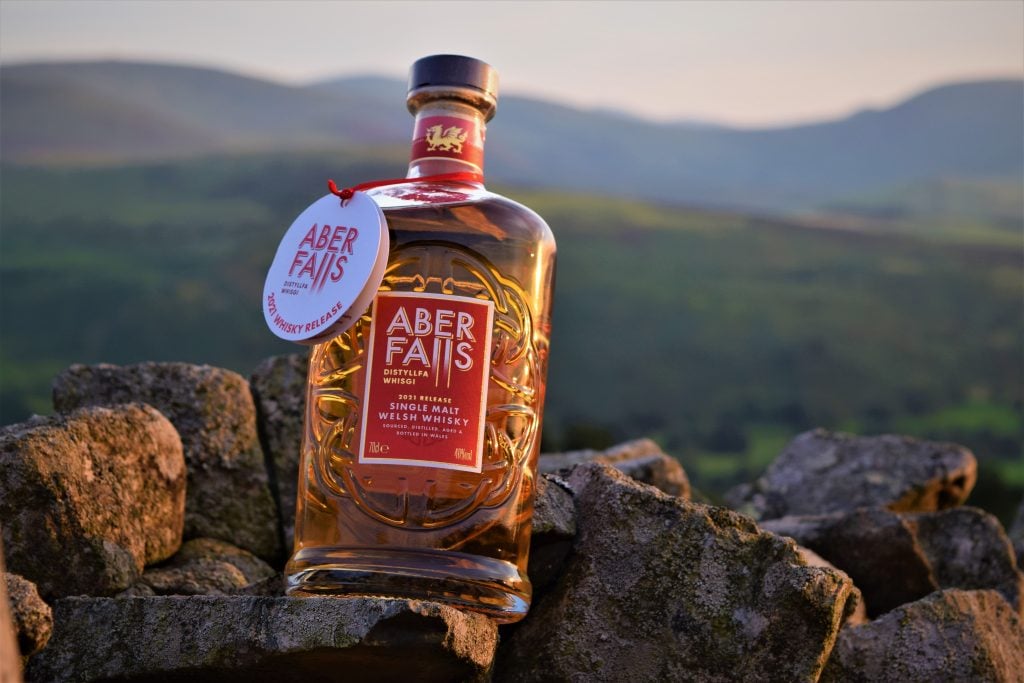 Tasting Note by The Chaps at Master of Malt
Nose: Creamy malt with diced nuts, caramel crystallized fruit, dates, and prunes.
Palate: Vanilla and toffee cross zesty orange peel, heaps of sherried sultanas, and dried fruits. A gentle spice picks up with clove, earthy coffee, and extra dark chocolate, studded with nuts.
Finish: The creamy texture prevails, vanilla fudge, darker notes of berries and cherries, sherried fruit cake, soft barley spice.
To buy Aber Falls Single Malt Autumn 2021 release click here.