We're back with a delicious whisky/food pairing for you, and this time it's all about dessert as we're sipping The Singleton and munching on macarons.
It's a tough job, but someone's gotta do it. Finding out the best whisky/food combinations, I mean. Also known as matches made in heaven. The Singleton is somewhat known for its seamless pairing with desserts and all things sweet and decadent, but there's no way anyone can try every dessert, so I've picked macarons for this taste test.
But before we get into the good stuff, there are two important distinctions to make here.
One: macarons are not macaroons, as I only discovered throughout the journey of this blog. Macarons, which we're focusing on today, are those Parisian delicate, colourful little morsels made with almond flour and filled with ganache. Macaroons are generally made predominantly from shredded coconut, and aren't quite as pretty (sorry, macaroons). 
Two: The Singleton range can be slightly confusing. First launched in 2006, it encompasses a trio of Scotch single malts. Under The Singleton name you'll also find Glendullan and Glen Ord, but today we're tasting The Singleton of Dufftown. The distillery is known for its sweet, fruity whisky, most of which goes into blends you might have heard of – Johnnie Walker and Bell's. But its single malts in their own right also have a following! 
Until the opening of Roseisle in 2010, Dufftown was Diageo's largest distillery, and one of the few distilleries whose spirit stills are larger than its wash stills. But it wasn't always sweet and fruity – for years Dufftown was a malt-forward, nutty and spicy whisky, but in its recent history the fermentation process was extended, and the new make became grassier in flavour.
For this particular taste test I'm trying the entry-level whisky, Singleton of Dufftown 12 Year Old. It's lovely stuff, but I'm sure the 15 Year Old or 18 Year Old will be more than suitable for this experiment too.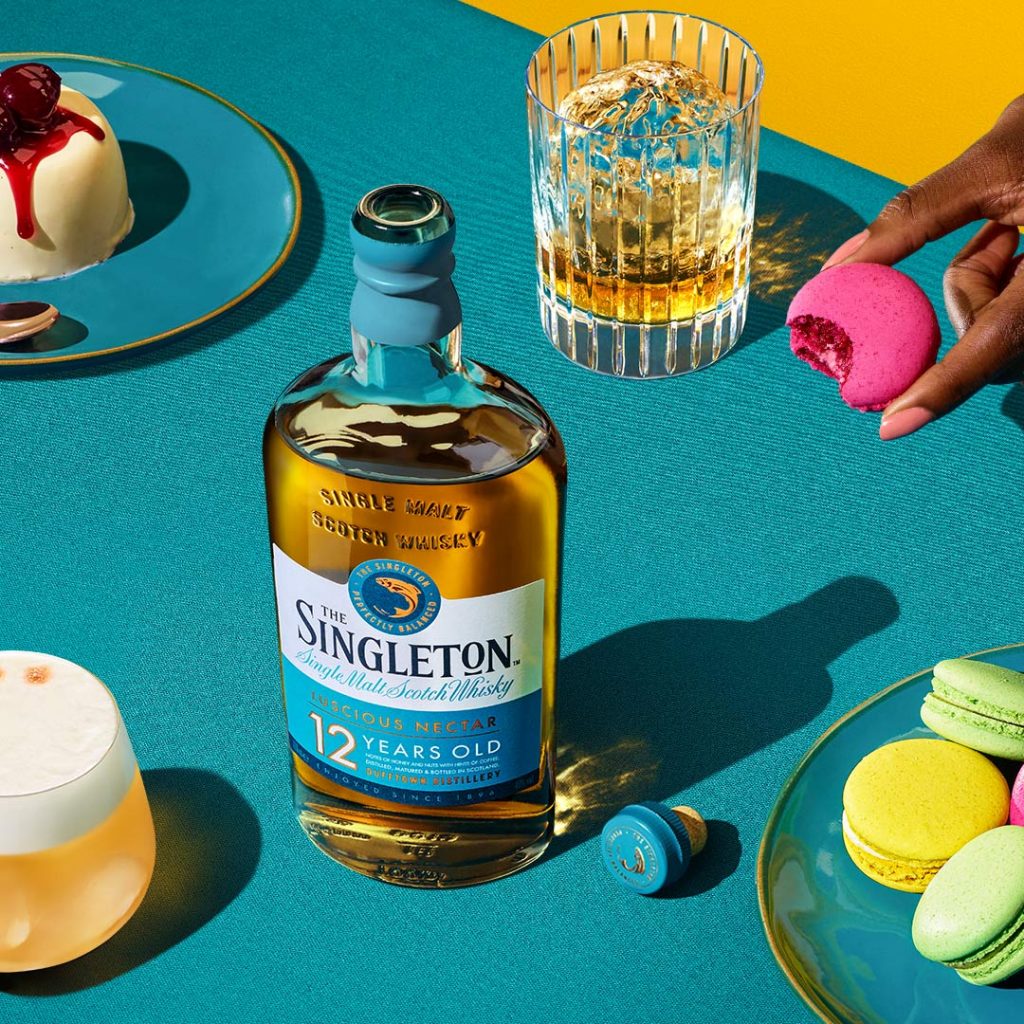 Jess' tasting review
I'm lucky enough to have had chocolate, raspberry, and vanilla macarons, and so of course I had to try them all. It was super interesting, with the chocolate bringing out the bittersweet cocoa notes in the whisky, and the raspberry again bringing out some tart fruitiness. Absolutely lovely. The vanilla was my least favourite, possibly because there's not quite enough spice nor sweetness in the whisky itself to either counteract or enhance the respective notes from the macaron – but try it yourself and let me know what you think!