A host of new Octomore whisky made its way to our doorstep, so we did what any honest whisky lover would do and cracked them open and feasted on what's inside.
According to the folks behind Octomore, their process of creating whisky shouldn't work. If you wanted to make delicious booze, you wouldn't look at its production and exactly be rushing to take notes. Its whisky is bottled between five and ten years old, typically on the lower end of that scale, often at cask strength with an ABV in the range of 55-60%. Then there's the phenol content. A designation of 'heavily peated' means a whisky with a ppm (parts per million, a measure of phenol content) above 30. The first Octomore was made with barley peated to 80.5ppm and it's gone well above that in subsequent expressions. Bruichladdich master distiller Adam Hannett has joked that it's undrinkable whisky. It's too young, too strong and too peaty.
But somehow they manage to balance these disparate elements to create something that's greater than the sum of its parts. Partly this is because it is made with the tall and narrow stills, which create a very light and elegant spirit. The heavier phenols fail to climb that high and so don't make it into the heart cut. In another distillery's stills, a malt peated to higher than 80ppm malt would be overwhelming. The distillate is also carefully matured for just enough time to let oak mellow the alcohol, which means you get something peaty, yes, but a spirit that still retains that fruity, floral and maritime distillery character. 
Octomore has been defying expectations ever since it was created by Mark Reynier and master distiller Jim McEwan in 2002. The story goes that McEwan was sourcing peated malt from Bairds Maltings in Inverness and witnessed them malting using an open-air outdoor peat fire. The old-fashioned technique has many benefits but it is hard to maintain consistency, so Bairds blended heavily-peated barley with unpeated malt in order to achieve the desired ppm. Ever the innovator, McEwan was drawn to the uncut stuff and intrigued by the prospect that it was unusable. So, instead of picking up the 40ppm malt he needed for the Port Charlotte brand, he came home with 131ppm barley. 
Bruichladdich soon learned that once you create charming, rustic and burly whisky bottled with headline-grabbing peating levels, you're onto a winner. However, this can be a double-edged sword. The 'world's most heavily peated single malt' became a tagline for everything the brand released. The methods and marketing used by the brand in recent times suggest it has no interest in being pigeonholed. Hannett revealed recently he's focused on looking for differences in every series. The desire is to communicate that Octomore is created using an experimental, open-minded approach with a penchant for provenance and a willingness to explore cask profiles.
Which brings us to its new series: The 11s (they're clearly more inventive with barley strains and ppm than names at Octomore). It's made up of three expressions, the 11.1, 11.2 and 11.3, and features some raw material experimentation in the .1 and .3 expressions, with some intriguing cask choices explored through the .2 bottlings, which this year is sadly only available here or in global travel retail. The 11.1 was distilled in 2014 from the 2013 harvest of 100% Scottish grown Concerto and Propino barley and malted to 139.6ppm. It then spent a total of five years in first-fill casks from Jim Beam, Heaven Hill and Jack Daniel's before being bottled at 59.4% ABV.
The 11.3, by contrast, was malted to 194ppm and bottled at 61.7% ABV, although it was also matured for five years in the same cask profiles, plus Buffalo Trace for good measure. Why? Because the distillery was interested in showcasing terroir. For the 11.3, the brand used barley grown on the local Octomore farm, just two miles from the distillery, which unlike barley on the mainland, is exposed to the climatic conditions and the salt spray from the wild Atlantic swells. This barley is also harvested, malted and distilled separately from other barley strains Octomore has to create single field, single vintage single malt. 
A quote from the press release explains: "Comparing Octomore 11.1 and 11.3 gives one of our finest lessons in stratospheric smoke and barley terroir. While both editions are malted to a Brobdingnagian 100+ ppm reading, the differences in barley character from the respective growing region are ever-present". Aside from the outstanding use of the word Brobdingnagian, the other thing to note about these expressions is the sole use of ex-American whiskey and/or virgin oak casks. The former is the ultimate vessel for preserving distillery character, while the latter is fresh, potent wood that adds personality and colour at a very young age. Typically virgin oak is a tricky customer. Balance is the name of the game, and Octomore's robust spirit seems a good match on paper. 
Alongside these three releases, Octomore also launched the fourth edition of its 10 Years Old bottling which was malted to a mighty 208ppm and bottled at 54.3% ABV. The whiskies that make up this elder Octomore were drawn from a total of 77 casks which included a mix of virgin oak and first- and second-fill ex-American whiskey casks from Jim Beam, Heaven Hill, Buffalo Trace and Jack Daniel's. "Sitting alongside its 11s series counterparts, this Ten Year Old brings a subtler, more mature dimension to the otherwise youthful exuberance of the .1, .2 and .3 spirits. While we deliberately keep the barley influence forward in the .1 and .3 editions, our .2 and Ten Year Old editions introduce cask influence at varying ends of the Octomore age spectrum," the distillery revealed.
Now that we've familiarised ourselves with how the whiskies were made, we should get right to it and find out how they taste. I had tremendous fun doing this because I love them. The subtlety of the 11.1 blew me away. There's a fair chunk of peat, sure, but it's the structure rather than the star and it rolled down an ashy carpet to present a litany of fruit and fun. As for the 11.3, the full, malty hit on the nose offers the stark contrast the brand wanted in a deeper, meatier bottling that's not as refined but has a charming wild element to it. Although, I do think the palate is a touch overwhelmed. The Ten Year Old lacked the adventure of the 11s, but it was delightful in its own right as a fruity, mellow and refined sipper. For a more in-depth look, the tasting notes are below and include a bonus ball review. I hope you enjoy them as much as I did.
The Octomore 11 Series is available from Master of Malt now.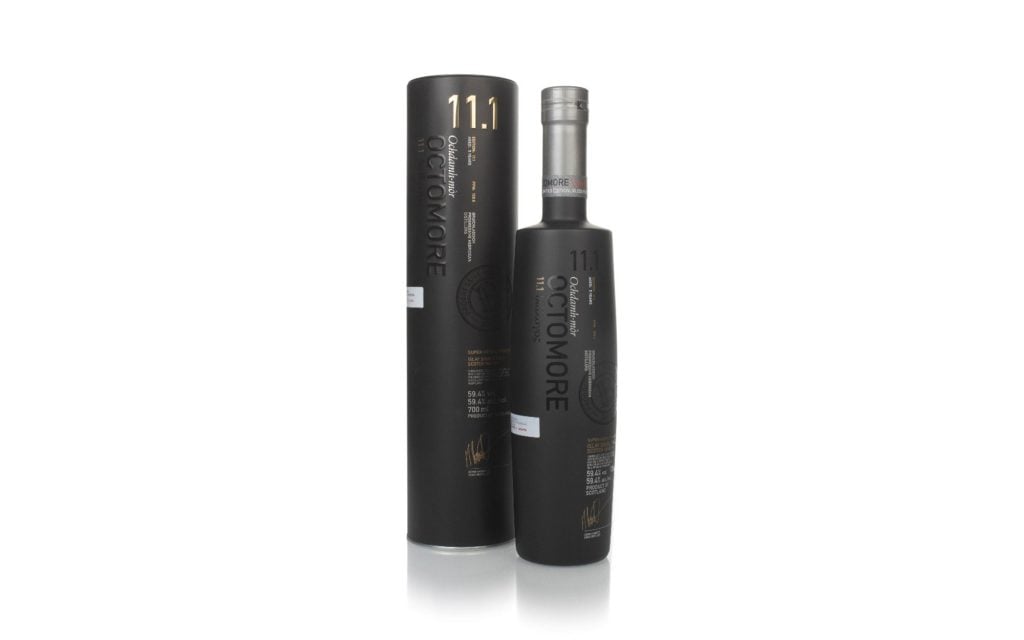 Nose: The initial sweetness is very striking, as is the customary peat smoke – a combination of cigar ash and charcoal. There's tinned peaches, Granny Smith apples, golden barley, vanilla custard and shortbread biscuits present, as well as hints of wet grass, tropical fruit, floral honey and homemade stem ginger.
Palate: More smoke and some peppery spice rolls around butterscotch, vanilla and demerara sugar with Conference pears, lychee and a tropical medley of mango, pineapple and papaya in support.
Finish: The fruity notes linger with baking spice and oily tar before the finish becomes slightly menthol. 
Octomore 11.3 5 Year Old Islay Barley 
Nose: Wood smoke and lots of Bruichladdich maltiness is at the core of this nose, with tinned fruit salad in syrup, green apples and lemon peel in support as well as touches of seaweed, burnt heather and cured bacon. Underneath there are hints of apricot yoghurt, butterscotch, honey and marzipan.
Palate: Sweet, delicate and with plenty of ashy smoke, this palate is full of treacle, sour apple sweets, vanilla, stone fruits, black pepper and marmalade on burnt toast, with some earthy, almost mossy tones and light floral notes throughout.
Finish: Tropical fruit, drying smoke and sweet citrus.
Octomore 10 Year Old – Fourth Edition
Nose: Nectarines, charred pineapple, mango smoothie and orange peel lead with vanilla shortbread, some stony minerality, rock pools, heathery peat and ginger in support. The smoke takes its time and something of a backseat, smouldering in the backdrop like damp bonfire wood.
Palate: Floral honey pours out of the palate accompanied by sea salt, exotic fruit, fudge, coconut macaroons, sweet tobacco, red chilli chocolate and more measured smoky tones.
Finish: Toasted oak, roasted apricots, campfire embers and malted milk biscuits.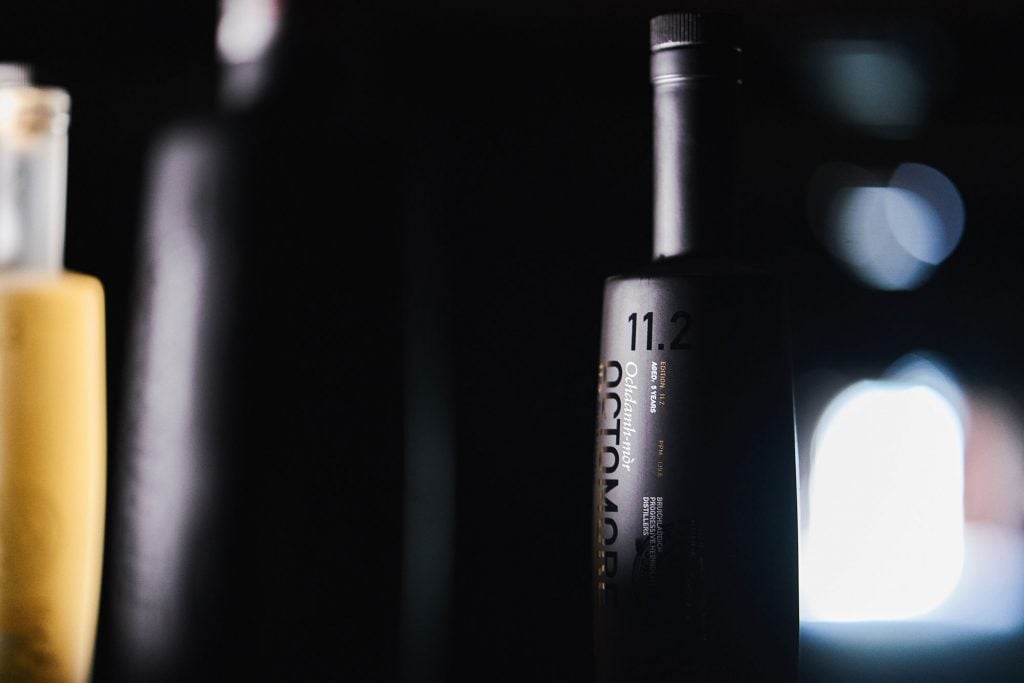 Bonus ball: Octomore 11.2 
Ok, so we decided to review this one anyway, because we got a sample and frankly, what the hell. 11.2 is malted to 139.6 PPM and matured in two separate casks. A quarter of the final product was matured full term in ex-European oak casks from a winemaker from Pauillac in Bordeaux. The other 75% parcel was first filled into ex-American oak before being transferred into ex-Cabernet Sauvignon wine barriques from the St Julien, also in Bordeaux, from May 2018 to January 2020. The two parcels were brought together for a final few months, meaning that, all in all, the whisky was aged for five years on Islay before being bottled at 58.6% ABV.
Nose: Through gentle, drying smoke and sweet toasted oak comes a winter fruit salad (prunes, pears, apricots, figs and cranberries) drizzled with honey, as well as sweet tobacco, rich malt, almonds, smoked oysters, coffee grounds and earthy vanilla pod.
Palate: A plummy palate begins with strawberry jam, blackcurrant and dark cherry with a little orange blossom in support and dark chocolate, ginger, creme brûlée and toasted nuts underneath. Wisps of ashy smoke permeate the sweeter notes creating a dry, savoury backdrop alongside damp oak.
Finish: An almost medicinal smoke smoulders away among some coal dust, peppery spice and red fruit. 
Overall: The peat is understated and integrated well in this indulgent and slightly drying expression. The cask pulls the whisky into tart, intense and luxurious territory that perhaps accentuates the dryer notes too much but ultimately brings new dynamics without overplaying its hand.