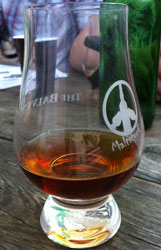 Just before we officially launched 'That Boutique-y Whisky Company' in the UK (and beyond), we packed up the Mini Malt Mobile (aka Ben's car, complete with boxes upon boxes of Scotch whisky, suitcases, and a ukulele), piled in, and took to the motorways and Channel to get to Maltstock, a yearly whisky festival in the Netherlands.
Pitched as "the relaxed whisky weekend" it is—indeed—"relaxing". Akin to a summer camp for whisky enthusiasts, the weekend is packed with music, bonfires, whisky masterclasses, whisky-themed games, a whisky quiz, and a veritable overdose (if that can be said) of food and friends. This was our third year in attendance, and believe me, it lives up to the hype. By the end, we were all a bit like newborn fawns: blinking in the sun and staggering gingerly about the place. We've got a flock of photos below to give you, dear reader, a taste of some of the activities to be had. A picture is worth a thousand words, they say…
We mustered at the Tunbridge Wells train station extremely early on Friday morning (Maltstock runs from Friday afternoon through mid-day Sunday), bound for the Dover ferry. There were 5 of us (yes 5) which meant the Mini Malt Mobile was filled to capacity with humans—not to mention whisky, ukuleles, luggage, and a guitar belonging to one Balvenie Global Brand Ambassador.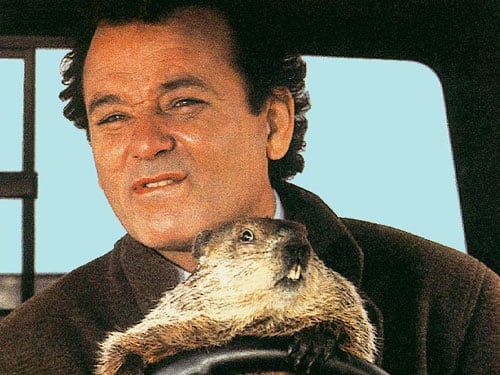 Ben is an excellent driver
Joel Harrison, of Caskstrength.net fame, used his skills as a former A&R man to perform some man-Tetris on the boot. I still don't know how we all fit in. Some of us (who shall remain nameless) were so exhausted that they almost fell asleep—and then did fall asleep—on the long journey. Catnap had returned.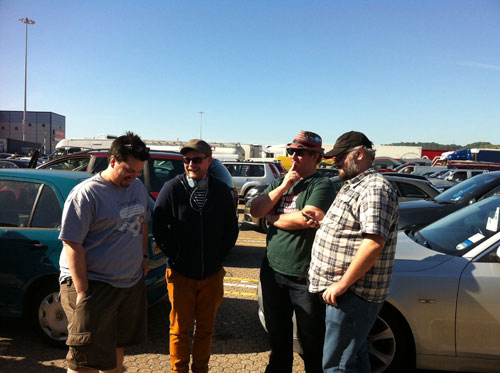 Stretching the old legs at Dover.
At Dover, we were allotted some time to stretch our legs, both in advance of boarding the ferry and during the journey across the Channel. Following a painless sea journey, we were on our way across the Continent with barely any time to stop for snacks as we rushed Billy to his masterclass.
We arrived in the nick of time, unloaded what seemed like cases upon cases of whisky, and sprung, sandal-first in to our weekend full of drams.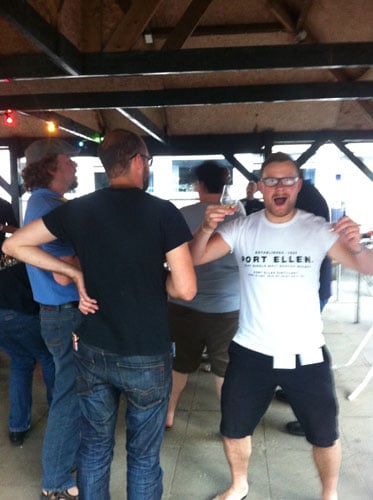 I HEART WHISKY!!!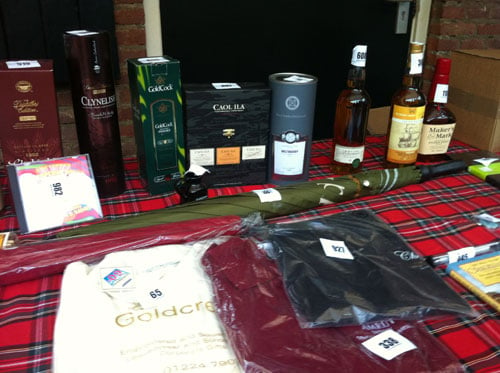 Lots of prizes for the raffle! Which not one of us won…
If you've never been to Maltstock, you won't know that there is a massive table that acts as the centrepiece for the entire event. You also won't know that "The Table" is populated by a large number of bottles brought from every attendee's personal collection. Needless to say, it's an amount of whisky—a large amount. Maltstockers are encouraged to sample and discuss any of the offerings on the table, and there are general codes of conduct when it comes to the ultra-rare bottles (namely, don't bogart them).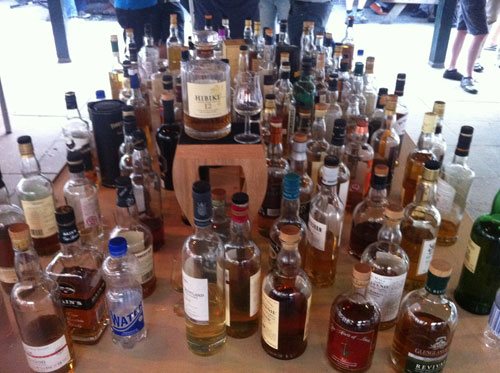 The altar where we pray to the gods of whisky
I'll not attempt to delve into the sea (a veritable sea, I tells ya!) of whisky that was on offer, but I will say that we tried loads of delicious drams, including the much sought after Karuizawa Spirit of Asama and something with a moose on the label. Yes, a moose.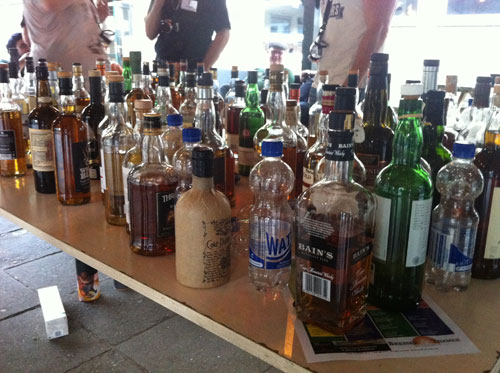 A table full of whisky for the sampling…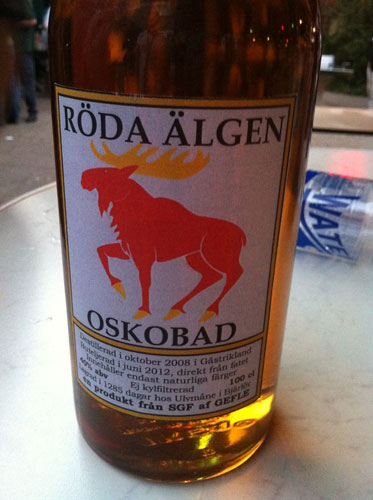 A spirit with a moose!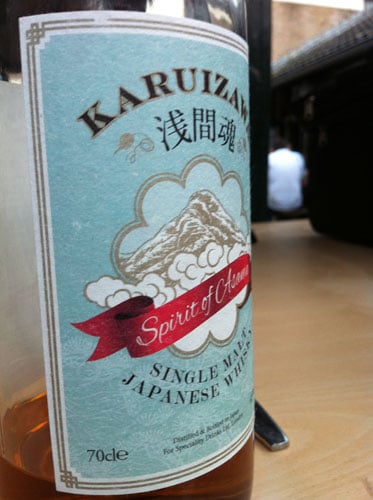 Karuizawa Spirit of Asama – 48%
Karuizawa Spirit of Asama Tasting Notes
Nose: Just a hint of morello cherry and sweet wine. A whiff of warming spice, earth truffle and pine forests. Nutty notes abound with almond and hazelnut and a suggestion of Christmas cake.
Palate: Soft smoke and leather cradle this rich palate with notes of raisins and dark chocolate. Nutmeg and clove enter late.
Finish: Gentle wood smoke floating through a forest
There was also a bottle of Brown Drink on the table. Though technically not a whisky, it went down with fair speed, as you can see in this photo.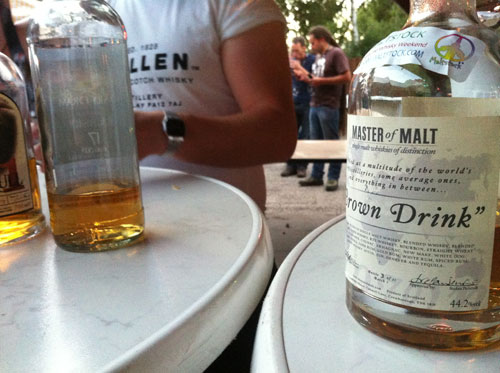 Master of Malt's Brown Drink (Batch 3) – 41.80% – £39.95
Two of the favourites of the group were the Hibiki 12 and the Master of Malt Aultmore 5 from our Single Cask Series. As these two lovely bottles were our own table offerings, we felt no remorse giving them a temporary home on our own table at the Whisky Quiz.
When the evening started to fall, we were all ushered inside—away from The Table—for the official Whisky Quiz. Now, what you must understand about this quiz is that it is not for beginners. In the slightest.
Which distillery is this? And doesn't that chap typically wear a red hat?
Even the combined brain power of myself, Billy, Jason, Joel, Simon, Rocky, and Ben was not enough to overcome the challenge at hand. That should give you an indication of the level of difficulty of the questions. In short, we didn't win the quiz, but we did have some stunning whiskies.

Aultmore 5 Year Old – Single Cask (Master of Malt) – 66.80%
Aultmore 5 Year Old Tasting Notes
Nose: Lemon zest with Hershey's Cocoa powder. Some spice with more cocoa, caramel, and freshly-squeezed lime juice.
Palate: Rich, dried fruits soaked in cognac give way to citrus (grapefruit), champagne truffles, and soft oak.
Finish: Soft and earthy with leathery notes. Suprisingly long and smooth.
Overall: The high abv does not knock over the balance of the drink; water need only be added if desired. An astounding whisk regardless of age.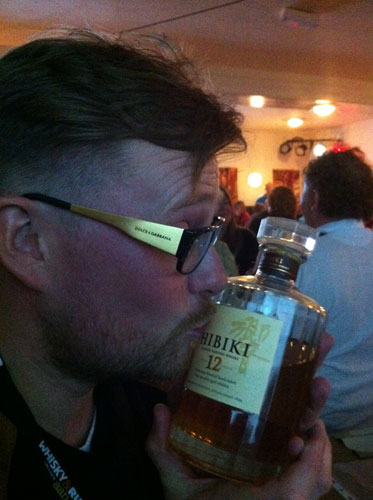 Ooh, I absolutely love Hibiki 12…
Hibiki 12 Tasting Notes
Nose: Fruit forward (can't wait to get into it). Baked apples and candied oranges. Light and refreshing sweetness; lemon icing? Fresh spring flowers.
Palate: Smooth and beautifully balanced between sherry, warm spice, sweet citrus, and wholesome grain.
Finish: Everything in perfect harmony as a whisky should be. Balance through and through.
For those of us who found many of the questions nigh impossible to answer (a true test of whisky geekery), we found other ways to amuse and entertain ourselves. Mostly through the power of hand-drawn tattoos. This lovely design was actually created to mask the original, NSFW drawing. Can you guess what it is? Or even what it was?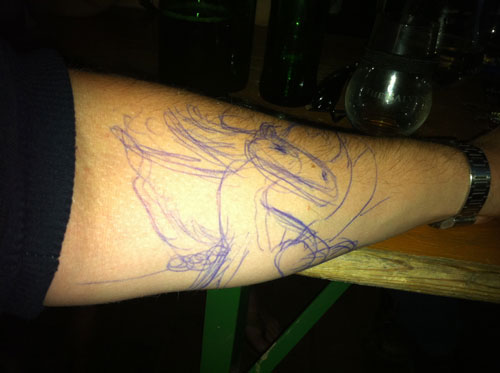 Hand-drawn tattoos!
When the quiz was over and we had had our fill of mind-bending booze questions, we hustled outside for some starlight drams and jams. Jammies optional. Music is a big feature at Maltstock. It always seems that at some time or another, the crowd is being serenaded by the gentle strumming of a guitar, or a load of "relaxed" chaps joining in a bout of late-night crooning. Sam had brought his guitar along (rather, we had brought it in the Mini Malt Mobile) and we jammed late into the night…
[Fade to black.]
[Open on day.]
A room filled with bunk beds and dozing whisky drinkers. Suddenly, a noise disturbs the silence. A voice announcing 30 minutes to go until the Master of Malt masterclass.
And so it was that we raced to our Master of Malt masterclass where we were to reveal one of the most exciting developments of 2012 in the Malt-iverse.
Maltstock 2012 marked the first tasting of the first 4 releases from That Boutique-y Whisky Company, but it also marked a special whisky masterclass wherein the attendants of said class were asked to vote on their favourite Highland Park whisky recipe that we'd put together. What we did, see, was to give everyone 3 options and the option that received the most votes would be bottled up as a Highland Park Whisky from That Boutique-y Whisky Company.*
Yep, that's what we did.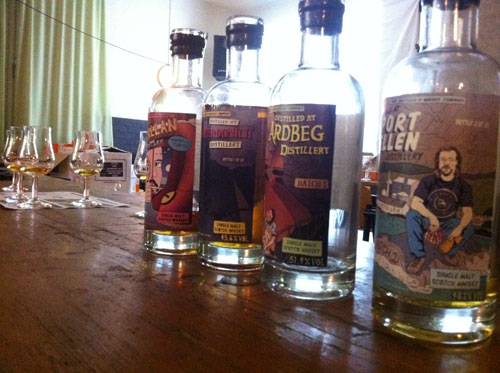 The Original 4 from That Boutique-y Whisky Company
Ben pulled off an amazing (literally amazing, for I had seen him in a sleeping bag in a bunk bed not minutes before) masterclass, and the whiskies went down a storm. And how did I manage to muddle through? With a little help from Coca Cola Classic. Amen.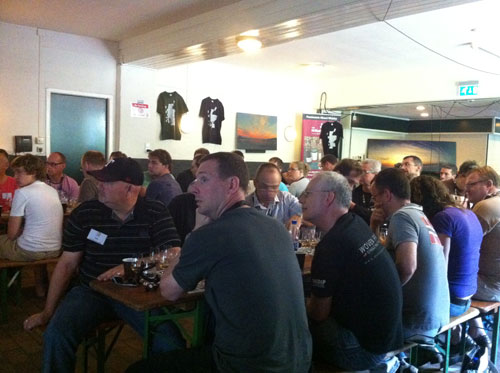 Our whisky masterclass!
After the class wrapped up, we ushered everyone outside for a group photo by the ancient ruins that grace the grounds of Maltstock. In the woods in Overasselt (where Maltstock is held), there grows a rag/clothing tree that, as the legend goes, if one is to tie their own "pantaloons" or whatever-stitch-of-clothing to said tree, health and good luck will shine upon them. I cannot report if this is a true thing, nor is there any evidence to suggest that it is true. But folks have been doing it since Charlemagne's time, so we can only imagine what sort of luck it's brought those superstitious enough to partake!
But where is Charlemagne?
We then retired for a much-needed break(some in bunk beds, others in the shower) only to emerge on the world's craziest, possibly toe-breaking-est, whisky-related game: The Balvenie Barrel Roll. Global Brand Ambassador and Neil Young fan Sam Simmons had arranged for a cask to be transported to Maltstock for the event, and some of us, not knowing what was happening, said, "Why sure! I'll absolutely participate in this game! What is it, exactly?" The next thing that person knew, he or she was pushing a heavy cask about a field. Does that make sense? Allow me to explain using the power of static and moving images. NB: Some strong language is used.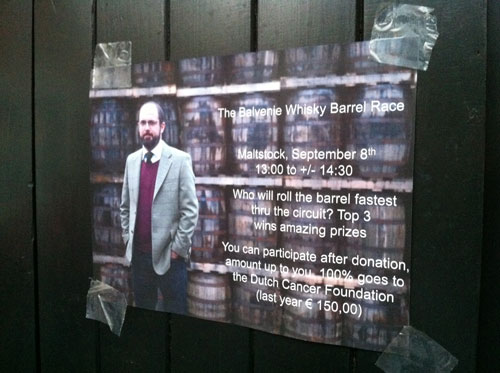 Sam "The Dr" advertises the Balvenie Barrel Roll.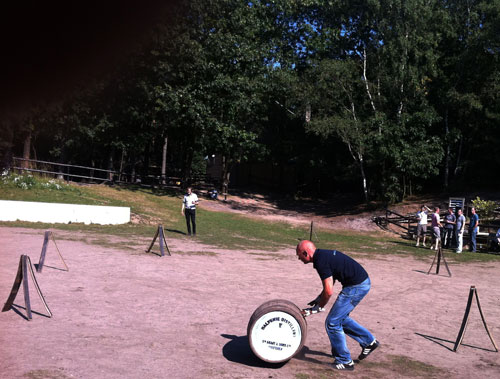 Rolling a cask around a small field
As Bowie says: It ain't easy.
I participated. And even though I was enrobed in the WORST outfit for cask rolling(thin, shiny shoes are not great for running), I still managed to win in my category: namely, the category of being a woman. For my efforts, I was awarded a full bottle of the then super-duper-new Balvenie DoubleWood 17 Year Old. The Gollum part of me wanted to keep it for myself, but we cracked it open and, my friend, it was sublime.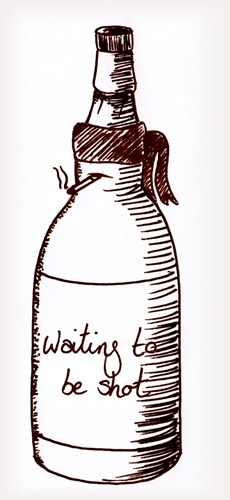 Balvenie DoubleWood 17 Year Old – 43% – £69.78
Balvenie DoubleWood 17 Year Old Tasting Notes
Nose: Beautiful and classic Balvenie honey intermingles with green apple and dark spices.
Palate: Vanilla comes through from the Bourbon barrel, and sweet spring blossoms like honeysuckle peek through.
Finish: Glorious and long with echoes of vanilla and honey. Moreish and warming.
I discovered later that I somehow ended up on the cover of a local fishwrap. Yep.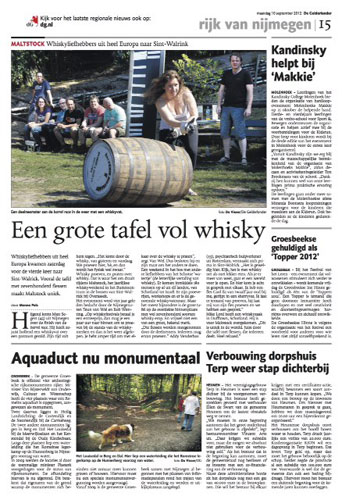 Ending up in a local newspaper.
As the afternoon deepened, we witnessed what would be our dinner slowly rotating in the sun. I believe he was once a happy chap, but he looked to be turning into a delicious chap. As with music, food is a huge part of Maltstock. It abounds, and it is tasty as tasty can be. Saturday night is the keystone of Maltstock, with a massive hog roast and a massive campfire.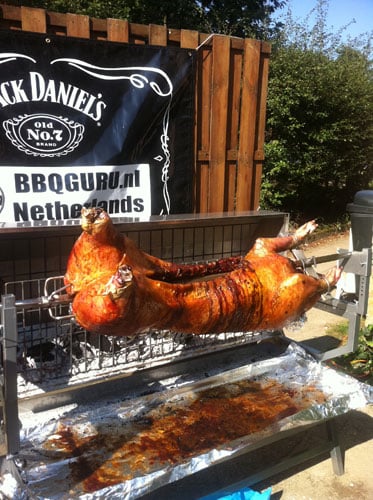 A whole, roasted pig on a spit!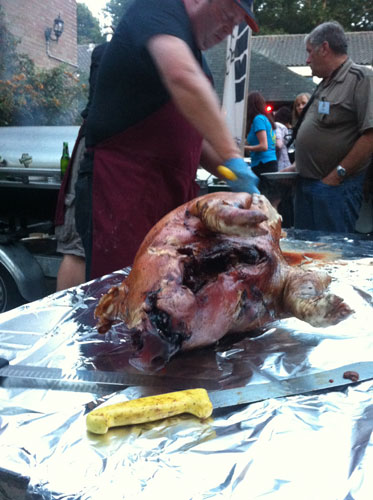 I am sure he was once a happy chap…
The atmosphere of Maltstock is all about sharing, whether it be whisky, food, friendship, music, stories…you get the idea. If you're not quite "there" yet, here are some more gratuitous food shots.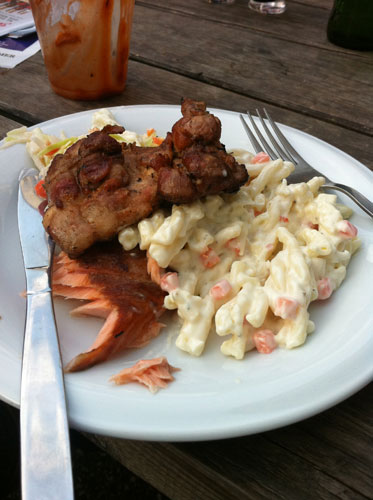 A bit of food porn…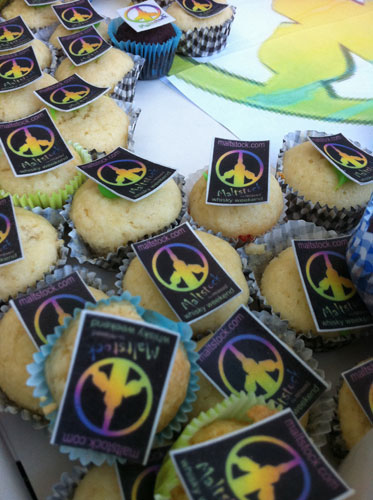 Even more food!
After filling our bellies (and sampling just a few more of the whiskies…) we headed on over to the bonfire/campfire for some entertainment, both in the form of music and slightly raunchy comedy.**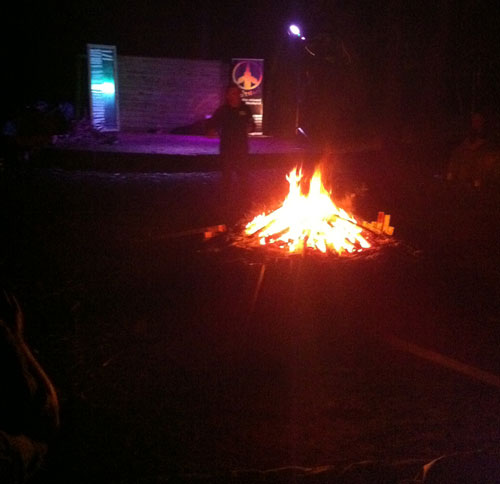 Singing around the campfire
There were no renditions of kumbaya, but it came close. You know how kids cub camp? Well, Maltstock is the closest thing to Whisky Camp I've ever seen. Needless to say, there was another long-night jam session, wherein Sam and I serenaded Ben with an amazing rendition of George Michael's "Father Figure". He was not so delighted. There are no suitable photos of this occurrence (maybe if you search on Facebook you can find some evidence), so you'll have to be pleased with this image of Joel holding my ukulele.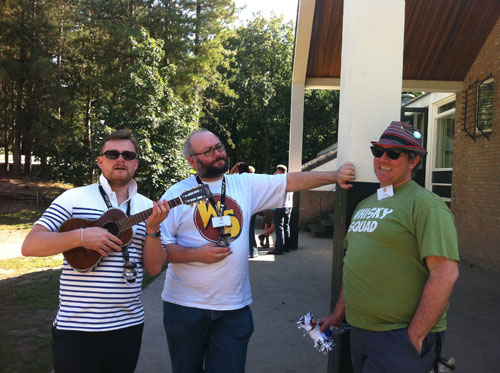 The fab three…
NB:We did miss out on one key Maltstock event. Because we were (ahem) delayed in attending our own masterclass, we were unable to participate in the official "Detox Walk", but we did have a chance to go for a stroll to see what we might have missed. As if the food, fires, whisky, music, and masterclasses weren't enough, there are some very lovely views to be had. Though I wouldn't necessarily say they detoxed me.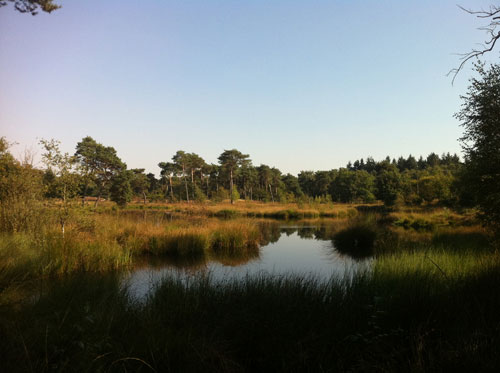 Very lovely views, indeed.
Just as quickly as it had started, it was over. Before long, we were back on the ferry, heading to old Blighty with memories and stories for our grandchildren. We treated ourselves (as if we needed it) to a nice luncheon on the boat. Quite civilised, it was. Quite.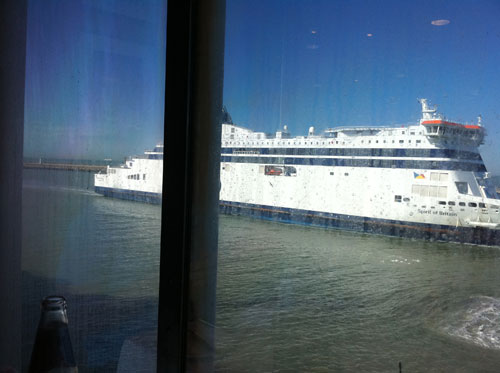 Imagine, for the sake of storytelling, that we are being carried across the channel in that ship…
When we finally bottled up the winning whisky just a few weeks back, we included on the label all of those delightful Maltstockers who had helped us choose the whisky. Ahh…summer days… We also added in a jaunty picture of Charlemagne (that's Charles the Great for you non-Francophones), but what's this? He's tossing his own pantaloons into a nearby tree?
There's Charlemagne!
Needless to say, the end result of Maltstock (below) is almost as awesome as the event itself. Yes, I said awesome. I'm American. I can say that.
Highland Park – Batch 1 (That Boutique-y Whisky Company) – 44.70% – £75.95
Highland Park (That Boutique-y Whisky Company) Tasting Notes
Nose: Without water, the nose is complex; floral giving way to creamy beeswax, salted butter and oranges. A balsamic note pops up, as well as dried red currants and leather. With a bit of water, heather smoke becomes apparent along with a fresh coriander and manuka honey.
Palate: Malt and hop notes come to the fore and combine with fruitcake, nuts, and a little dark chocolate.
Finish: Soft oak with hints of jasmine and a gentle, comforting smokiness.
Whether you are a whisky novice or full-on whisky geek, it's a brilliant weekend. For those of you debating whether or not to attend Maltstock at any point in the future (Maltstock 2013 is not too far away now), I have two words for you: Get Involved.
Click that link above for tickets to Maltstock!
Will we return next year? We wouldn't miss it for the wereld.***
*Actually, one of us forgot to bring the samples (guilty!) so we managed the entire process by post.
**sex songs?!
***that's "world" in Dutch