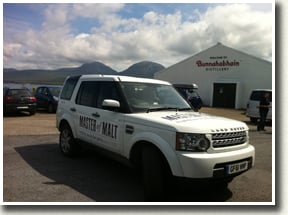 Onward Malting solidiers! Marching as to…more drams. So many drams… We've done it again, we have! Had the bespectacled lads over from Cask Strength last night for ribs and more ribs. Ridley wasted no time in donning a dressing gown and topped off this debonair look with a martini. We soon all followed suit (swimsuit, that is).
Mr Ellefsen had once again outdone himself on the food and drinks front, so when my alarm sounded at 6 this morning, I was not a happy camper. Alas, we had to depart the beautiful and luxurious Al Linnean cottage by 10 AM, so an early start to pack, clean, and load the car was a necessity.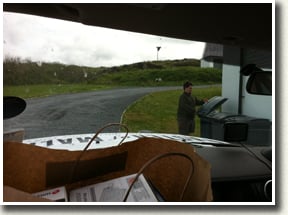 Tidyin' packin' binnin'
And the car was absolutely loaded to the gills. I had bags and boxes on me, underneath me, beside me—everywhere. My knee began to go numb from the frozen vodka stored in the shopping bag on my lap, and YET I still managed to fall asleep on the drive over to Caol Ila. Ben has now rechristened me 'Catnap'. I do myself proud.
We arrived at our new digs utterly crestfallen: no hot tub, one bathroom betwixt us, no double fridge/freezer, no giant TV . . . but we were incredibly lucky to not be sleeping in the Malt Mobile as every bed is either booked or bunked for the Festival, and as we are coming up on the weekend and the last day, Islay is stuffed, stuffed I say!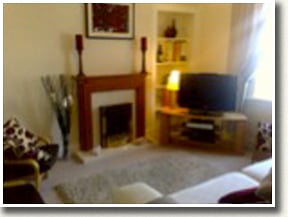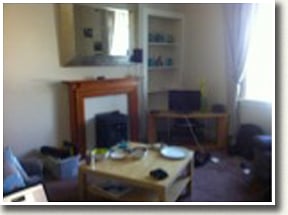 And how do you take your television?
After unpacking the Malt Mobile into our flat overlooking the Caol Ila distillery and the Sound of Islay, we turned right back around and piled in, leaving Gareth (Welsh for 'gentle', we learned today, and he is a gentle man, indeed) home alone with his thoughts and laptop. *eye wink*
We cracked on up and over the hill to Bunnahabhain to catch up with Global Brands' Ambassador Kirstie McCallum whom I hadn't seen since The Whisky Lounge's London Whisky Festival. She was rushing around, trying to do ten things at once. She kindly offered to show us around, and promptly took us for a Bunnahabhain slush puppy—an icy treat made with fresh raspberries, lime juice, ginger beer, and of course Bunnahabhain. This was a most refreshing treat and primed us for a warehouse tour which Kirstie managed to help us join.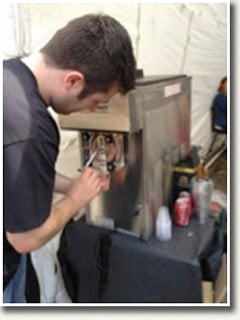 Slush puppies
We saw and smelled many different casks and even witnessed how stacking a cask is now a 2-man only job, all thanks to a machine. Ah, technology! Unfortunately, machines are not skilled enough to make sure the cask ends up at 12 o'clock (aka with the bunghole up so the whisky doesn't leak out) and this is quite complicated task that needs some serious pre-planning before it begins rolling.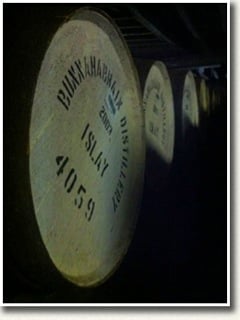 Stack 'em high!
Our host, John, allowed to take a good sniff of a few different casks and even showed us how to use a hydrometer to measure the abv of whisky. He then ushered us from the cool darkness of the warehouse for a wee nip of Bunnahabhain. Not one of the drams we tried is available for sale all being single cask samples, but they all gave us a very good idea of the kind of influence a cask can have on a single malt.
Bunnahabhain 8 year old PX finish
Bunnahabhain 8 year old PX finish
Nose: Much more like Amontillado than PX. Very dry and sharp.
Palate: again quite dry. Almonds, golden raisins and brown sugar.
Finish: a touch of sawdust, linseed putty and evostik.
Overall: Fine, but label this as a PX whisky, and watch the complaints roll in!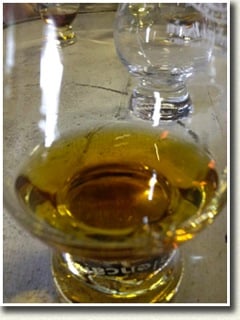 Bunnahabhain 25 year old oloroso cask
Bunnahabhain 25 year old oloroso cask
Nose: Musty Bungcloth, Pot Pourri, peppermint, menthol.
Palate: Sweet, rich, well rounded, loads of sherry character. Well integrated.
Finish: No hint of sulphur, a great cask. Bitters out, then is overtaken by raisin-y goodness.
Overall: Very good. Sherry makes it good.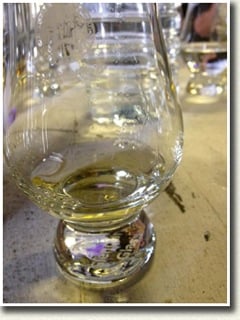 Bunnahabhain 9 year old Moine
Bunnahabhain 9 year old Moine refill hogshead
Nose: Huge clean peat. More than a hint of Gorgonzola. Frazzles.
Palate: Deceptively light, peat takes a second or two to build. Bacon.
Finish: Turns slightly ashy. Cigar ash dropped in a bacon sandwich.
Overall: a very very good crack at a patient style. Nice work.
We did try our very best to catch the mobile grill guys before they left with their tasty tasty burgers, but ended up missing the chance and (not sadly) settled for fresh Islay scallops cooked in whisky.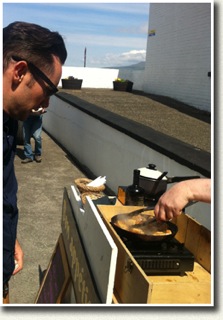 Ridley was feeling a bit shellfish
We again ran into the lads from Cask Strength who mentioned the words 'Highland' and 'Games' at which point Justin and Ben darted off to try their hands proving themselves true Scotsmen by throwing a very large log into the air without killing themselves.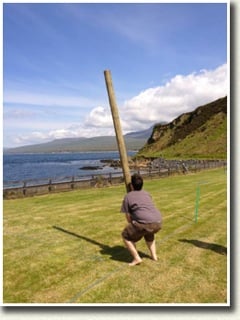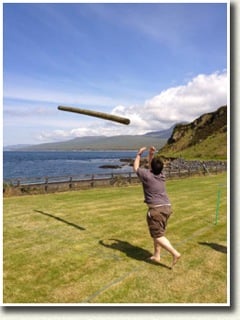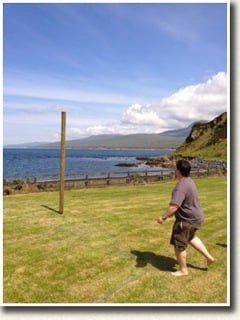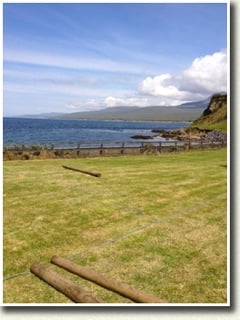 Ben throws a stick. A big stick
Having been blessed with another gorgeous day, we decided to languidly drape ourselves across the green grass whilst enjoying a beautiful sea view. We lingered for quite some time until we realized there was honest-to-god work that needed doing, such as moving some of our whisky haul from the Malt Mobile to the Cask Wagon. Eliot Ness never did show up, thankfully, though I did offer to stab Sean Connery.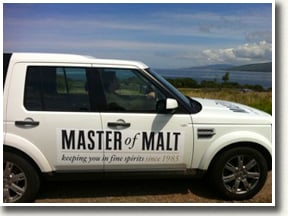 Where's all the whisky gone?
We then returned to our new House of Malt (or Flat of Malt) for a brief respite before our final day tomorrow. Ardbeg day! And maybe something to the with the Queen? I hope Shorty is there.
I must now have a lie down, as I might pass out again while writing this blog.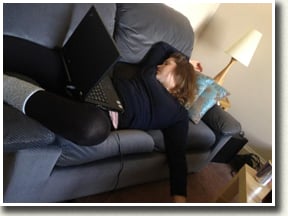 The now infamous 'Catnap'