Another one of low-and-no-alcohol's finest features on our blog today as our Sober October coverage continues. This time it's the mimic masters, Lyre's the most awarded non-alcoholic spirit brand in the world. 
"We saw this consumer trend around people drinking more mindfully. People who still drink but might be looking to reduce or take a break – Sober October is a great example of that – or people who are looking to leave the alcohol category entirely. And we realised people still wanted their indulgences and thought there was an opportunity in the market for something to be developed". 
Lyre's CEO and co-founder Mark Livings is in his element breaking down the opportunities afforded in the world of low-and-no alcohol drinks. Despite only starting four years ago, the brand already has a 13-strong zero-alcohol spirit range, released to some acclaim. If you love a bit of medal action, Lyre's is the brand for you. It's picked up over 50 awards from across the globe and at the recent IWSC spirits awards won the trophy for overall victory across the no and low-alcoholic spirits category.
Despite its meteoric growth in recent years, the premise behind Lyre's is deceptively simple: you don't want to consume alcohol, but still want something that looks, smells and tastes like the original. This is where Lyre's comes in. "Our hypothesis was that people wanted a facsimile of an already-known flavour or spirit. Something that allows you to retain the same measurements and serving size. We wanted it to have a better sort of proximity to the original than Diet Coke does to Coke," Livings explains. "We decided to not release any products unless they could tick all of those boxes. We've managed to replicate 13 of the 15 that we set out to make facsimiles of and with those 13 we can create 42 of the world's 50 best selling cocktails and mixed beverages. That was our goal". 
It's a remarkably extensive collection that covers all the bases. Need a bourbon alternative? They've got it. A gin substitute? No problem. A rum replacement? I think you know where this is heading. Amazingly, there's more in the pipeline. "Our range is so large because we wanted to replace the back bar. To give the trade the ability to make the entirety of their cocktail menu in a non-alcoholic format. To do that you need a very, very broad selection of spirits," Livings says. "We were also thinking global from day one. The world drinks really differently. In the UK, 30% of spirit sales in Britain is gin, but if you go to the US it's less than 5% of total sales, it's a dark spirits market for the most part. We needed a compelling range of products that appeal to a global audience"
Creating such effective, non-alcoholic impersonators wasn't easy. Talking to a producer of zero-alcohol drinks, it does make you appreciate the amount of legwork good ol' ethanol does. "First of all it's a solvent, so it's very good at carrying both perfume and flavour. It can pull them out of other sources, it can preserve them. This is why perfumes are primarily alcohol-based", Livings explains. "It strips moisture from the mouth, amplifying the flavours that you are experiencing on the palate on the way through. It's also an agitant, a harsh chemical which causes blood to flow to the tongue, to the palate and to the cheeks which also amplifies the experience of flavour. Plus, it's a tremendous preservative". 
Arguably, this is the biggest challenge the lack of ethanol poses for zero-alcohol drink producers. Livings believes there is still a fair amount of innovation to do in this regard. "The one part of the industry that no one has got a solution for yet is how do we deliver a non-alcoholic spirit without a preservative like potassium sorbate, which is what we use across our range. So development continues for the entire category. Consumers are demanding preservative-free beverages and so we continue to watch and look for natural preservative alternatives across the range as well," Livings explains. "We keep driving our brand so if we can improve anything, we will change our recipes if new ingredients or technology becomes available that allows us to deliver a closer homage to the original. We're not beholden to a hundred-year-old recipe or to one particular technique of making our product such as distillation".
You might be surprised to learn how often distillation is used in the low-and-no-alcohol category, but there are a fair few brands who employ this method. Lyre's, by contrast, avoided going down the route of a singular production method "The first movers in this field were distilling and then de-alcoholising. The problem with that method was that you are also pulling out an enormous amount of the flavour and some of the parts that make a spirit have that incredible mouthfeel. It's romantic but not effective," Livings explains. "We landed on something – there's no real word for this –  but we call it 'molecular reconstruction'. We identified and isolated the compounds and the molecules that give alcohol its taste, like fruity esters or the phenolics in whisky". 
The process begins fairly simply, by tasting and nosing and spirit to break it down note by note, adding increasingly greater amounts of water and dilution to open it up along the way. "Once we've got our library of all of the things that we can identify using our senses, we then go and look for those ingredients from natural sources," Livings explains. "But it requires a tremendous amount of research and experimentation. Take vanilla. There's something like 230 different vanilla essences available. So we need to understand what sort of vanilla we want. Is it a smoky vanilla, or more spicy-peppery vanilla? Was it a smooth vanilla? Was it a custard-y or banana-y vanilla?" 
It took over three years of innovation and testing, but Livings and his colleagues, with the help of a team of sommeliers, were able to create a library of over 12,500 extracts, essences and distillates sourced from 39 different countries of origin to draw from. Lyre's Non-Alcoholic Italian Orange, for example, was created using natural extracts from ruby grapefruit, blood orange and pomegranate. But that's not the hard part, Livings explains. It's all about balance. "You're fighting solubility. If you crank the volume on the ingredients too high you can get them precipitating into solids in a water base or turning into a layer of oil that can float on the top of the beverage on the way through. Your drink needs to have the right profile while being shelf-stable and having colour". 
This ambition was not only to recreate the aroma and palate of the alcoholic equivalent but also replicates the familiar mouthfeel and viscosity of alcohol. "For this, we turned to natural ingredients again. Things like black pepper, white pepper, ginger, capsicum, Schezuan pepper and menthol can give us the closest approximation to that burn of alcohol. Then to deliver that viscosity of alcohol we use a number of natural sources, things like pectin, gum Arabic or cellulose, even some cool new seaweed extracts coming onto the market that increases the viscosity of a non-alcohol based beverage," Living explains. "They were the last parts of the puzzle that we looked at in order to create a convincing non-alcoholic spirit without leaning on sugar to do the heavy lifting for you, as has been done in the past, which ruins the flavour-profile but it does deliver that viscosity that you're looking for". 
Bringing consumers into the world of zero-alcohol alternatives doesn't just require the liquid inside the bottle to be of sufficient quality, but your branding has to be on point too. Thankfully for Lyre's, it understands how to market itself. The bottles are big, bold and colourful and the playful name comes from the Australian lyrebird, which is basically the world's greatest impersonator and the brand's logo. Birdsong, chainsaw, Mozart concertos – they can do it all. "It's a bit of a tip-of-the-hat to where the spirits have come from. As a brand that was based on paying homage to well known and loved flavours, we felt that the lyrebird was perfect," says Livings. There's also something neat about asking a bartender for a Lyre's Martini because it sounds like you're asking for a Liar's Martini, which, in a sense, you are. "It's a beautiful little phonetic joke," Livings adds. "Each label also features an anthropomorphic illustration, inspired by an animal which is native to each spirit's country of origin, like the North American black bear on the American Malt".
Through its award-winning range and effective marketing, Lyre's has become one of the leading brands in this fledgling category. This year it raised £9m, the largest investment to date for the non-alcoholic 'spirits' category, to boost its range and efforts. This includes the launch of a number of new products across the next six months, including in the burgeoning ready-to-drink range. "It's a natural progression. The same consumer driver that powers RTDs for the traditional spirits market is equally as prevalent in the non-alcoholic spirits market," Livings says. "We'll be launching with three variants but we certainly see some big potential to expand the range in the near future. So watch this space!" 
We'll certainly be keeping an eye out. We're concluding with my favourite Lyre's zero-alcohol cocktails. I particularly recommend The Americano, which is light, refreshing but still bold and full-bodied enough that you wouldn't notice there's no alcohol involved. The same goes for the Jungle Bird, which also looks fantastic when properly garnished. The Amaretti Sour, which is probably the most popular creation of three I've listed, is also smashing. It's a little sweet, a little sour, a little bitter and all-round delicious. 
Lyre's Cocktails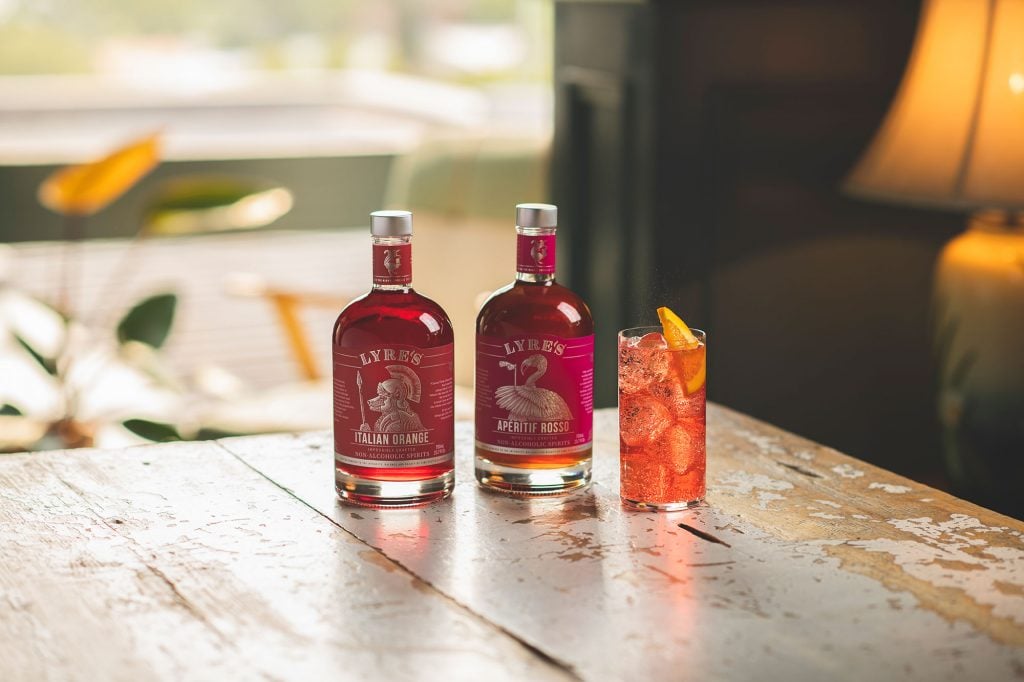 Lyre's Americano
45ml Lyre's Apéritif Rosso 
45ml Lyre's Italian Orange 
90ml tonic water
Build over ice and stir in a highball, then garnish with a slice of orange.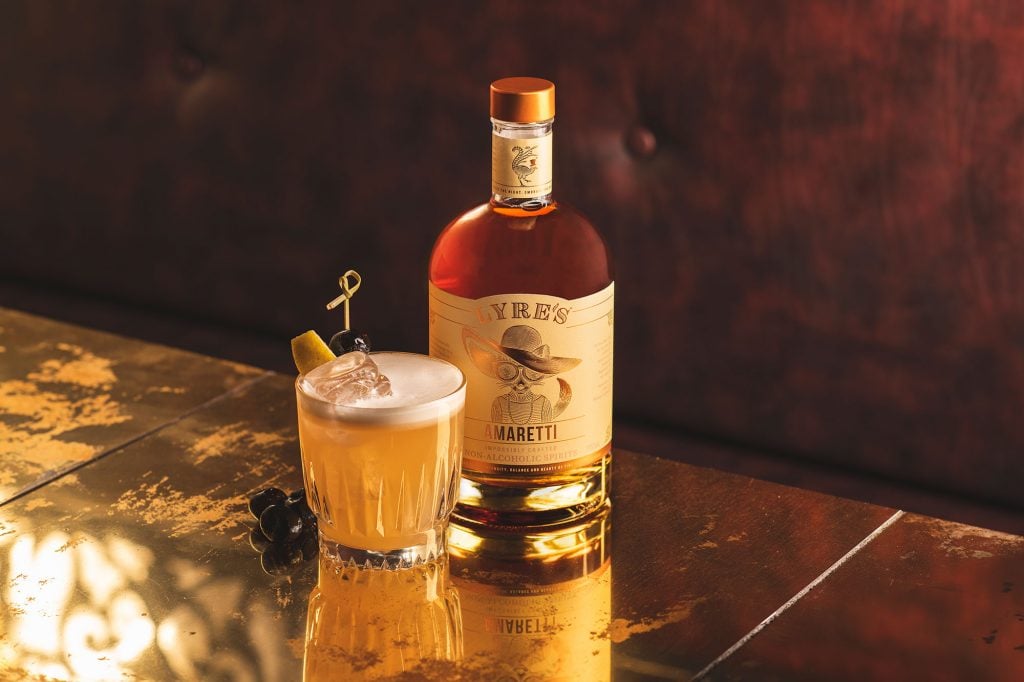 Lyre's Amaretti Sour
75ml Lyre's Non-Alcoholic Amaretti 
15ml lemon juice
5ml sugar syrup
10ml egg white/chickpea juice
3 dashes aromatic bitters
Pop all the ingredients into a cocktail shaker with ice and give it a firm shake. Strain the mixture into an Old Fashioned glass with a fresh cube of ice and garnish with a lemon wedge and a Maraschino Cherry. This is nut-free, gluten-free, dairy-free and wheat-free, so you might as well go the full California and make it vegan by replacing the egg white with chickpea juice, which is apparently a thing.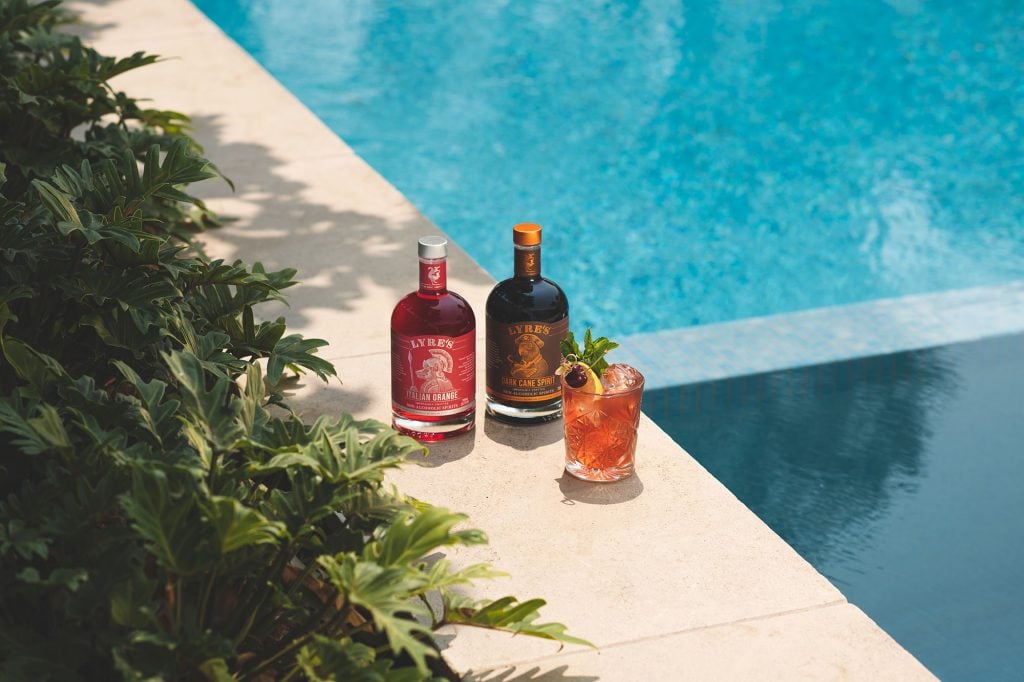 Lyre's Jungle Bird
30ml Lyre's Dark Cane Spirit
45ml Lyre's Italian Orange
15ml lime juice
7.5ml white sugar syrup (1:1)
45ml pineapple juice
Combine ingredients in a cocktail shaker with plenty of ice and give it a good hard shake. Fill an Old Fashioned glass with fresh cubed ice and strain the mixture into it and then garnish with a lemon wedge, cherry and sprig of mint.