Join us as we head to Bimber Distillery to talk about its English single malt whisky: how to make it, what it will taste like and the exciting future ahead, all in a week when England celebrated St. George's Day!
Since the 1905 closure of the Lea Valley Distillery and the subsequent end of barley-based whisky production in England, it has taken quite some time for the category to get back on its feet. While Scotch whisky has continued to thrive and has retained an enviable international regard, and Irish whisky has turned its luck around, English whisky production is still in its relative infancy. But times are changing, and changing fast.
We are undoubtedly in the most exciting period for the category yet; modern English whisky makers are refusing to rest on their laurels, or curse the success of their Celtic counterparts. Instead, distilleries such as St. George's Distillery, East London Liquor Company, Adnams and Hicks & Healey are releasing various interpretations of English whisky, while Copper Rivet Distillery, The Cotswolds Distillery, The Lakes Distillery, Wharf Distillery, The London Distillery Company, Spirit of Yorkshire, Cooper King, and Bimber Distillery are all close to putting quintessentially English whisky on our shelves.

As one of these brands working to resurrect the tradition, Bimber Distillery is just a year away from releasing its own bona fide English whisky. Luckily for us, founder Dariusz Plazewski was kind enough to provide MoM with a wonderful guided tour, detailing how the distillery makes its whisky and what to expect as it comes of age…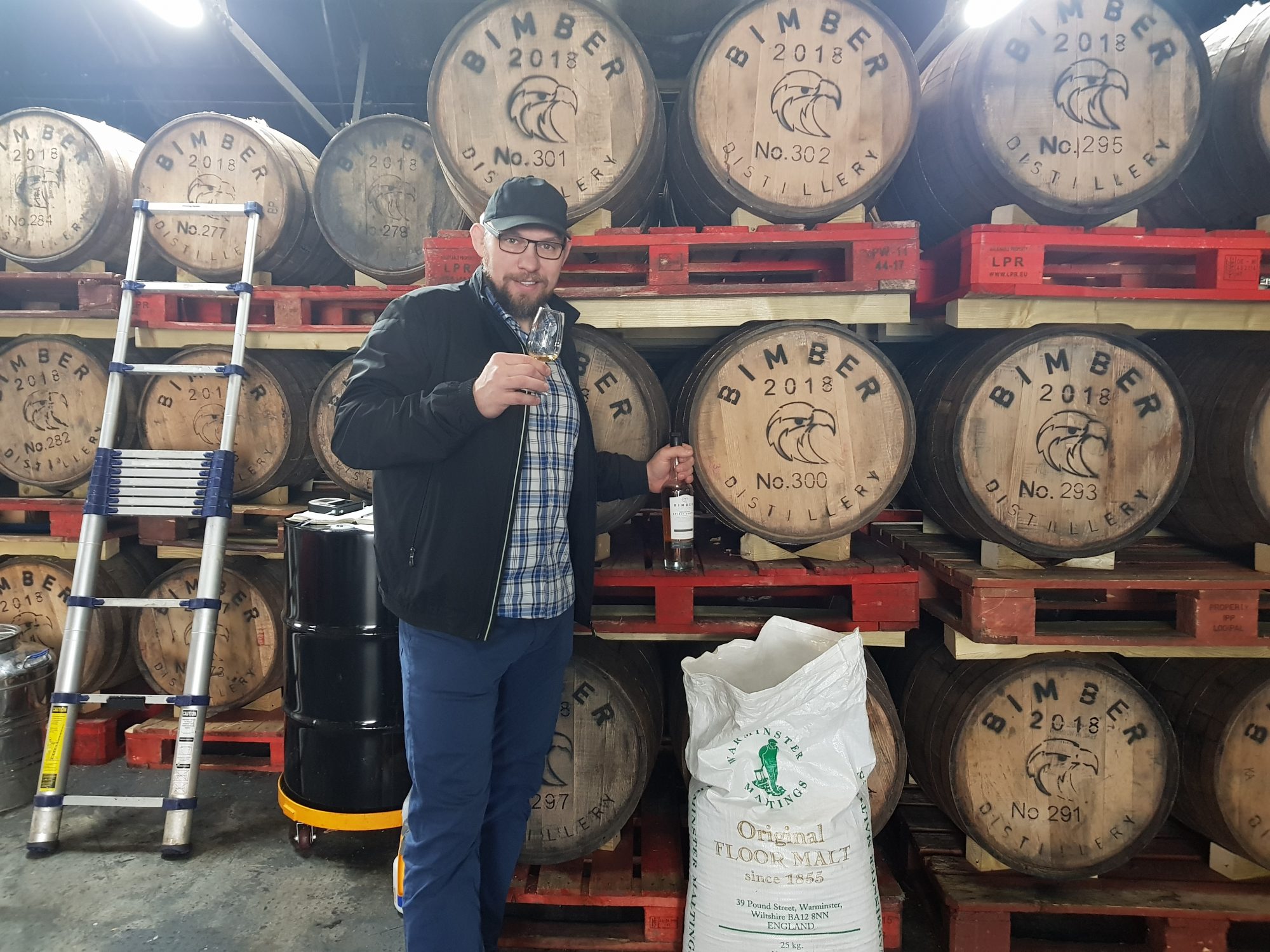 Dariusz Plazewski at Bimber Distillery
Bimber by name…
Dariusz Plazewski lived and worked in London for 17 years before he was inspired to create whisky in the city he loves and now calls home. "Distilling and moonshining are in my blood," he says. "When I realised I could open a distillery I had to go for it."
Plazewski is referring to his father and grandfather, who were both moonshiners in his native Poland. They had a profound influence on him and, subsequently, Bimber Distillery, which is named after the Polish word for moonshine. "I learned everything from them – fermentation, distillation… the name 'Bimber' works with my profile and background," he explains.
The brand was officially established in 2015, although it took a year for the distillery to assemble the necessary equipment and attain a licence. The first official Bimber whisky was distilled in May 2016. This means that, at the time of writing, casks have been laid down for two years. Any whisky enthusiast will tell you that means one thing: the countdown to Bimber whisky stands at just one year.
Plazewski doesn't need to put into words how thrilling this is. It's clear when he talks about what's to come: "We're only a year away from the London single malt!"
It's an important distinction. While others such as East London Liquor Company may have beaten Bimber to the punch of having the first modern London whisky expressions, it will become one of the first distilleries to release a single malt from the capital since the revival of the English whisky category (The London Distillery Company will beat them to the punch for the very first, more on that in the future…). Now that's got to intrigue the whisky geek inside of you…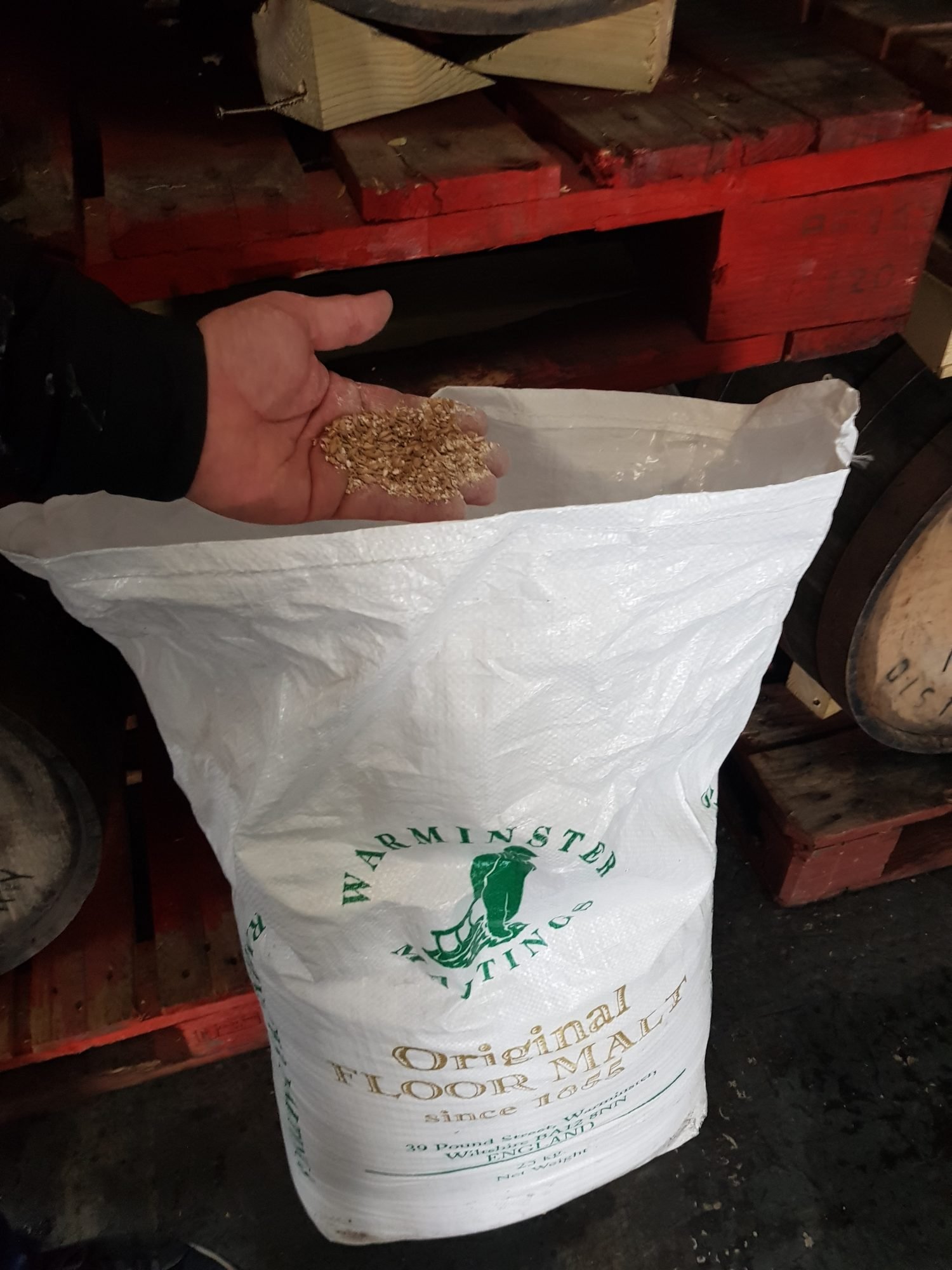 Plazewski showcases Bimber's 100% English barley
The process of creating Bimber Whisky
It is immediately clear that creating a whisky that is English to its core matters to Plazewski. "We certainly don't want to copy Irish or Scotch whisky. We're creating a character of English whisky from the start with the barley, which is very important." Plazewski refers to his freshly crushed 100% English barley, sourced from one of the country's only remaining traditional maltsters and the oldest in production, Warminster Maltings.
Very few distilleries still use floor malted barley, but as its honeyed, bready and fresh aroma wafts over the distillery you can see why Bimber felt it worth the extra expenditure. A total of 250kg of this grain is used per mash, which is heated to 67°C. This is a slightly hotter temperature than is common, but Plazewski explains that this will extract more sugar, resulting in a lighter flavour.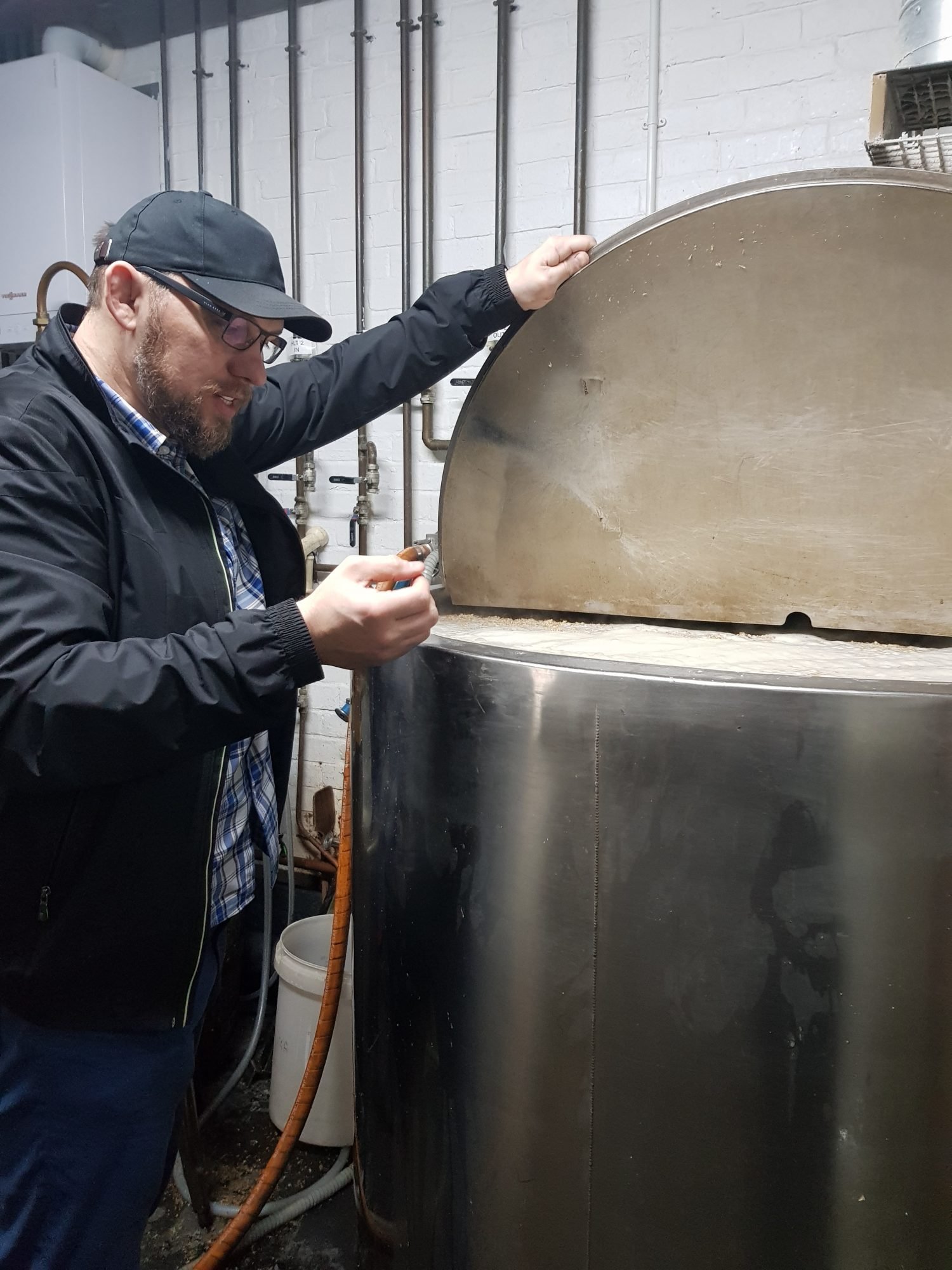 Plazewski samples the Bimber mash
Once the mash is drained, around 1,000 litres of clear wort is transferred to one of three stainless tanks or one wooden variant. Plans are under way to make every tank wooden, but it's not a simple task. The distillery wasn't able to externally source its wooden tanks, so the example you can see in the photo below was built and refined by hand over the course of six months.
This not only speaks to the resourcefulness of the brand but of its commitment to the ideal of the Bimber profile. Plazewski explains that the character of wood imparts the flavour he desires, "because when you use wood the fermentation can breathe and absorb the fruity flavour we want". That same devotion is apparent in the specific varietal of distillers' yeast that is used for fermentation, as it was developed especially for Bimber. The fermentation process can take up to six days in total, which is an especially long time, but Plazewski explains that this is influenced by his "old roots".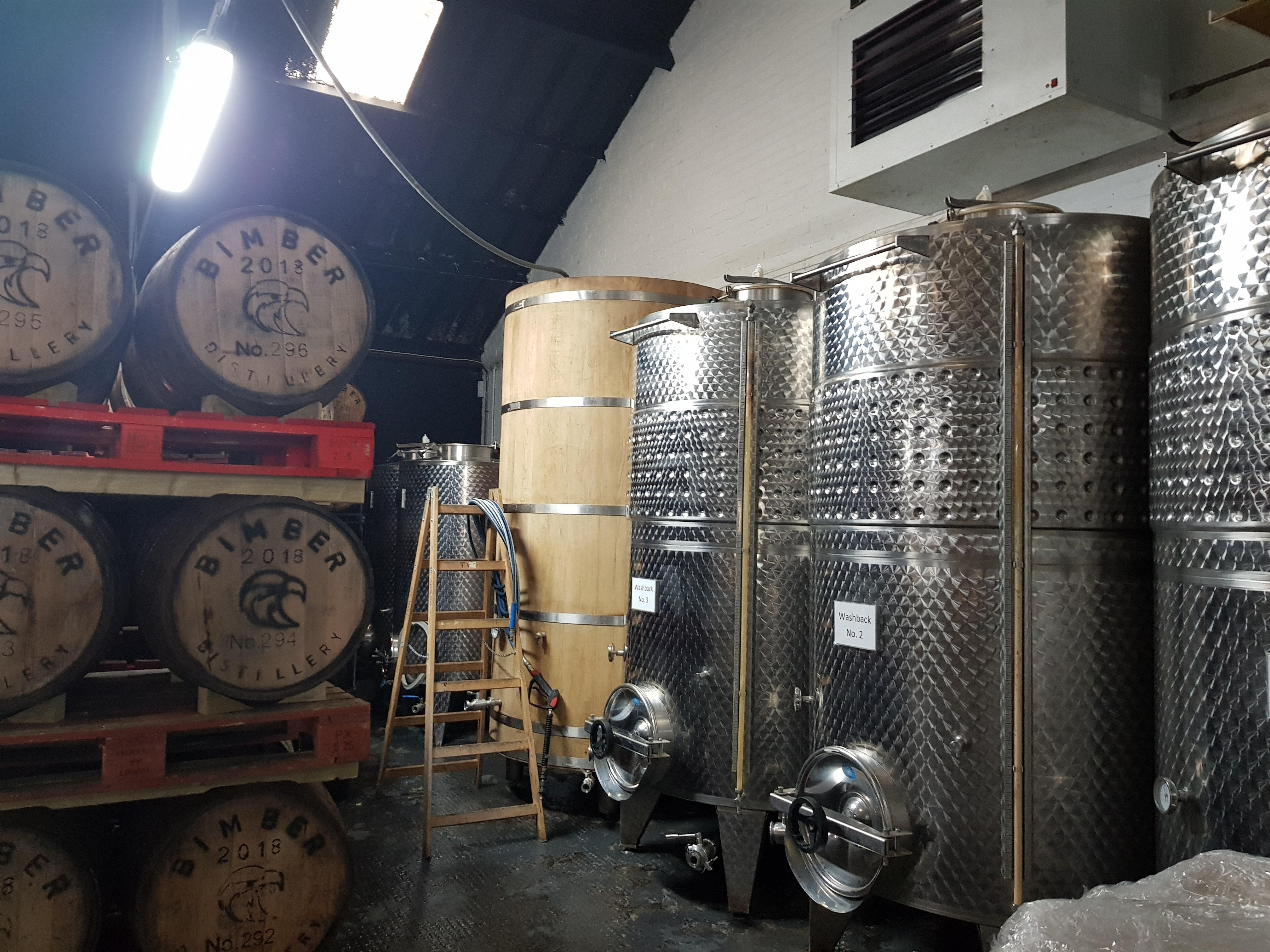 The Bimber fermentation tanks
Following fermentation, the Bimber wash is transferred to the beautiful, handmade Portuguese copper stills for distillation, which were made to Plazewski's specifications. "We wanted to achieve the flavour you receive from a small and bulky still, not the longer, larger examples common in Scotland," he explains.
The first distillation takes place in a 1,000-litre alembic still named Doris, after the sea nymph in Greek mythology, whose name represented the bounty of the sea. A second distillation follows in Astraea, a 600-litre spirit still named after the Greek goddess of innocence and purity, who was said to strive for perfection with great attention to detail. It's an appropriate name for a vessel tasked with refining the final new-make spirit.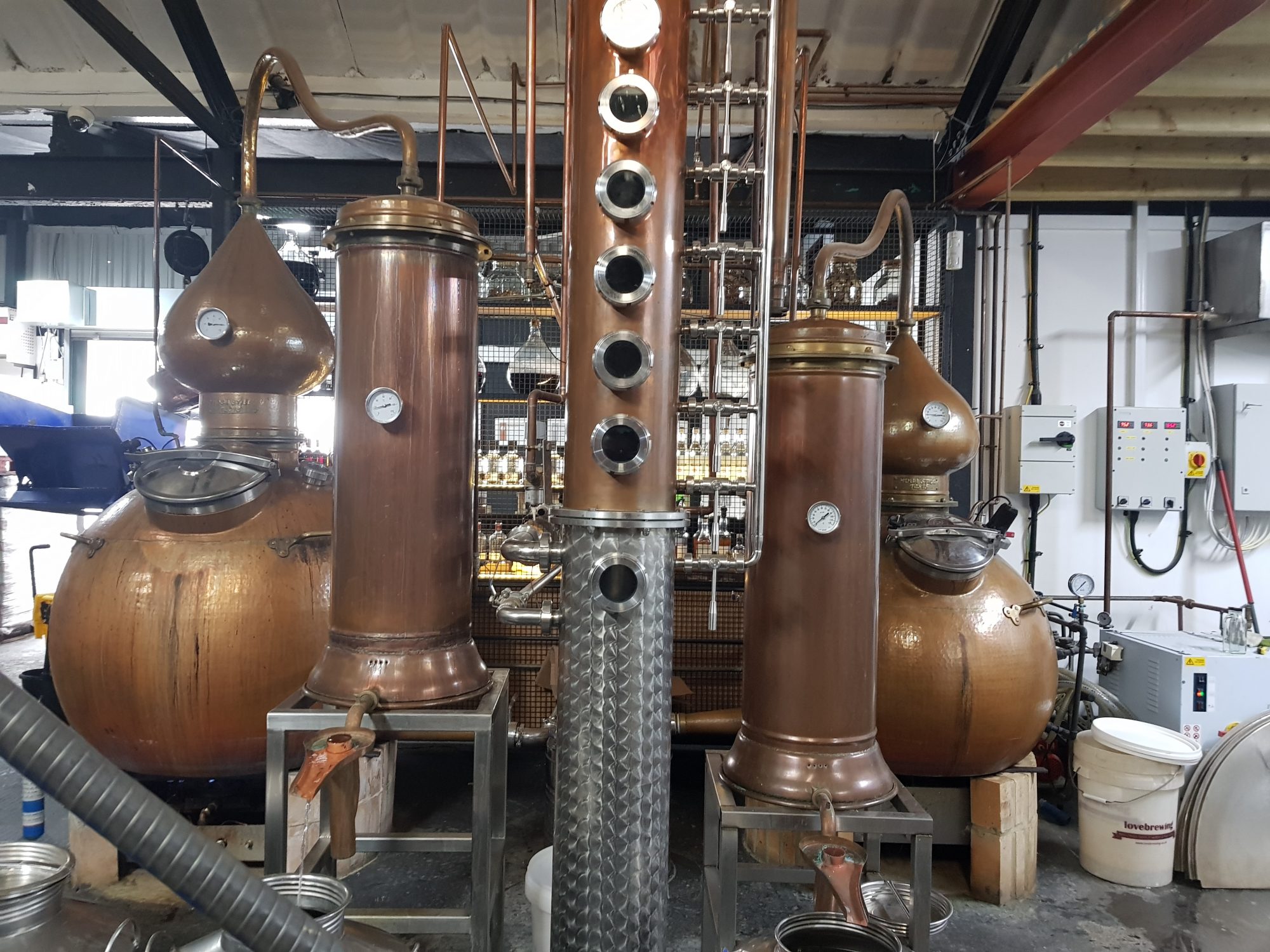 Doris and Astraea in all their glory at Bimber Distillery
With its references to Greek mythology and heritage of Polish moonshining, it's little surprise that traditional methodology defines much of the Bimber approach. It's not often that you visit a distillery that chooses to heat its stills using a direct gas fire (many will use steam instead), but Plazewski says the approach facilitates a slow but powerful cook for a more robust and full-flavoured spirit.
Plazewski points out how the specific design of the equipment, in particular, the shape of the shell and tube condenser, was carefully thought through to ensure a longer condensation period to bolster those sought-after light and fruity flavours.
The result post-distillation is a 72% ABV new-make spirit, which Bimber cuts down to 63.5% ABV using osmosis-filtered, purified London water. Plazewski explains that the aim to create a light, fruit, new-make is rooted in the plan to make Bimber single malt a tipple that doesn't have to be aged for a long time, "so the whisky is drinkable as a young whisky".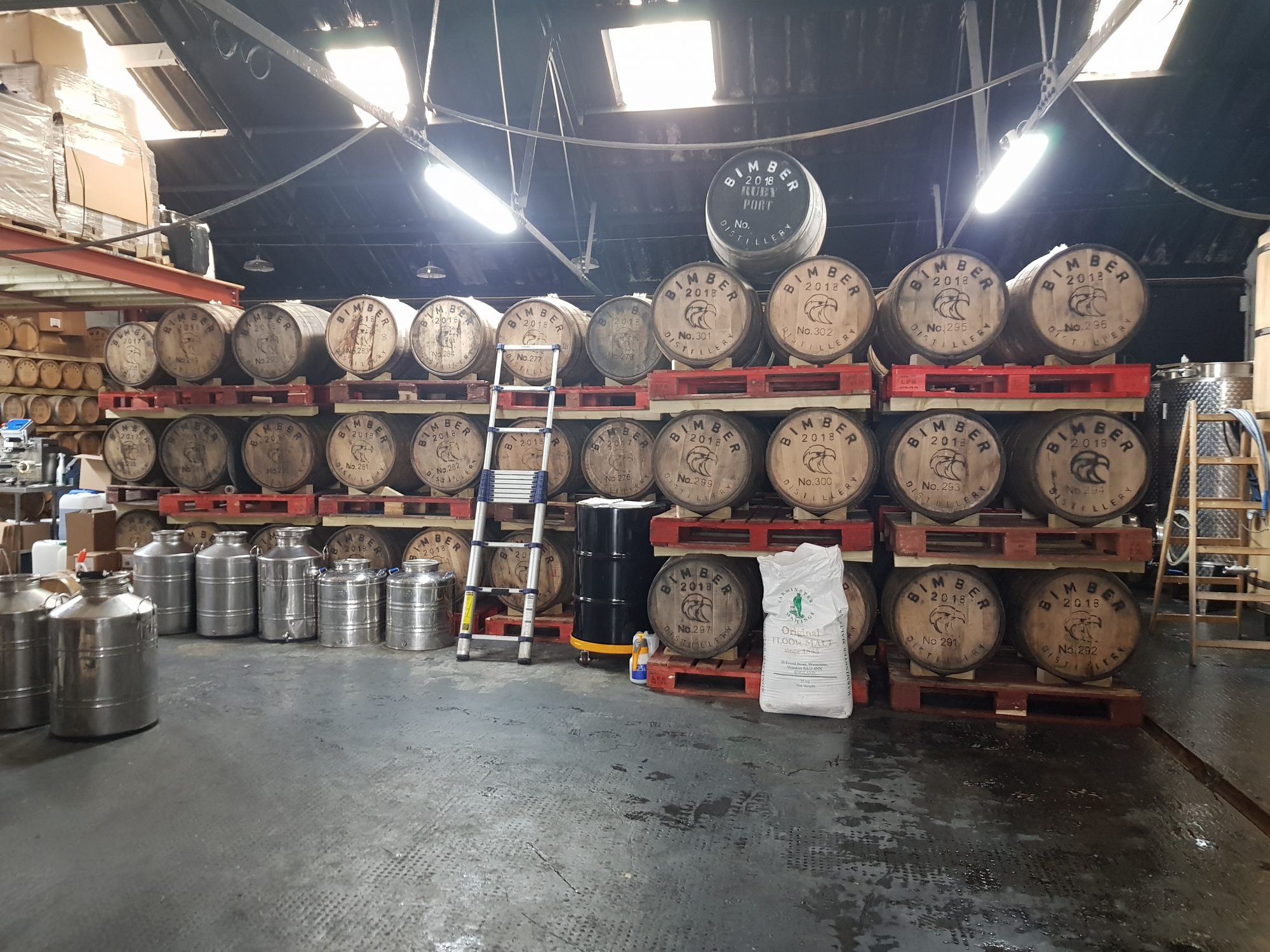 Bimber barrels are stored on-site
The new-make is then ready for maturation, and at Bimber there is quite a selection of casks available. The predominant variety is ex-bourbon, sourced mostly from Woodford Reserve, and toasted to char level #3. However, there is no shortage of interesting ways to finish or influence the whisky: there are virgin oak casks from World Cooperage (Missouri, USA), as well as ruby Port, Pedro Ximénez sherry and even red wine varieties housed in the distillery.
Bimber buys all of its casks direct from the source with a few litres of spirit left inside, which are emptied fresh on arrival. "This is something we do differently; we don't buy flat-pack," Plazewski explains. The team's commitment to creating a whisky that can be enjoyed after a relatively minimal maturation period has led them to seek active casks, which impart a distinct colour and all kinds of flavours in a shorter amount of time. For this reason, all maturation takes place in first-fill casks for the greatest wood impact.
Plazewski points out that under his roof "everything is taken care of: mashing fermentation, distillation, ageing and bottling". It's a genuinely impressive operation, demonstrated by the number of samples bottled and recorded in the library. Evidence of numerous experiments and constant innovation lie within, and not only is it quite the whisky paradise, but it's evidence that Bimber has the potential to follow its inaugural release with some fascinating tipples.
The library sits in the lab section of the distillery, which features the bottling line and the label design station, which director, co-founder and head designer Ewelina Chruszczyk handles. There is even a cooperage close by where casks are improved and repaired. Plazewski is searching for a new, larger site in west London that would be about ten times the size of the current distillery, but right now he's using everything at his disposal admirably.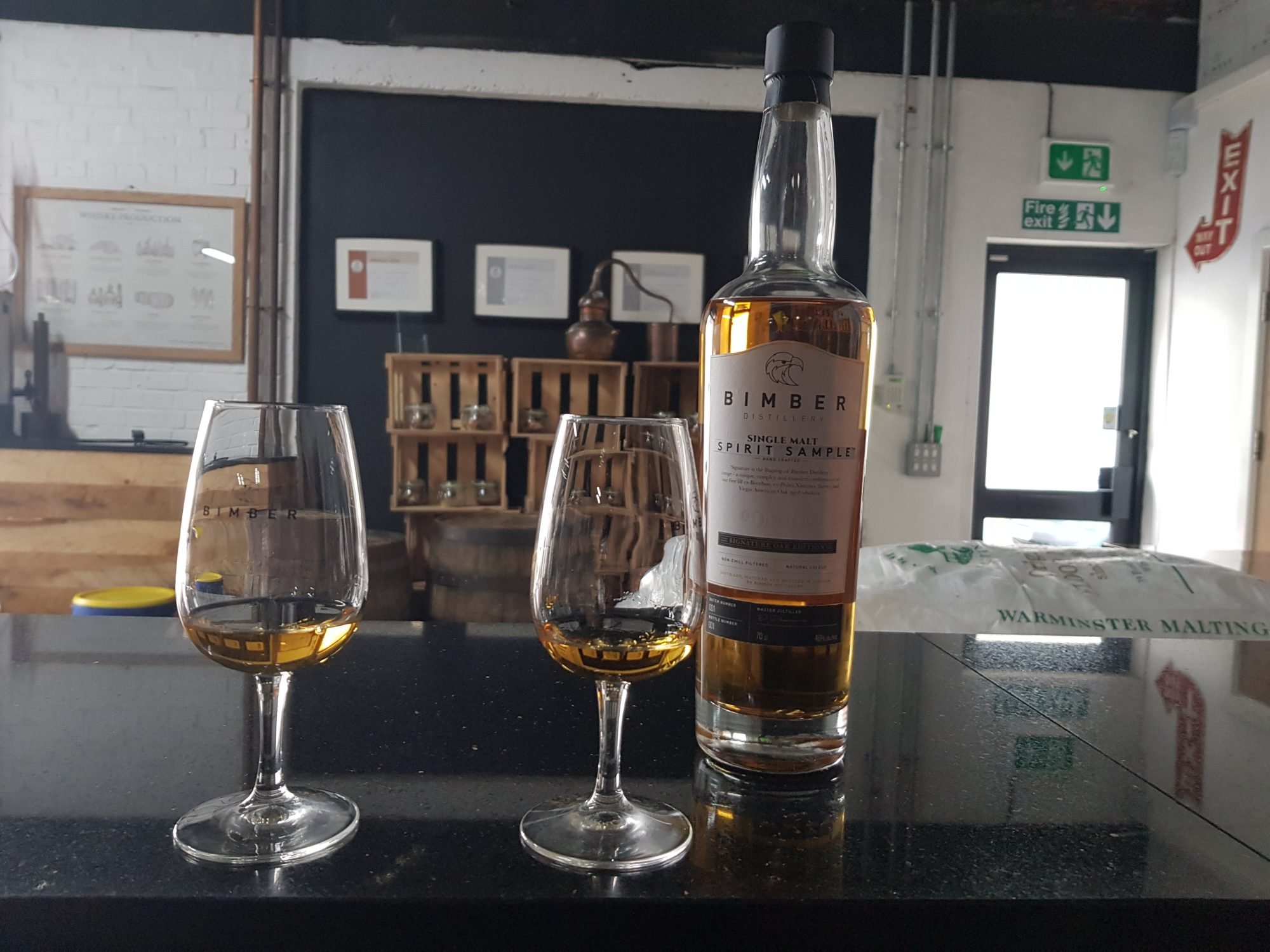 The Bimber Signature edition sample
Bimber Whisky: An early profile
After seeing the Bimber process in action only one question remained. What does the whisky taste like?
Plazewski is more than happy to oblige and sets the handsome bottle you see in the photo above down onto the table. He announces Bimber's plan to release the Signature single malt edition next year. "The first batch will be 1,000 bottles, around May to July 2019, with around 5,000 to follow if all goes well." Cask-strength expressions are also planned, which will carry an outturn of 200 bottles per cask.
The Signature bottling was matured predominantly in ex-bourbon barrels before it was finished in virgin oak and sherry casks. Before the final product is bottled, it will be watered down to 46% ABV.
Bimber has, for now at least, opted against a fixed age statement. The rationale is that as a small, craft distillery it is able to monitor the progression of each cask individually and dictate when the spirit is ready to bottle according to preference. In order to retain a singular profile, the team will taste-test each sample and organise them into batches, which means they can vat selected casks and maintain the same character.
The dram that Plazewski and I enjoyed is two years old and was drawn from the cask just a week prior to my visit. It has to be said, it's not only a very promising expression but everything Bimber aimed for: a light, fruity, creamy dream of a dram.
Bimber and the future of English whisky
Through a traditional, handcrafted and rigorous process, Bimber has created an exciting young spirit that's full of quality and flavour. Yet, when I ask about the brand's future and contribution to English whisky, Plazewski is humble. "We're proud to be part of the movement, but to create the English whisky category is not something we can do on our own. There are plenty of new distilleries opening up, so only in time will we be able to determine what the flavour and character of English whisky will be."
However, Plazewski is certain that there is no need for English whisky distilleries to limit their ambition of what the future could hold. "I think it's going to be a great category; if you look at gin there's so much that can be done."
Plazewski certainly never lets anything inhibit his aspirations. From trading Polish moonshine as currency under post-war communism to heading a distillery that stands at the forefront of the modern English whisky category, his family has come a long way. I'm sure he'd agree that producing a modern London single malt would be a worthy reward.
If you want to check out one of London's most innovative craft distilleries, you can book guided tours with tastings of Bimber's award-winning range, or you can invest in one of Bimber's unique casks, filled with its highly rated London new make spirit.
We hope you all had a wonderful St. George's Day!