Developing an esteemed and commercially successful gin is a dream for many. But creating four? Now that takes some serious skill. For the third instalment in our International Women's Day series, we chat to Joanne Moore, master distiller at G&J Distillers and the creator of Opihr, Bloom, Thomas Dakin, and Berkeley Square.
G&J Distillers is the world's oldest continuous gin distiller, and has been producing the sweet stuff since 1761. But that's not to say the company is tied to tradition. Distilling is the sector of the spirits industry that arguably suffers the most from gender disparity, so Moore certainly bucked the trend when she was appointed as master distiller in 2006.
As well as overseeing production for all four of the gins she designed, along with Greenall's (for which she is the guardian of the recipe), Moore's role ranges from developing top secret new products to leading educational masterclasses. And when she's not experimenting with obscure botanicals or sharing her wisdom, you'll find her sipping on a French 75….
Moore holding a bottle of Opihr Gin
My career started back in 1996, after I graduated from university with a biochemistry degree. I didn't set out to be a distiller, in fact I often describe myself as an accidental distiller. I got a job with G&J Distillers working in the lab, thinking I'd be there on a temporary basis, and 22 years later I'm still here! I quickly got promoted to quality and product development manager, and looked after the whole process from raw ingredients through to distillation and bottling. I fell in love with the whole distilling process; the botanicals and the flavour and the creation side of it. I also worked on a lot of new product development, and so when our previous head distiller retired I became the seventh master distiller – and the first female – for G&J Distillers.
I created all the gin brands for Quintessential Brands. I'm the creator of Bloom, Berkeley Square, Opihr and Thomas Dakin, so anything to do with those in terms of education, technical issues or development I'm involved with. I also get involved with brand education, so hosting gin masterclasses for those brands as well as gin in general. I'm also speaking this year, for the third year running, at Ginposium for The Gin Guild, which I'm a member of.
Every day is different, but there are core elements of your day that are always the same – like everyone's job, you have a ream of emails that you have to go through. If I'm based on-site, I'll always nose and approve what's on the tasting panel that day and of course there are always new projects that I am working on. For example, there are three projects that I have to work on this week which are time-critical, and then there are other projects that are a little bit longer term. There's always lots of product developments at different stages, and so at times it can be like spinning plates to ensure they are all completed on time.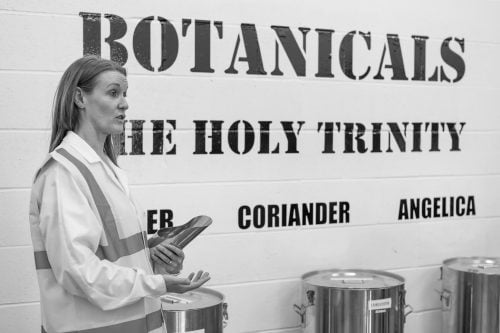 Moore's remit also includes brand education
When it comes to creating a new gin, it's very much like 'how long is a piece of string?'. Bloom and Berkeley Square both took nine months from concept right through to first production. Opihr took around five months to develop. Thomas Dakin took 14 months, but in my defence I had a little career break to have a baby in between! So it very much depends on what the brief is and what we're trying to do. We look at what trends are in the market and we look for gaps, which is what we've done with our brand portfolio. With gin being a very cluttered, saturated market, you need to have that real point of difference, and I've tried to create that with the gin portfolio that we have.
I like to try and find new botanicals. With Thomas Dakin, I used horseradish root – we use the old name, 'red cole' – so I like to try and use ingredients that people wouldn't naturally associate with gin. But it's got to work; you can't just force an ingredient in there. I also like using really delicate flavours, like flowers. You'd think that it would be really easy to use the delicate ones and harder to use the more bold, intense flavours, but it all depends on the ingredient, where you've bought it from and the season.
In terms of botanicals that I'd like to try and distil, there are a few flowers that I've been trying to get hold of, but they can be quite seasonal and you can only source them as an ornamental flower rather than an edible flower. I've challenged some of my botanical people to go and find me them, but they're struggling! So, we'll see. They always say 'oh no, what does she want now?!'. I've got a reputation for asking for the most awkward things!
There are more women coming into distilling, but it's still very male dominated, and I think we see more diversity at the smaller, independent distillers given that they own the business, so they can choose how they do things. For women, some of the challenges are not just related to the actual distilling role but it's about that whole work-life balance. It might be the location of the distillery, or sometimes with the bigger distillers, it's shift work, so it might be unsociable hours. I'm always very cautious when we talk about 'diversity' that yes, I do support it but as a woman, I would rather know that I've achieved something from my own merit and capability, not because I'm ticking the diversity box. That said, I recognise that we should be more diverse because diversity brings in different ideas and innovation, but that person has to be right for that job.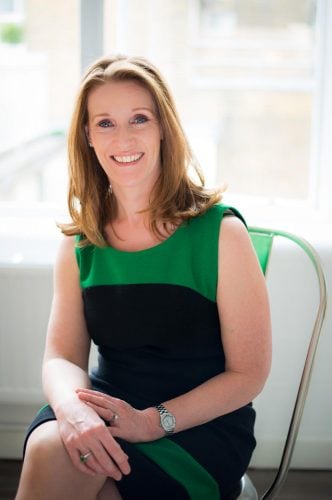 Moore became G&J Distillers' seventh master distiller in 2006
Gin is my tipple of choice when I go out, usually a Gin & Tonic or a French 75. When I go to a bar I always look to see if my brands are there, and if they are, then of course I will always choose our brands. There are so many gins coming into the industry that I can't keep up. You get asked 'oh, have you heard about so-and-so gin?', and it's often a regional gin. So if you're going somewhere you've never been before, sometimes it's nice to try the local gin, just to say you've tried it.
The highlight of my career so far has been creating the brands, especially Bloom and Berkeley Square because they're the first two that I worked on. For the company to put my name on the bottle was really quite a proud moment. It's just amazing to see how well the brands are doing. It's great to see the bottles, not just behind back bars but in supermarkets as well. When I'm doing my shopping and I see people pondering over gin and they've got maybe two or three of ours, I smile and think to myself, 'I made those!'.
My advice for women who want to get into distilling is that they should want to do it for the right reasons. You've got to like the product that you're going to be distilling. I'd also say choose your battles – you don't have to win every battle to win the war. Compromise is not a dirty word, either. So like any relationship, whether it's your private life or your business life, be true to yourself and don't be afraid to make mistakes.