We sat down with Ivar de Lange from Lucas Bols to learn how you can make pro cocktails at home, which bottles you can't do without and why everyone loves blue drinks.
Ivar de Lange (below) from Lucas Bols has an enviable job. He's responsible for the Dutch drinks giant's education program. It involves working with bartenders around the world, running its bar academy in Amsterdam, and he's involved with new product development. Originally he studied psychology, but the lure of the hospitality industry proved too much. After running a few bars in Holland, de Lange joined Lucas Bols six years ago. 
He knows about as much as anyone about making high quality drinks but what he's looking for in a bartender is personality more than technical prowess: "I've seen bartenders who can make great drinks but if you don't want to spend an hour with them. I'd rather have an ok drink with a great bartender, than a great drink with a bartender who doesn't do anything. You can get cocktails in many good bars but it's the experience that seperates a really good bar from a good bar."
The great thing about making drinks at home is that you don't have to worry about getting on with the bartender because it's you! But you might need some tips on hosting a cocktail party. So here's some advice from the man who knows. 
How to make pro cocktails at home
Preparation  
"The biggest mistake people make is they want to do too much," he advises. "Pick two or three good drinks and prepare beforehand." De Lange told us that he usually spends two hours preparing for a party. Slice fruit and squeeze limes in advance. Drinks like the Cosmopolitan are ideal as you can combine the vodka, triple sec, cranberry juice and lime juice beforehand, and then shake each one to order. "You can't go wrong," he said. Don't be afraid of RTD cocktails where all the hard work has been done for you and you just get the glory. 
Ice
"Ice is the key to good cocktails," he said. One of the biggest differences between a professional and domestic bar is the quality of the ice.  "When making cocktails at home, you can't store ice properly, or control the quality and temperature of ice cubes," he added. It's worth reading our guide to ice in cocktails but the golden rule is you will always need more ice than you think and make sure your ice is properly cold. 
Bar equipment
"The minimum kit depends on what you are making. If you want to get your inner Tom Cruise on, you'll need a cocktail shaker, a strainer, a jigger, a cutting board, a knife, and a bar spoon. If you have that you're good to go," he said. He added that it was vital that you know how much is in your jigger. You should make sure you measure everything exactly to ensure consistent cocktails and to make sure your guests don't get hammered. Which brings us on to the next point.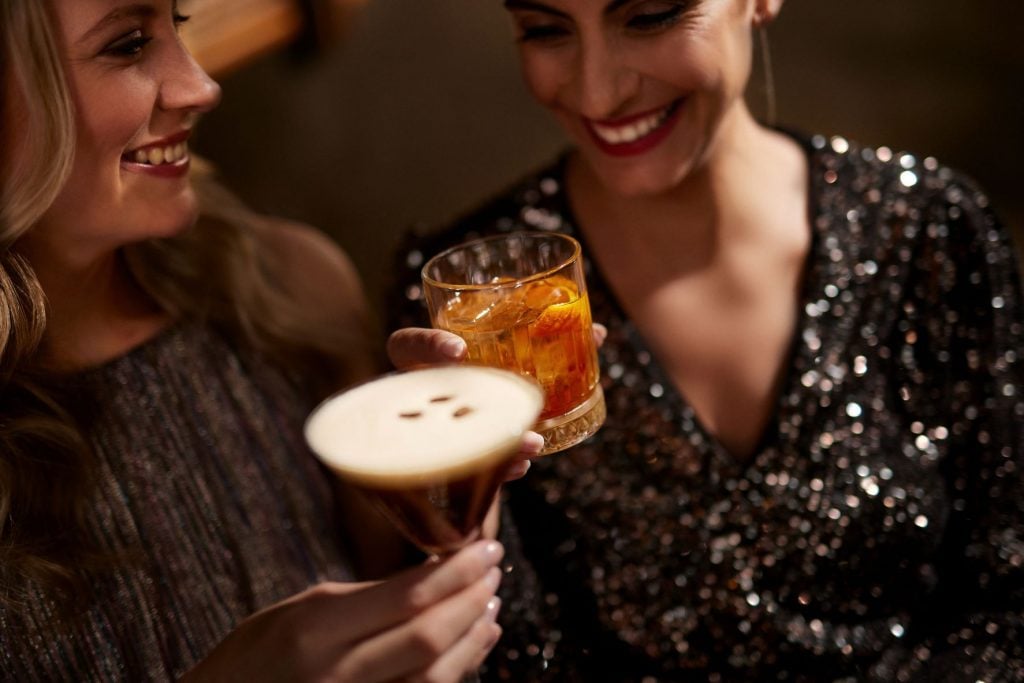 Don't make them too strong
"Drinks are often way too strong," he said. In some cocktails there is as much alcohol as two or three beers, and you might be serving two of those in an hour. "Things can go south very quickly," he warned. Even though you're making drinks at home, you're still responsible for your guests, so if someone seems a bit worse for wear, make them a soft drink. Part of the key to making drinks the right strength, is to use the right glasses. 
Glassware
"For me it's very important to have the right glasses. People serve Mojitos in glasses that are too big or too small so you either have too much or too little soda water." Either the drink doesn't taste right or it's much too strong. He also added that different glasses suit different cocktails. "Martini and coupe glasses have an open nose so suit a shaken cocktail with lots of aeration. Serve a Cosmo in an Old Fashioned glass, it's not the same drinking experience," he said. The visual element is all important: "We teach that the first sense you have is with the eyes." He recommends going to flea markets to pick up antique glassware for the full professional experience.  
Bottles
As well as the classics like gin, dry and sweet vermouth and bourbon (see our guide to stocking your home bar), De Lange recommends four other bottles: Bols genever– the grandfather of gin, in the first cocktail books one in four cocktails were made with Holland's gin aka genever; triple sec; strawberry liqueur; and Bols Blue Curaçao. "We always put a blue drink on a menu when working with bars and it is always the most sold cocktail". 
Recipes
And finally, follow a recipe, exactly, at least to begin with. Handily the Bols website has a recipe page, or we would highly recommend getting a copy of Cas Oh's award-winning cocktail book. CO Specs. Here is one of de Lange's recommendations for the perfect cocktail to make your party go with a swing. 
Red Light Negroni
30ml Bols Genever Original
30ml Galliano L'aperitivo
30ml sweet vermouth
Stir and strain into an ice-filled Old Fashioned glass. Garnish with an orange twist. Or if you're having a party, make a batch in advance, keep it in the fridge and just pour over ice when your guests fancy a drink.