Last year, Brixton bar The Courtesan launched a wine and spirit list featuring bottlings produced, owned or grown exclusively by women. We chat with owner Hammant Patel Villa and discover just how stark a point of difference his concept is in a male-oriented industry.
With movements such as #MeToo and #TimesUp taking centre stage across international news outlets, gendered assault and discrimination is at the forefront of everyone's minds. The drinks industry is not without misogynistic marketing, structural inequality (spanning from the boardroom to the back bar), and, regrettably, sexual harassment and/or assault.
While a collective push akin to either of these campaigns is yet to surface within the industry, there are a handful of people (of all genders) who are taking action to progress the discussion. One such ally is Patel Villa, owner of Brixton dim sum restaurant, tea room and cocktail bar The Courtesan. The venue is inspired by the courtesans of Ancient China; highly-respected, well-educated women that played an important role in the country's history – an internationally gendered effort to recognise the multifaced roles of women today.
Inside The Courtesan…
"[The courtesans] were trained from birth to represent noble families," he explains. "They held great power, and essentially operated the courts, which were the real power bases of the world. These women were unbelievably talented but they also had to fulfil a really major role within an empire. After we came to the conclusion to call the place The Courtesan, [we decided] everything should celebrate female talent."
As such, The Courtesan operates with an all-female chef team, and recently launched a 45-strong female-centric spirits list spanning Scotch whisky, American whiskey, Cognac, Tequila, mezcal, rum, gin, vodka, and liqueurs.
A bar focused on the industry's female players is all well and good, but for Patel Villa, the bigger picture remains a bleak one when it comes to gender equality.
"I think the wine and spirits industry is the worst industry I've ever come across for the percentage of women in it," he says. "When we started our research, we were looking at about five to ten percent of women who make wines and spirits, which is just appalling. The bar industry is just as male-dominated."
Since women are seriously underrepresented in the drinks biz, putting the list together was far from straightforward. To start with, Patel Villa approached "all the major wine distributors" and asked for female-produced or owned products. "They either said 'no', or 'we don't know'," he says.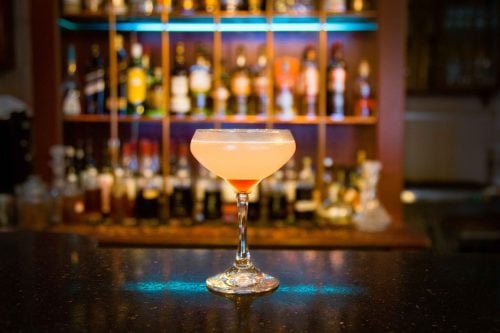 The cocktail list is themed on the courtesans of Ancient China
A wine exhibition proved more fruitful; there he met Tamra Washington, a native New Zealander working for Yealands Estate. "I tried the Sauvignon Blanc and it was remarkable. It was something that I've never tasted before. I said, 'this wine is, in effect, too good for what it is; it's got too much flavour, it's obviously been doctored'."
The wine hadn't been doctored. How did Washington know? Well – she'd made it. "She then gave me this massive school lecture where I had to bow my head in shame," admits Patel Villa. Not only had he stumbled across "one of the world's greatest winemakers", but it transpired that she'd lived opposite The Courtesan for more than 10 years.
The mission to undercover more female drinks producers was reignited. With the help of Enotria&Coe and Matthew Clark, who sourced "tens and tens of wines", Patel Villa began assembling the menu, and embarked upon spirits research.
A scan across The Courtesan back bar reveals familiar brands – Bloom Gin, Bombay Sapphire, Dewar's, Auchentoshan, Ron Zacapa, Jose Cuervo, Aqua Riva Tequila, Bushmills, and Appleton Estate Rum – alongside perhaps more localised brands, such as London-based Vintage Velvet Vodka and Brighton Gin. The spirits side looks to be improving, and about time, too.
"The sucker punch is, it's scientifically proven that women taste things better than men," Patel Villa asserts. Indeed, according to Yale University research, around 35% of women are super-tasters – born with more taste buds than others, so are better at distinguishing between flavours – compared with just 15% of men.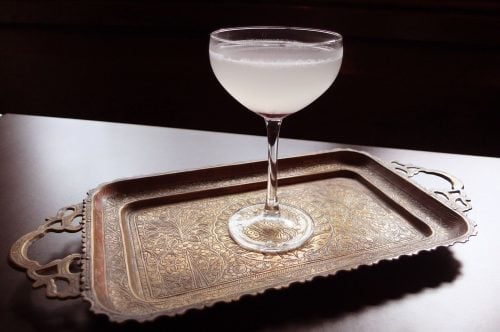 The China Ghost cocktail…
"That means that the majority of winemakers should be women!" he continues. "The problem is that most women have not got the [opportunity] to become a super-taster, even if they've got the ability."
As such, he believes equal education and training opportunities are the key to improving the gender imbalance within the industry. "We all have people around us who naturally have talent – maybe, say, their athletic ability is immense, but if they've not been to a school where they've been trained properly, how are they ever going to be the fastest hundred metre runner?"
The fact that a bar like The Courtesan exists is testament that progress is being made in the drinks sector when it comes to gender equality. But one female-sourced spirits focus will not turn a tide. From the women drinking and working in bars to those at the top of the booze sector corporate tree, and for all those in between and beyond, surely it's time for a rallying #TimesUp cry of our own?