Want to live off the land, but no idea where to start? We talk hogweed Old Fashioneds, preservation hacks, and the quickest route to becoming a botany expert with the UK's leading urban forager John Rensten, ahead of his in-depth foraging and cocktail making masterclass in collaboration with Bushmills Black Bush Whiskey this coming Thursday…
If you live in London – or any big city for that matter – your idea of 'foraging' is probably heading down to the farmer's market on a weekend to buy vegetables that (for once) aren't wrapped in plastic. But what if we told you that there's an abundance of elderflower, lime blossom, cherry, dandelion, clove root, hogweed, and all manner of plant produce to be found for free, right on your doorstep? That's the message behind this week's masterclass; the second event in Bushmills' series of #BlackBushStories workshops, which celebrates the stories and crafts of independent and spirited talent across the UK.
"In each workshop we team up with a pioneering talent, in this instance it is the craft of foraging with the urban forager, John Rensten," explains Donal McLynn, Bushmills' whiskey ambassador. "John will take our guests on a guided foraging tour in London, before they return to the bar and learn how to use foraged ingredients to create whiskey cocktails. The masterclass will be co-hosted by John, myself and Neil Ridley, the whiskey connoisseur and award-winning drinks writer and TV presenter."
With more than 20 years of foraging know-how under his belt, Rensten says recognising the flora and fauna in urban parks was the "green epiphany" that led him to pen his book, The Edible City, in which he explains how to identify, source and cook delicious nutrient-rich plants found growing in our local parks, pathways, gardens and other wild spaces. "I was absolutely gobsmacked by what I found," he says. "The countryside and the city doesn't have the border we think it has – they just basically meld into one, and there's an awful lot of the countryside in the city if you know how to look."
Rensten wants to dismiss the idea that cities are, by default, 'dirty', and the countryside by contrast, is 'clean' – an assumption many of us are guilty of making. "There are lots of areas in urban environments that are historically-documented green spaces that pre-date the industrial revolution so they've got no history of industry or agriculture, they haven't been systematically sprayed with loads of horrible chemicals over the last five decades, and so the soil quality is great," he says.
Foraging can be off-putting for the uninitiated, coming off at best as complicated, and at worst, dangerous. In fact, the topic can be simple – what matters is your approach. The trick, says Rensten, is to learn a few plants inside-out, rather than adopting an encyclopedic approach to "masses of botany".
"For something like dandelion, you've got three different edible crops that you can use at different times of the year," he says. "You can use the leaves as a salad ingredient or sweat them [to use as] a cooked vegetable, albeit it a slightly bitter one – dandelion tastes a bit like chicory, which it's related to.
"You can roast the root for sautéed vegetables, or – I like to roast it and make a caffeine-free coffee with the grounds. Or you can make syrups and sauces and vinegars and all sorts of different things with the flowers." The only inedible part is the stem, and Rensten has a use for those too. "If you give it a little rinse, you could probably use it as a straw for wild cocktails," he says.
When it comes to foraged cocktails, botanical spirits like gin and flavoured vodka tend to be the default option. We reckon it's time our favourite barrel-aged spirits shared the limelight – and McLynn agrees. "If mixed correctly, there's no reason why the foraged cocktail can't also be successfully applied to Irish whiskey," he says.
"If you take Black Bush for example – our premium blend, and the whiskey we will be using to create foraged cocktails later this week – the high proportion of sherry casks used in maturation gives the drink big, robust flavours of dried fruits and nuts," McLynn continues. "When you combine this intense profile with the vast range of fresh, new ingredients which can be organically sourced in the wild, you can unlock an array of previously untapped new flavours."
When it comes to easy-to-forage cocktail ingredients, the combination depends largely on the season – and how native you want to make your tipple. Hogweed, for example, " tastes like bitter orange, so it would go really well in an Old Fashioned", says Rensten. "Rather than a commercially made bitters like Angostura, you could steep hogweed in vodka for three or four days to make a tincture. Instead of an orange peel [garnish], you'd use some crab apple."
When it comes to preservation methods, you need to know your stuff. Some ingredients dry out well, maintaining or even intensifying in flavour, while others turn insipid or worse – like meadowsweet – become toxic if poorly handled. "Take cherry blossom," says Rensten. "It's a wonderful sweet almond oil-essence ingredient, but if you it dry it out all that's left is bitterness." His solution? Cook them up and create a cherry blossom syrup.
Oh, and go easy on the sugar. "I have a tendency to use far less sugar than recipes recommend," he continues, "they often come from a time way before refrigeration, so the sugar acts as a preservative." Instead, Rensten will use a quarter or a fifth of what the recipe advises, and then store the liquid in a plastic bottle and freeze it. "If you do that with, say, a rosehip spirit, it doesn't just taste sweet; it tastes of mango and papaya and tomato – it's got some really interesting flavours to it."
Preserving stuff is great too, he adds, so long as you're careful with the vinegar, which can kill the flavour. "For example, with elderberries, I'll use half vinegar and half distilled water, add a little bit of sugar, and steep the fruit for about a week. How much sugar or honey I add to it depends how thick or sticky I want it. You could make a very thin vinegar that you could spray through an atomiser, or you could go to the extent of making something like a balsamic glaze."
There's no need to plan an expedition if you're keen to start foraging, in fact Rensten suggests staying local. "Your closest green space is the place you'll visit the most," he explains – it can be as simple as your local bus stop. "Foraging makes people into ecological stewards; people champion the weirdest, scruffiest little bits of urban land because they become emotionally involved in them."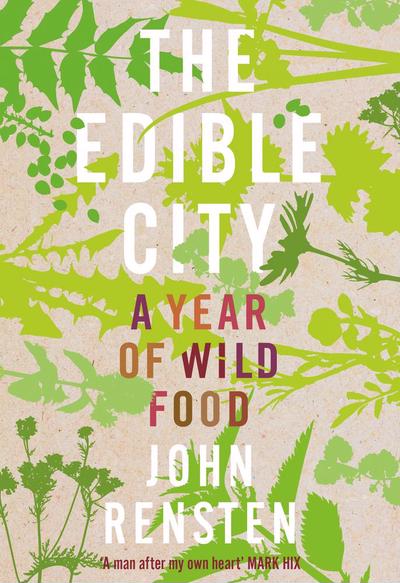 Can't make the masterclass? Here, Rensten shares his tips for foraging success…
Tasting something to try and out if it is edible or not is madness, he says. "It's the equivalent to sticking a gun in your mouth to find out if it's loaded or not."
If you're pregnant or have allergies or other medical conditions, this is not the time to be ingesting new foods, wild or otherwise. Steer clear.
At its heart, foraging is about sustainability. "People are very invested in being able to come back the following year and the year after that."
Because of pollution, "but also because it would be a real shame to get run over just because you're trying to pick a mushroom or a flower."
… And build on that. "If you know what a stinging nettle looks like, if you know what dandelions and elderflowers and blackberries and crab apples look like, you've probably got 15 foods that you've never done anything with before and that's tonnes," he says. "Once you know 20 or 30 plants, that just keeps you going forever."
Bushmills Black Bush Whiskey is hosting an exclusive foraging and cocktail making masterclass on Thursday 20th June, where you can learn how to forage in London and create cocktails using natural, foraged ingredients. Tickets are available here.