Here's our favourite 'And finally' stories from the past year, including a distillery hiring a dog, a beer made from goose poo, and Mariah Carey launching an Irish cream liqueur. These are our ten funniest stories from 2021.
Who wants a bit of festive fun? Well, we aim to please. Regular readers of our blog will know that in each edition of our weekly news round-up, The Nightcap, we feature a funny final story. Something lighthearted or strange that occurred in booze that we just had to share.
And given there's never a bad moment to bring a little joy into our lives, we thought we'd remind you of just how brilliant and bizarre the world of booze has been in 2021. So, here's our top picks of the funniest stories of 2021.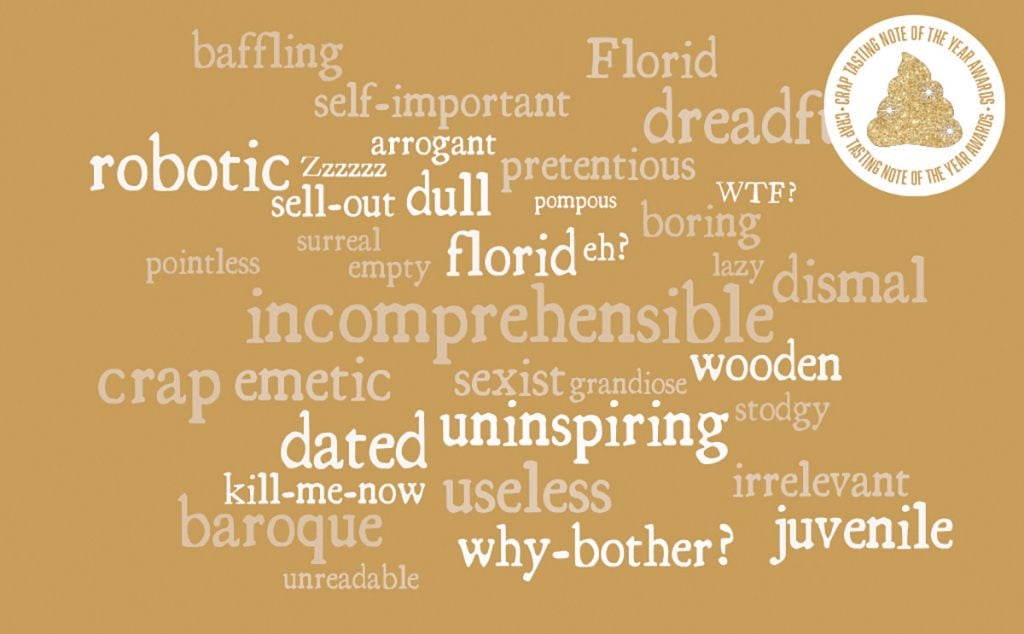 1. The search is on to find the worst tasting note – 26 March
We begin with something close to our hearts as we've written plenty of tasting notes in our time. So it was great to see Fake Booze launch a competition to find the worst tasting note. The satirical drinks website didn't mind what booze was reviewed, saying "if it's crap it's a contender." The #thecrappies even had categories including 'most pompous', 'crappiest food match suggestion', and 'most sexist.' Folks could enter with the #crapnotes hashtag on Twitter or send a DM to @fakebooze on Twitter or fake.booze on Instagram and the winners were announced in June on the Fake Booze website. We're very grateful to announce that it wasn't one of us…

2. UB40 releases an actual red, red wine – 7 May
In what must be the most inevitable celebrity booze release of all time, top light reggae outfit UB40 delighted us all by releasing it's own wine. And yes, it's called Red, Red Wine after the band's monster hit (which was actually written by Neil Diamond in 1968). The Merlot-heavy Bordeaux Supérieur, made in conjunction with a company called Eminent Life, got a good review from Wine Enthusiast magazine, although it does cost the best part of £30. Still, that might be worth the joy of belting out the chorus every time you pour a glass.

3. Chernobyl brandy seized by authorities – 14 May
Ukrainian authorities were forced to seize some brandy this year as it was bafflingly made from apples grown near the Chernobyl nuclear power plant. The story gets even stranger when we learned that it wasn't stopped from entering the UK because of its atomic provenance but for bureaucratic reasons. The creator of the controversial brandy, professor Jim Smith, has previous form, releasing Atomik Vodka from the Chernobyl Spirit Company in 2019 that was made from "slightly contaminated" rye but after radioactivity levels are "below their limit of detection." Sounds delightful. The company says its aim is to conduct research into whether the contaminated area can be used for safe agriculture and help communities still affected by the economic consequences of the 1986 explosion. Which does sound great. Atomic spirits? Less so.

4. Girvan Distillery hires sniffer dog – 21 May
We were never going to ignore a distillery hiring a dog. Not getting a pet. An employee. The one-year-old cocker spaniel Rocco was brought in to be a full-time sniffer dog, tasked with nosing any imperfections in wood used to make the distillery's casks. This cracking story somehow gets even better when you realise his boss is global brand director Chris Wooff. Rocco actually did six months of training for the role and is said to be great for morale. Which, of course, he is. We're still waiting for our overlords to grant us permission to hire a dog. What do you say, guys? It is Christmas…
5. Charlie MacLean tastes tonic wine on camera – 28 May
A clean sweep in May, which proved to be a corker of a month for final stories. This one regarded a series of videos Eldorado Tonic wine made with whisky expert Charlie MacLean. The company, which makes a rival product to the infamous Buckfast known as LD in Glasgow, got MacLean to review its tonic wine and the results are hilarious. First, he doesn't even pretend to know what a tonic wine is, and then he is visibly disgusted by the tasting.  it. The coupe glass was a great touch too. It's well worth a watch.

6. A beer made from goose poo. Mmmm! – 11 June
The And Finally… section is often home to some of the craziest drinks but this new beer might take the gold medal. And it's up against atomic apple brandy. Why? Because it's made from goose poo. Yep. The Finnish brewery called Ant Brew created a series called Wasted Potential which is brewed from waste including goose droppings. Apparently, it was used in a food-safe way to smoke malt to create a stout beer and is a sustainable solution as the goose droppings from local parks were causing a messy problem. It will all be vain if the beer tastes like shit though, won't it?

7. Mariah Carey launches Irish cream liqueur – 20 August
Of all the strange things we expect to write for our final story of the week, we would never have believed that we would write the words 'Mariah Carey has made an Irish cream liqueur brand'. The iconic diva and noted harbinger of the holidays then immediately ran into legal issues, after an ongoing trademark battle resulted in the brand not being able to be sold in the EU. It's all because she named her liqueur Black Irish, even though Darker Still Spirits Co Ltd already makes a drink called that already. What a delightful mess. We can't wait to see what the next chapter of this bizarre story is.

8. Dog taught to fetch gin – 22 October
The second canine-based story to make the top ten, and it's another tale of a very good boy. You see, a woman in Somerset managed to teach her dog to fetch her a drink when she says 'it's gin o'clock!' Labrador Bear's capacity for exceptional customer service was discovered after his humans took a break from gardening and he then retrieved them a premixed can of Gin and Tonic with his mouth on request. We're both very proud and incredibly jealous. Just look at his little face.

9. And finally… Man who hates whisky collects 4,000 miniatures worth £35,000 – 12 November
Brian Marshall from Kettering, Northamptonshire doesn't like whisky. Not that interesting a story, right? And yet, it turns out Marshall amassed a collection of more than 4,000 whisky miniatures. This month he sold them for £30,000. So there you have it. Whisky is brilliant even if you don't love the taste. The collection was mostly made up of whisky miniatures from Scotland, although it also includes bottles from America, Iraq, Uruguay, and Australia. It all began when a colleague told him how collectible the miniatures were in the late 80s. And now he's got a small fortune for a bunch of booze he doesn't even like. Life just isn't fair.

10. And properly finally… Man pretends to be a wine merchant to hide model train obsession – 10 December
An all-time And Finally… contender came just a fortnight ago as news broke that Simon George from Yorkshire had hidden his model train obsession by pretending to be a wine merchant. George created an enormous 200ft (61m) miniature railway in his basement over the course of eight years, and the model is so impressive it's now on display in Wakefield Market. It even took three lorries to transport it. And yet he was so ashamed of the gigantic model railway that he hid it from his girlfriend by telling her that he was a wine merchant, "because that sounded cooler than building a model railway." This is true, because we can attest that working in drinks is very cool. Just look at us. Wait, why are you laughing?