Well, it couldn't have lasted forever. Perhaps we jinxed it. Either way, this morning dawned decidedly overcast. But that didn't stop us having an absolute blast at both Kilchoman and Jura's open days!
After just a couple of drams the night before, this morning's 7am alarm came around all too quickly. The sun was not shining and the results of a hideous midge incident from the evening before were clear for all to see (note: do NOT leave windows open and lights on at night on Islay. We've got the bites and the alarming pile of carcasses to prove it). But despite the challenges (Team MoM is short on breezy morning folk), we were super keen for the day ahead. There were not one but TWO distillery days afoot!

First up was Kilchoman. Islay's farm distillery was founded by Anthony Wills in 2005 and remains (just!) Islay's youngest whisky producer. We rocked up at 8:30 to have a chat with the man himself before the masses descended on the site for proceedings to officially get under way at 10am. But despite the early o'clock, Kilchoman fans in their droves lined the road leading up to the turn-off to the distillery, even unofficially manning the gate! It was here we first spotted our dogs of the day, Thelma and Louise. Just look at their faces!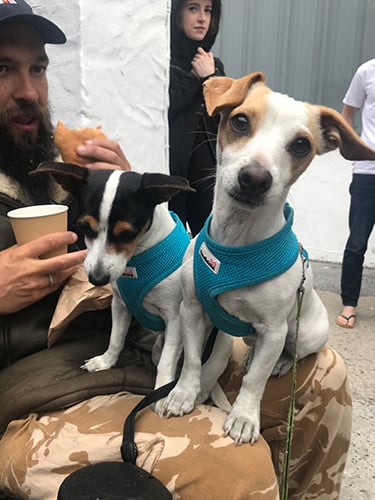 Thelma and Louise, Kilchoman's unofficial guard pups
We were warmly welcomed in and greeted with a cuppa to ward off the drizzly chill as we set up to speak with Anthony. The film will follow but the main excitement: Kilchoman is embarking on an expansion project that will see the distillery's capacity double to around 460,000 litres by 2019. Wowzers!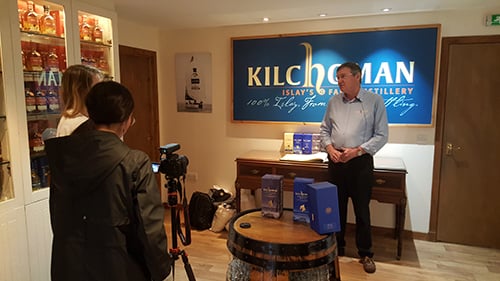 We get the Kilchoman goss from Anthony Wills
Q&A successfully complete and we headed back out into the (steadily improving) bit of weather to join the fun and games. The queue for the 11-year-old bourbon barrel-matured official Fèis Ìle 2018 bottling (one of the oldest in existence from the distillery) snaked round between the buildings – people were keen for this one. While they were waiting the wonderful staff handed out free coffee and bacon butties – how's that as a start to the morning?! We amused ourselves with a dram of Machir Bay while we sussed out the activities on offer.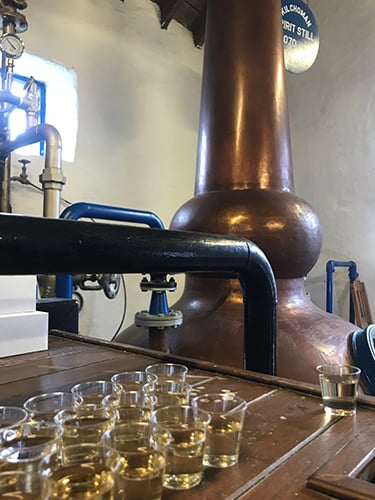 Dramming in the Kilchoman stillhouse
Kilchoman's distillery day offering was excellent. A mobile cocktail bar staffed by Wandering Whisky served well-priced, delicious drops, and the Land Rover tasting (a flight of five drams for £10?) was drawing the crowds, while free tractor-drawn tours of the Kilchoman farm kept folks entertained. The still house and tun room was open to explore without charge (more marvellous Machir Bay in there) and the incredibly educational malt floor masterclass, where the finest details of Kilchoman's 100% Islay process had us geeks enthralled, was also totally gratis. Oh, and there were serious masterclasses going on, too. The ultimate crowd pleaser? Hoopla, surely the Islay megatrend for 2018! Particular kudos to the chap who managed to miss one bottle, only for his hoop to ricochet and nab another. Double drams for the man.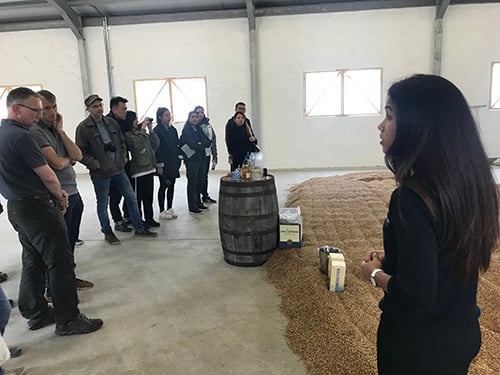 An epic malt masterclass in the Kilchoman malting room
Serious props to Kilchoman for putting on such an engaging, entertaining and educational day, all fairly priced and accessible. The whisky fans thank you for it!
All aboard!
Thankfully while we were at Kilchoman the rain eased off (I foolishly didn't pack a mac), just in time for us all to pile back into the car and zoom off up to Port Askaig to hop on the ferry over to Jura.
While Jura is clearly not an Islay distillery (different island completely) the Whyte & Mackay-owned distillery hosts its own Jura Festival Day events, drawing crowds over the Sound of Islay on the teeny ferry. Despite sharing the date with Kilchoman, the off-piste trip still draws large numbers in search of a dram. Perhaps whisky folk are more intrepid than most!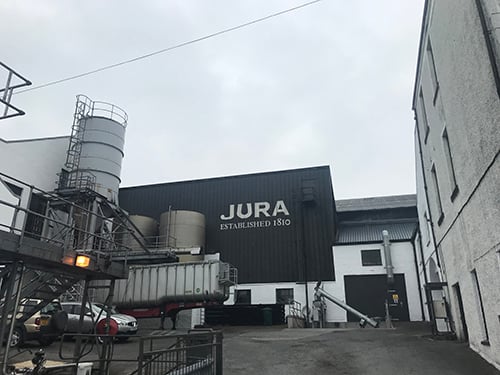 Jura in the drizzle
We arrived to the sound of a ceilidh already in full swing, setting the celebratory tone of the day. Drams the flowing, cocktails were being poured, imbibers spilled out of the cooperage where the main event was happening and into the courtyard, and Jura, normally an island with a population of just over 200 people, had come alive with the crowds. We headed in and enjoyed Jura Sunsets, Spice Apple and Ginger Highballs and Espresso Martinis – that got us well into the swing of things.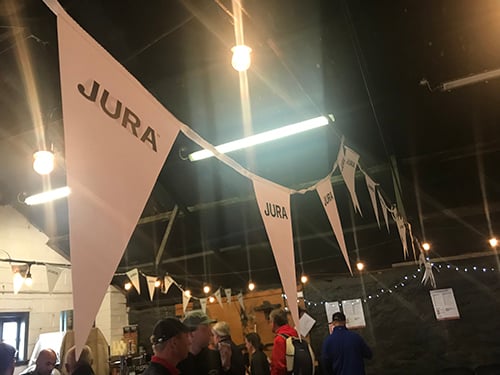 Party vibes are ON in the Jura cooperage
No festival bottling here, instead the focus was on Seven Wood, a new expression released as part of a major brand revamp unleashed earlier this year. The bottling, a no-age statement matured in seven French and American oak casks (American white oak ex-bourbon, Limousin, Troncais, Allier, Vosges, Jupilles and Les Bertranges barrels if you're interested), was the focus of a wood-centric masterclass lead by whisky maker and blender Gregg Glass. "All the wood is in the white oak family, but it built up this way," he opened.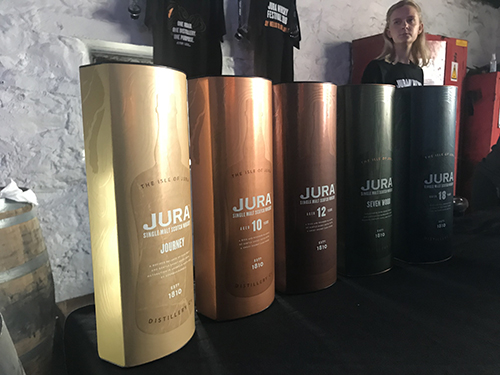 The revamped Jura range
To demonstrate the different aroma and flavour characters imparted by the different oak types with their different grain tightness and general make-up, we embarked on an immersive, multi-sensory flavour tour, starting with smoke-filled bubbles, which floated down on participants. Catch one and you could immediately smell the peat.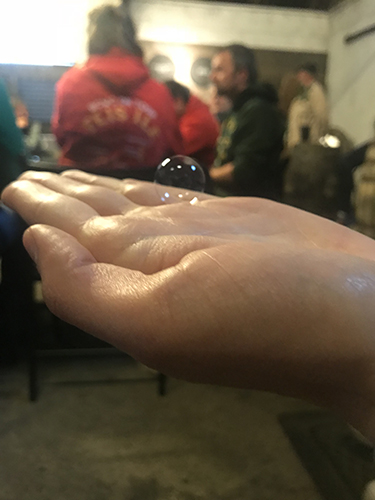 Catching peaty bubbles
Then three identical bourbon cask-matured samples were used to steep different types of oak chips (Gregg was keen to stress Jura does not use oak chips and it is verboten in Scotch whisky – this was for demonstration purposes only!), and we tasted 100% vosges- and limousin-matured cask samples alongside the Seven Wood. All kinds of different notes shone through on each occasion – a fine demonstration of humans' fickle-yet-fun flavour perception. Throw cucumber water, pineapple juice-infused grapes and popping candy into the mix and you have an extraordinarily fun tasting, focusing on the genuine impact of oak (no finishing, just oak) on spirit. Fascinating.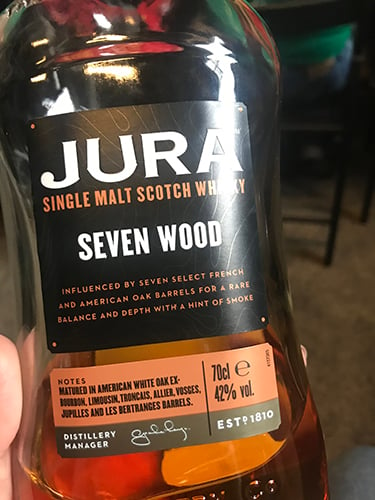 Seven Wood – many, many woods
Time for a quick Q&A with Gregg himself (if you know the name but can't place him, he used to work at Compass Box), who hinted at a myriad experimental releases to come. Jura seems to have a refreshed philosophy along with its revamped range and branding, and after a taste today I for one can't wait to see what comes next.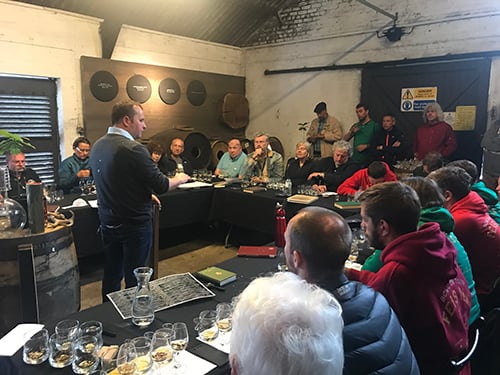 Gregg gets geeky about all things oak
Time to zip back down for the ferry – with one highly important detour. I am in love with the island of Jura and simply had to go for a dip. We headed up the coast away from Craighouse and the ferry to the enticing white sands of Leargybreck where the hour allowed a short dip in the sea. A startlingly brisk but splendidly serene way to end the day!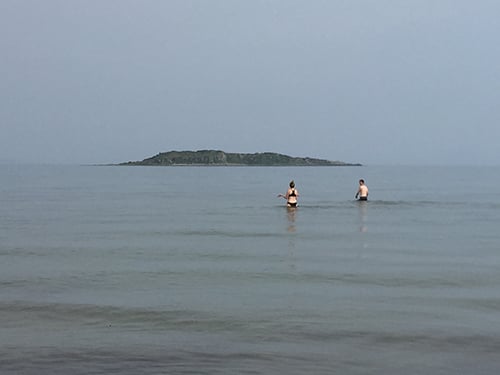 Surely the best way to unwind?!
—–
It's Fèis Ìle double trouble today when we take on not one but two distilleries: island farm distillery Kilchoman, and then we'll be popping on a ferry over to Jura!
If we thought we'd have a leisurely one after the Scotch Malt Whisky Society, Bowmore and Islay Ales yesterday we were wrong: today we have island hopping in store, and a duo of distilleries to explore!
This morning we are Kilchoman-bound, checking out the latest developments at the site and catching up with Anthony Wills. Super exciting. And to celebrate, there's even a Kilchoman Sanaig special offer!
Then make sure you keep up with the Instagram, Twitter and Facebook feeds, as part-way through we'll be popping across to Jura for even more fun and games.
If you're on the island, come and get us for your t-shirts and drams (and remember to take a selfie to be in with the chance of bagging the whole bottle!) and if you're not here, tell us what Islay or Jura drams you're enjoying this week (and one lucky sipper will win a bottle of our Islay dram, too).
However you're following along, have the most fabulous Thursday, and don't forget to loop back this evening for the news of the day!
Don't forget our Fèis Ìle special offers – check out our Flash Sales for more!
Laphroaig 10 – £5 off
Laphroaig Lore – £10 off
Bowmore No 1 – £10 off
Bowmore 26 Vintners Trilogy – £50 off
Once they're gone, they're gone!