Brilliant sunshine, cooper tutorials and Lagavulin and coke: welcome, one and all, to the very first day of Fèis Ìle 2018! Today's blog spotlight dazzles upon the fabulous folks at Lagavulin Distillery on Islay's south coast.
The sun is setting on the first day of Fèis Ìle, and what a day it's been. After decamping from various Port Ellen hotels with armfuls of exclusive MoM t-shirts and drams of our own 23-year-old single cask Bruichladdich – Fèis Ìle-ers, there are more coming… – we whizzed across Islay to our new home on the Rhinns. I'm legally obliged to inform you that we have an unreal hot tub with a sea view, and you will find me in it in due course (special thanks to our marvellous hosts, The Whisky Lounge).

But this blog isn't about the sheer joy of getting wrinkly skin in a hot tub. This blog is about one of the most magical events of the year. It's about the first day of whisky Christmas. It's about Lagavulin Distillery.
We rocked up (quite literally – That Boutique-y Whisky Company's ultimate legend Dave Worthington blasted plenty of Thin Lizzy in the car en route) armed with interview questions, recording equipment, and a drone that is probably worth more than all the Fèis Ìle 2018 bottlings combined. Before the welcome band could finish their jaunty tune, a beaming face appeared from around the corner. "Hello!" the face cried, "I'm Colin!".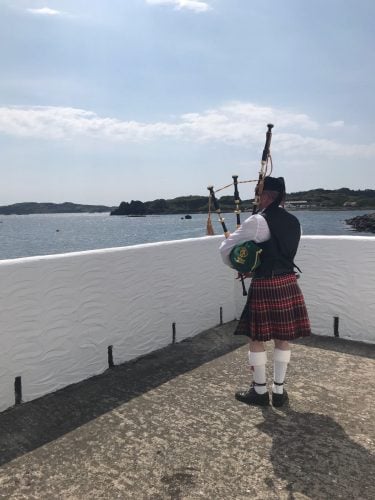 A musical welcome to Lagavulin!
We weren't just being ushered in by any old Colin. It was Colin Gordon, Port Ellen Maltings' former site operations manager, and Lagavulin's new distillery manager. He led us through the distillery hubbub to what will soon become his new office. After an enthralling interview (hold tight for the video on the blog next week), we ventured out among the throngs of people gathered in Lagavulin's courtyard.
Our first pit stop was the pop-up cooperage by the bay. Andy Hunter, second-year apprentice at Cambus Cooperage, was showcasing his craft. It takes four years to become a fully-fledged cooper, so Hunter is halfway there. Having learned how to cooper every type of cask, he'll spend the next two years mastering the craft. When we chatted at around 2pm, he'd built this cask 40 times. "It's good practice!" he says.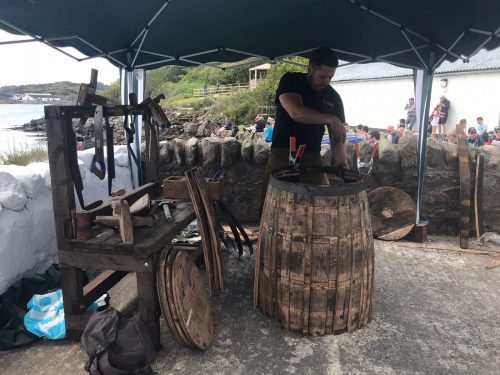 Coopering by the sea
The distillery is rammed. Islay oysters are being shucked, an Irish bodrum is echoing around the courtyard, and everyone has a dram in-hand. Around the corner, bagpipes are blaring. The water on the bay is blissfully calm.
We venture into the Dramming Bar (via the ice cream truck) where they're serving up Lagavulin 8 Year Old, Lagavulin 16 Year Old, and Lagavulin Distiller's Edition. After careful consideration (read: consulting the views of our Facebook followers), we opt for the latter, which was distilled in 2000 and finished in Pedro Ximenéz casks before being bottled in 2016.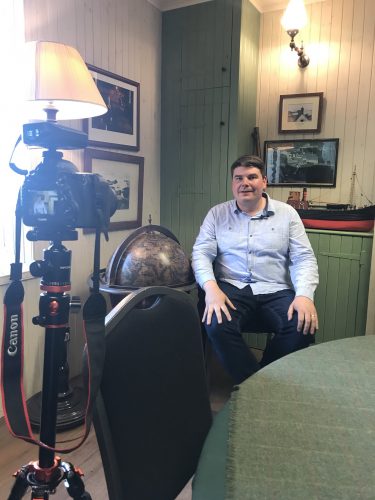 Colin gets set for his Q&A
It would be rude to come all the way to the distillery without swinging by the cocktail bar. Gordon himself had recommended it, and it did not disappoint. There, Diageo Reserve national account manager James Kemp and Diageo Scotland whisky ambassador Stephen Martin were there to introduce the line-up, which included that notorious pairing: Lagavulin 16 Years Old and Coke. As a person who loves neat whisky and, generally speaking, hates fizzy drinks I was dubious. I'll say nothing more than this: it blew my mind. Almost as much as this delightful Old Fashioned.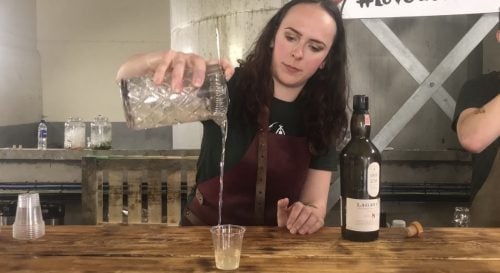 Lagavulin cocktails, anyone?
Time was getting on. Where had the day gone? I left my fellow MoM colleagues to dish out delectable drams and extremely fashionable t-shirts and followed Kemp to the Jazz Lounge, one of two buildings that, believe it or not, once housed additional distilleries within Lagavulin's grounds. There, Diageo global malts ambassador Donald Colville was lingering after the final Lagavulin Through The Decades masterclass.
He and I wandered across the road to the distillery's historic Malt Mill – the venue of his very own masterclass, Donald's Perfect Pours – where I sampled an outrageously delicious Lagavulin-spiked white hot chocolate. The MoM Mobile sounded (well, the WhatsApp group) and I had to depart.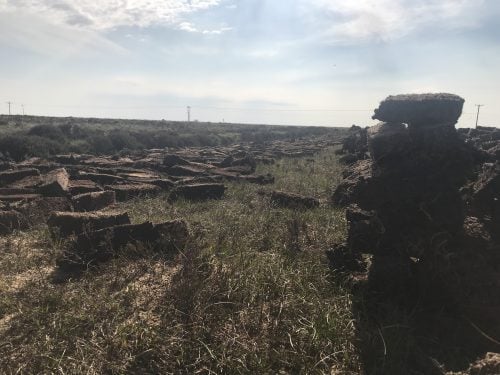 Cutting that peat…
With Worthington's soundsystem blaring, we sped through Islay's hills, before juddering to a halt at a peat-cutting site. We wandered among the blocks of peat and marvelled at the trench as the sun beamed down. What a day.
—-
Welcome to our coverage of Fèis Ìle 2018! Day one has dawned, bringing with it beautiful sunshine, and we're off to Lagavulin…
It's a glorious day here on beautiful Islay. The sun is shining, the birds are singing, and the dramatic flames of last night's fire on a remote clifftop across from Port Ellen have disappeared to reveal charred remains….
Wait, what? Indeed. It seems the Port's custodians were a little overzealous with their firework display last night and managed to send half the cliff up in flames. Islay's fire engines were fired up for the first time in… probably, ever. Thankfully, it seems as though no one was hurt.
Lagavulin Day is off, quite literally, with a bang. As the day unfolds, we'll be bringing you live coverage through our social streams – keep your eyes firmly on Instagram, Twitter, and Facebook… and come along with us!