Well, well, well… on the final day of Fèis Ìle 2018 we got swept away in a time warp, landing in late 1960s Ardbeg. And if the sixties were like this, they were indeed swinging…
Welcome to 1960s Ardbeg! We were warned back in March that attending Ardbeg Day 2018 would result in serious time travel, but little could prepare us for the sixties extravaganza that awaited (did you see Mickey Heads' attire? That medallion). From the second we rolled down the Ardbeg drive (no designated driver today, we're partying on and picking up the wheels tomorrow!) to when we departed later, drams in hand, we were enveloped in the bright, bustling world of a 1960s village party, complete with flares galore, flowers painted or stuck on every available surface and the hits in abundance from the incredible live band.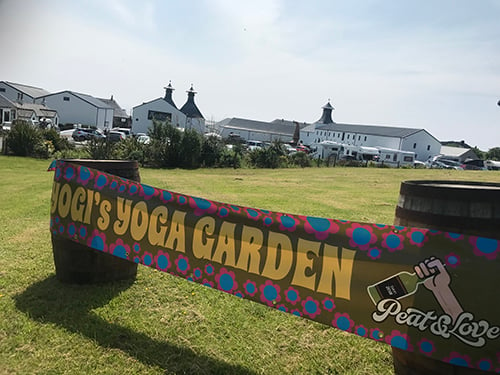 Takin' it eeaasy, duuudes
On arrival we encountered the Yogi's Yoga Garden where distillery-goers could stretch it out and get in the mood to feel the whisky love – a perfect outdoor activity given the views and the incredible weather. Yep, folks – the sun's out again! Progress down the hill further, purchase a £5 ticket which includes a dram token and a voucher for a 'psychedelic' Arbroath smokie (traditional smoked haddock) and you were fully immersed in the action.
From whisky guru tours to far-out tastings, the action was on. And if you weren't sure what decade you're in just glance at any member of the Ardbeg team. The outfits were exceptional.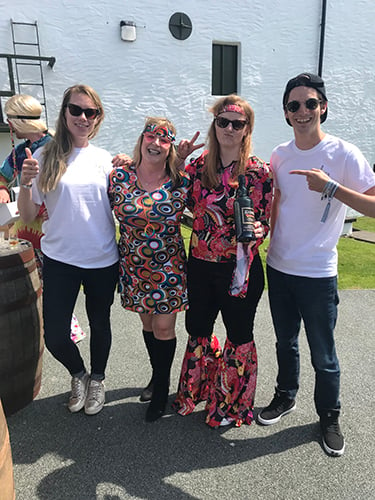 Oh so groooovy
We chilled in the courtyard with a dram on arrival, including a measure of Ardbeg Grooves, the 2018 festival bottling. Now this is an intriguing one. Details of the expression were first revealed back in March along with the wider Ardbeg Day announcement, a no-age statement whisky born of re-toasted red wine casks, which were super-heavily charred. The process resulted in hefty grooves (geddit?) in the cask innards for amped up flavours – and array of dark spices, meat, red fruits and bonfire smoke all practically dance from the glass. It's a tasty one – and we've got a handful of bottles here, snap one up if you're quick.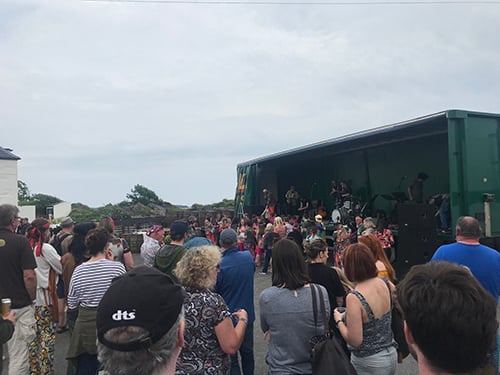 The band nailed it, brothers and sisters
And the accompaniment? An incredible selection of sixties covers by the returning band (note to self: get the band's name!) who were throwing out singalong numbers from the Stones, the Beatles, James Brown, Del Shannon, the Monkees and many, many more. The boogying started about 2pm. It was epic. (Oh, and you guys are epic, too. Today's t-shirts and drams were nabbed in about three minutes flat. You're a nimble lot!)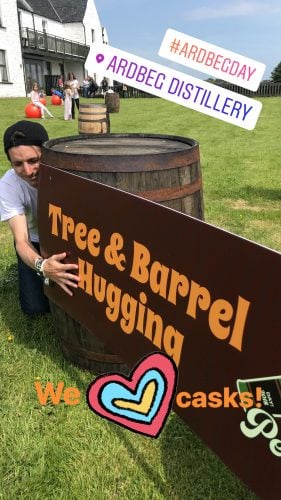 Jake and his beloved barrel
Grooves sampling done, and it was time to check out what else was going on. Through the courtyard (past the snaking bottling queue and the crowd gathering for the smokies) and out onto the grass were an array of garden games, all seamlessly continuing the sixties theme. We entertained ourselves with the hoopla (DEFINITELY a Fèis trend, although this one was, as Avi Pernit would say, tough), bung rolling (slightly easier), tying an Ardbeg ribbon around the old oak tree, and tree and barrel hugging. Our Jake was particularly taken by one particular cask…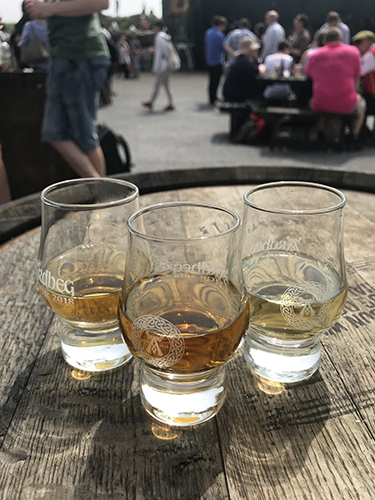 Relaxing with Uigeadail, 10yo and Groooooooves
The rocks in front of the distillery provided the perfect elevated viewing spot to take in the action, so once we tired ourselves out with competitiveness and space hopper action we grabbed a dram and chilled out by the sea. We reapplied sunscreen (surely this has been the best Fèis Ìle weather-wise on record?! And in general. It's been ace.) before popping in to the excellent-as-always Ardbeg café for a portion of soulful soup. If you make the trip to Ardbeg be sure to stop by this watering hole for local food and a selection of Ardbeg drams.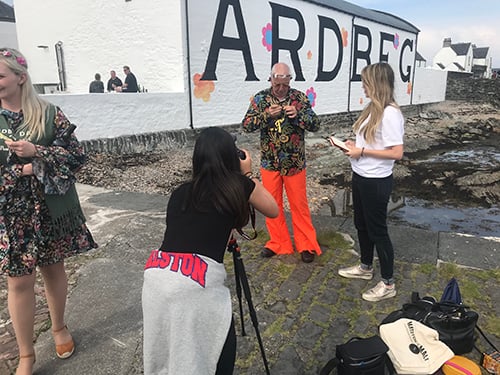 Catching up with Mickey feed your Head(s)
Feeling restored we emerged back into the sunshine to chat with some of the brilliant Ardbeg team (still in full groovy regalia) round by the charming VW camper. Then it was time to meet with distillery manager Mickey Heads for a quick chat.
Now, this is easier typed than done. Mickey is a popular character. And in his sixties shades, headband and really rather impressive Ardbeg 'A' medallion, looked like a whisky rock star. He was mobbed by his adoring audience wherever he went. Walking through the courtyard down to the pier we may as well have been part of the bodyguard entourage. He is clearly held in high affection among Ardbeg fans, and it was brilliant to chat with him.
Down by the pier we covered everything from go-to drams and Fèis Ìle fun to running a distillery and Ardbeg expansion. Keep an eye on the blog for the resulting video, set to go live shortly!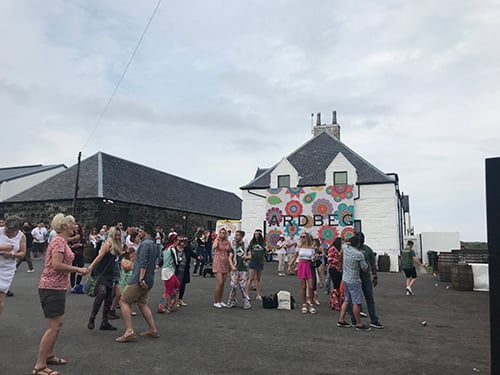 Get down!
We headed back up to the central courtyard and it was going off. If people were dancing at 2pm they were full-on going for it at 4:30, and we couldn't resist a little (or not so little in some cases) toe tap before heading to the dram bar.
Inside the vatting space which doubled as the bar was also an intriguing game. Pay £4, pick a key, and the dram within would be yours, whatever it was. From 10-year-old and Corryvreckan to distillery bottlings and cask samples, every one was literally a winner. It was incredible fun watching people's faces to see what the bottle inside would hold!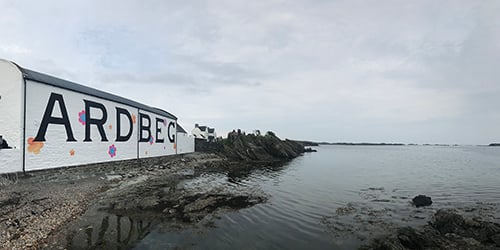 On point
One final meander toward the pier and a parting dram for the day and we were done. Ardbeg Day was literally all the fun of the fair wrapped up in an unrivalled 1960s experience that showed not only inventive thinking, but the lengths to which the distillery would go to make sure punters had a good time. Team Ardbeg, you are marvellous. Thank you for a brilliant day of drams, dancing and merriment down by the sea!
Peat and love.
We headed back to Port Ellen buzzing (thank you to Brighton's Malt'n'Copper whisky society for the ride!) in disbelief that the festival was over for 2018. Tomorrow the ferry back to the mainland beckons. But first… dinner and a recovery dram, methinks.
Fèis Ìle 2018, you've been beyond brilliant. Eyes to the blog in the coming days for even more!
—–
It's the final day of Fèis Ìle and we're off to Ardbeg! What's more, we'll also have Ardbeg Grooves available from 9am so keep an eye on New Arrivals!
All good things come to an end, but that certainly doesn't mean that you can't go out in style! Today, we'll be savouring the last of our time on this incredible island as we head to the final distillery open day of the week: Ardbeg! If you're on Islay then be sure to keep an eye out for us. We'd love to say "hi!", and it'll be your last opportunity to grab your t-shirt and your dram of our 23-year-old Bruichladdich single cask! Speaking of which, there are still competition-y ways to get your hands on a bottle of said nectar whether you're at Fèis Ìle or playing along at home… (In a nutshell, we want to see your MoM tee selfies or your favourite Islay whiskies on Insta and Twitter using #MoMFeisIle.)
Those of you who haven't been able to join us in person on Islay this year may also be extremely interested in this nugget of info: Ardbeg's groovy Fèis Ìle release 'Grooves' is now available on Master of Malt! Excelsior!
Stay tuned for our Day Eight roundup right here tonight (or track the action across Instagram, Twitter and Facebook), as well as more Islay goodness such as our interview with distillery manager Mickey Heads coming soon…
Come back later for the extended highlights of the day's action, but if you just can't wait keep an eye on our Instagram, Twitter and Facebook feeds. And if you're on the island? See you at Ardbeg!
Don't forget our Fèis Ìle special offers – check out our Flash Sales for more!
Laphroaig 10 – £5 off
Laphroaig Lore – £10 off
Bowmore 26 Vintners Trilogy – £50 off
Once they're gone, they're gone!