From a Seaside Negroni with slow-cooked lamb to a Lemon & Jasmine Sorbetto, Edinburgh Gin is putting other brands to shame with its cocktail selection. Here's how the brand elevated its recipe game.
A lot of drink brands whip up cocktail recipes to help you best enjoy its products, but Edinburgh Gin has taken things up a notch.  The Scottish spirit makers have partnered with Michelin Star chef and winner of the Great British Menu, Lorna McNee, to create six stunning sharing dishes to pair with its range. 
She came up with six mouth-watering gin-pairing dishes ranging from a Lemon & Jasmine Sorbetto to Lemongrass Roasted Cauliflower all made with Edinburgh Gin's Classic, Cannonball, Seaside or 1670 bottles. These are recipes for those who want to elevate their game above the odd at-home G&T to alfresco aperitif artist with serves that will make you look super impressive to your friends/family/hot date(s). 
"It's been a delightful challenge to taste each of Edinburgh Gin's gorgeous London Drys and create recipes around them – the nuanced flavour palettes of each of the gins meant that we could have fun and really get creative with their pairing dishes," says McNee. The recipes for the drinks are below and if you want to whip up the dishes too, just click the heading links too.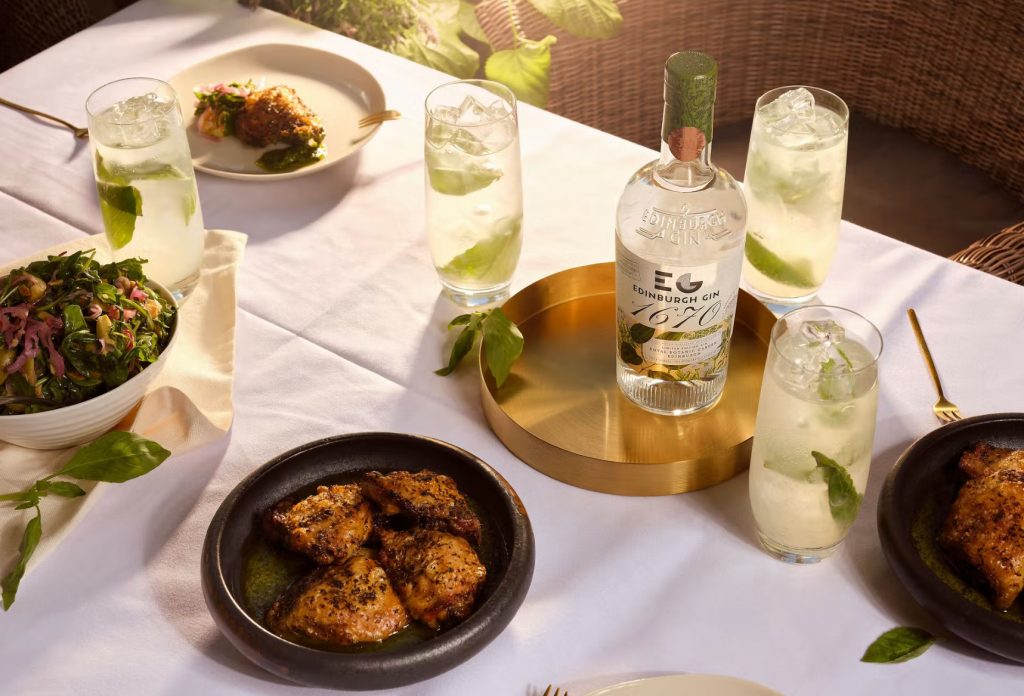 A long, simple, and refreshing alternative to a G&T, the Garden Sipper has been paired with a spiced confit chicken and a tasty herb and pine nut pesto, and green olive salsa due to the herbaceous aromas and spice of the 1670 Gin.
50ml Edinburgh Gin 1670
150ml bitter lemon
1 tablespoon orange liqueur
Fill your glass with ice and all the ingredients to glass. Give it a healthy stir, then garnish with some fresh basil.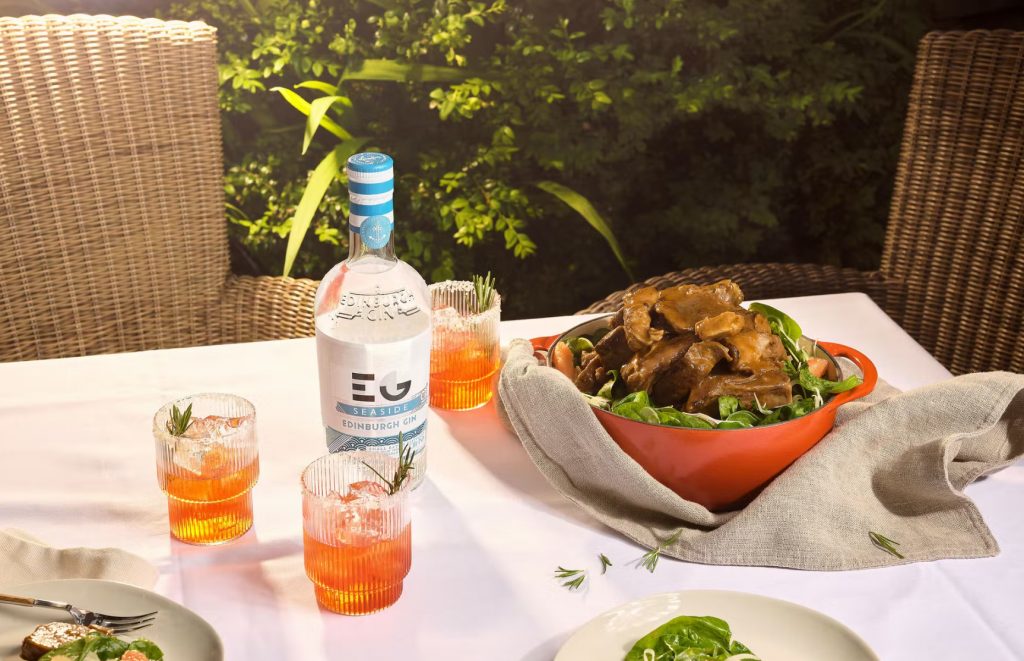 Nothing says summer better than a breath of fresh sea air, and the Seaside Gin's botanicals of seaweed, ground ivy, gorse flowers, and scurvy grass create this deliciously coastal tone that shines in this twist on the classic Negroni (the bright, herbaceous Suze with citrusy bitters is a great touch). You could drink these on their own, but add some succulent slow-cooked lamb cooked with aromatic rosemary, juniper, Rose Harissa, and Schezuan pepper as well as fragrant fennel and mint salad drizzled with a zesty citrus dressing and you've something seriously sensational.
25ml Edinburgh Gin Seaside Gin
25ml Suze Liqueur
25ml Campari
3 dashes of grapefruit bitters
Frost the rim of the glass with rock salt and rosemary. Add your ingredients into a mixing glass with ice and give it a good stir, then strain into a Nick & Nora glass filled with ice. Garnish with a sprinkle of sea salt and a sprig of rosemary.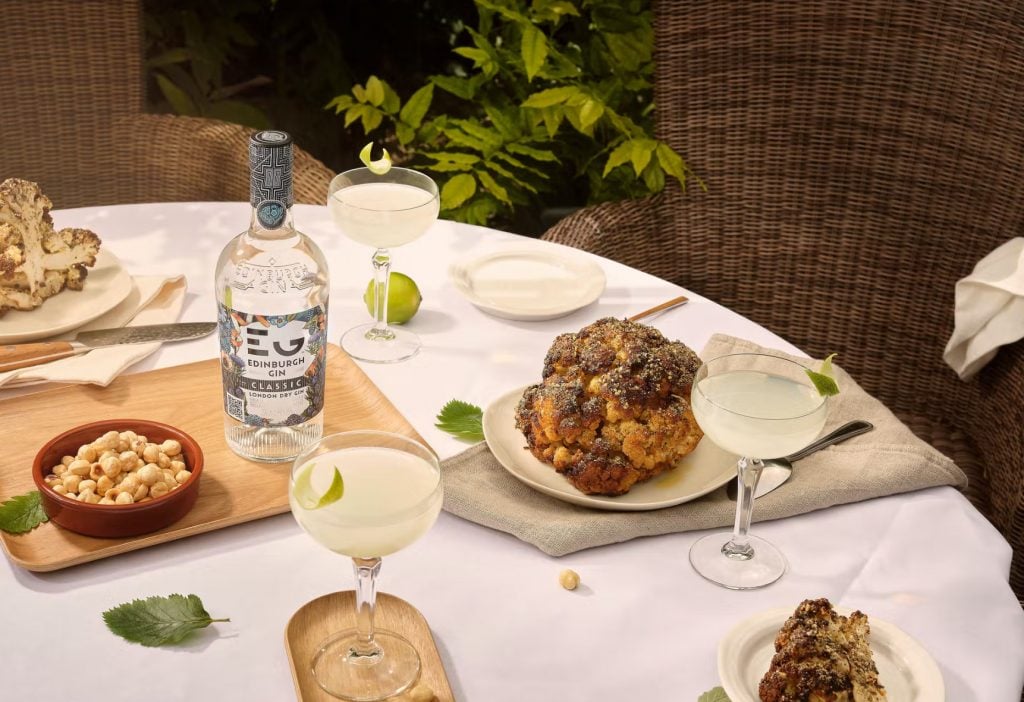 Edinburgh Gin's flagship bottling makes for a great Gimlet and this really comes into its own when served with cauliflower roasted with toasted pumpkin, sunflower, and sesame seeds and served with fragrant coconut and lemongrass sauce. The fact that this one is vegan, gluten, and flavour-friendly is a bonus you can't shake a stick at.
50ml Edinburgh Gin Classic
25ml sugar syrup
25ml fresh lime juice
Add all ingredients into shaker, double shake, and strain into a Nick & Nora filled with ice.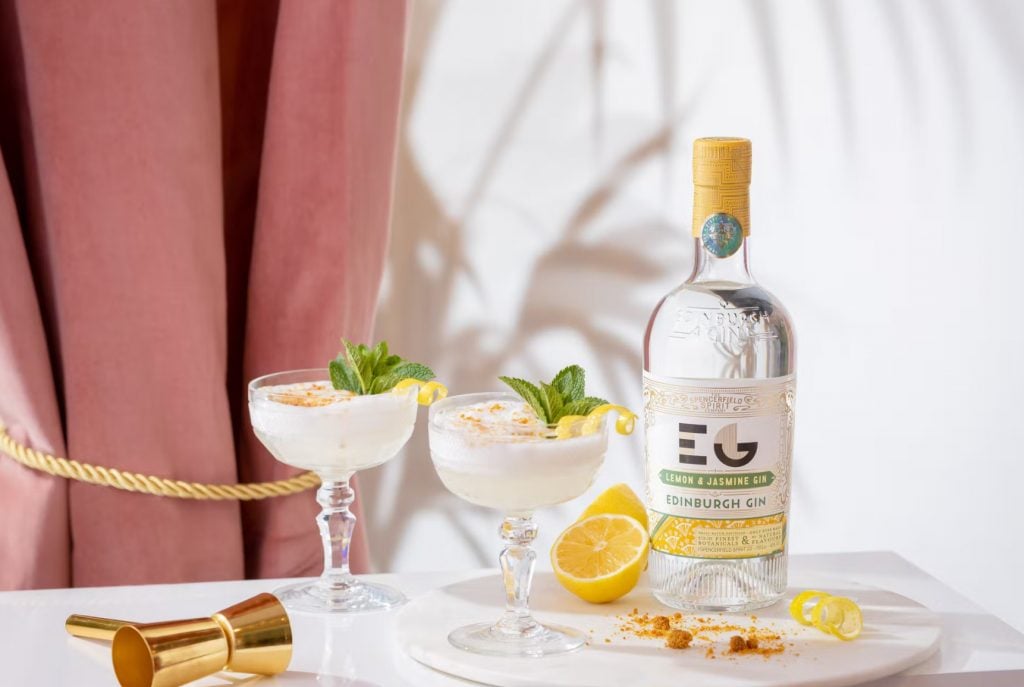 This recipe is a bit unique as its part-cocktail, part-dessert, so there's no pairing here. Instead, it is inspired by the lemon and Swiss roll ameretti trifle, the official pudding for the Queen's Platinum Jubilee. The Lemon & Jasmine Sorbetto is one of those super-easy but effective recipes that makes you look very impressive without having to do much graft.
50ml Lemon & Jasmine Gin
200ml prosecco
A tablespoon of lemon sorbet
Add the sorbet into a bowl followed by the gin and then 100ml of the prosecco and mix together. Pour mixture into a glass and top with remaining prosecco. Garnish with a mint leaf or lemon twist and amaretti biscuits crumbled on top.