Today, we're mixing up a cocktail inspired by one of the legends of the jazz age. We're combining fizz, Bardinet VSOP, and apricot brandy to make… the Zelda!
Ah, Paris in the 1920s! Full of Americans taking advantage of the weak French franc to act out their bohemian fantasies. There was Ernest Hemingway, Ezra Pound, and Gertrude Stein. But most of all there was F. Scott and Zelda Fitzgerald. He was a promising young novelist from Minnesota, she was a southern belle from Alabama. Dorothy Parker commented on the pair: "They did both look as though they had just stepped out of the sun; their youth was striking." 
An icon of the Jazz Age
The Fitzgeralds came to symbolise the glamour and hedonism of the Jazz Age. Who better then to name a cocktail after than Zelda Fitzgerald? Especially as her husband was apparently the first person to use 'cocktail' as a verb. He was also the first person to use the word 'wicked' in a positive sense in print. So now you know.
The Zelda cocktail is the creation of award-winning drinks blogger Susan L. Schwartz for Bardinet French brandy. It combines Bardinet VSOP, apricot brandy, orange juice, and sparkling wine. Along with the Zelda, Schwartz has come up with cocktails inspired by Josephine Baker and Coco Chanel.  She commented: "The Roaring '20s (known as Années Folles in France) in my opinion epitomised French joie de vivre, so I have drawn inspiration for each of my creations from an iconic woman from the flapper era. As we step softly out of the Covid pandemic, our '20s might have the potential to become our own Roaring '20s. We will have to wait until the decade is over to discover how events have changed us, but one thing is for sure, our collective desire to enjoy oneself is palpable right now."
Bardinet French brandy
At the heart of the Zelda is Bardinet, the French brandy. It's not something to linger over after a meal with cigars, but it is simple and delicious – just the thing for mixing. The company was founded in 1857 by Paul Bardinet making brandy in southwest France. His son Edouard took the business to Bordeaux but also expanded to produce syrups, fruit punches, and cocktails. In 1975 the firm moved to the Domaine de Fleurenne estate near the city of Bordeaux. It's now part of the La Martinquaise group that also owns various other drink brands including Glen Moray whisky 
Unlike Cognac or Armagnac, the grapes that go into Bardinet don't have to come from a specific area. Distillation takes place in a column still before maturing in oak casks. Blending is overseen by Bénédicte Bertet.
While you're not going to get the complexity of Cognac, it's a great spirit for mixing. It's perfect in a Brandy and Soda, Brandy and Tonic, and in classic brandy cocktails like the Sidecar. 
The Zelda is roughly speaking a Sidecar crossed with another golden age cocktail, the French 75. It gets its sweetness from Bols Apricot brandy and a sugared rim of the glass, and an orangey hint from a tiny bit of orange juice. You could use Champagne to top it up if you're feeling fancy but Prosecco will do just fine.
Here's to the new Roaring '20s!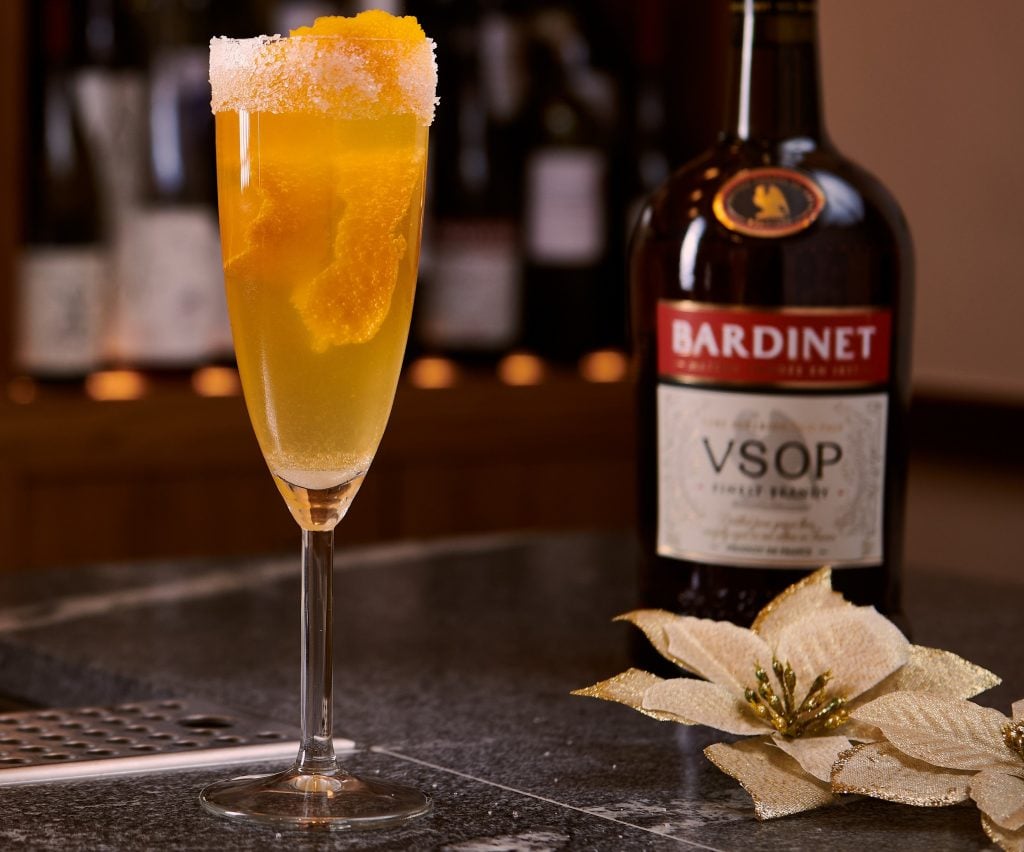 How to make a Zelda cocktail
50 ml Bardinet VSOP Brandy
25 ml Bols Apricot Brandy
¼ teaspoon orange juice or orange blossom water
Chilled Prosecco or Champagne to top  
Wet the rim of the glass with apricot brandy, then dip into caster sugar. Add the Bardinet, apricot brandy, orange juice (or blossom water) in a shaker, add ice, and shake until chilled. Pour into the glass then top up with prosecco or champagne and stir gently. Peel a long strip of orange peel and place in glass.