This week's cocktail is a variation on the Whiskey Sour called the Ward Eight. It was created in a swanky Boston restaurant and combines, rye, grenadine, orange and lemon juice into one delicious concoction. 
Last week we were mixing champagne and gin, now this week we're mixing rye whiskey and orange juice. Have we gone quite mad? Not in the slightest. They might not be the most obvious fit but as long as you use freshly-squeezed juice then they can be a match made in heaven.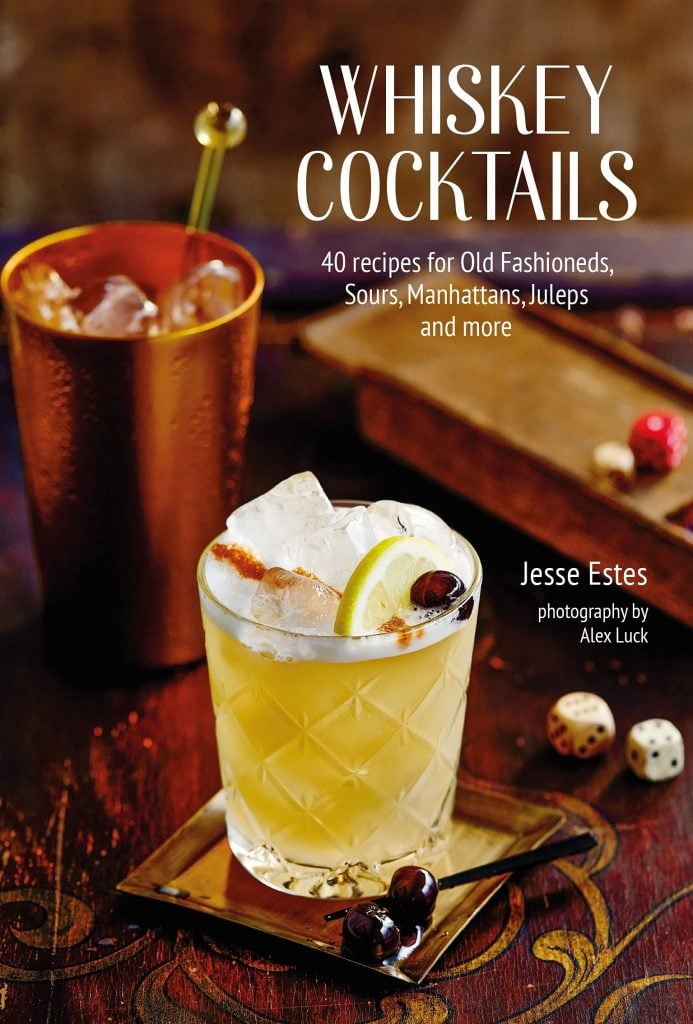 Whiskey Cocktails by Jesse Estes
In this case we're making something called the Ward Eight which is a variation on the classic Whiskey Sour. We're a bit late actually as 25 August was National Sour Day in the US but it somehow passed us by. Still, better late than never. Our recipe comes from a book called Whiskey Cocktails by Jesse Estes. Regular readers will know that Estes is very much a friend of the blog as the son of Tequila evangelist Tomas Estes, and the face of Ocho, a series of single estate Tequilas which show how varied this category can be.
He's the author of Tequila Beyond Sunrise, one of the best cocktail books on the subject. But he's not just about agave, Estes is a hugely experienced bartender and has written for publications including Shortlist, Esquire, and Loaded. He's hugely knowledgeable about whiskey in particular. If you want to make a great Old Fashioned, Manhattan or Julep, then you need a copy of Whiskey Cocktails.
The Ward Eight is much like a classic Whiskey Sour but with the addition of orange juice and grenadine. According to Estes it is "named after a voting district in Boston famous for its political corruption, the Ward Eight is a somewhat forgotten classic cocktail that shows how well rye whisky can pair with orange juice."
From Difford's Guide we learned that it was probably invented in 1898 at a swanky Boston restaurant called Locke-Ober Cafe "in honour of Martin Lomasney, who was running for election in Ward EIght." The tale gets a bit complicated because Martin Lomasney, a Democrat politician was teetotal. Did he even taste the cocktail named after him? Then there's some debate about which bartender at Locke-Ober Cafe came up with the recipe. Such is the way with cocktail history. 
How to make a Ward Eight
For the whiskey we're using the fabulously spicy Kyrö Malt Rye Whisky. If you're looking for something a bit cheaper, we love the high rye content Four Roses Small Batch. Then for the fruit juice, it must be freshly-squeezed or you can just forget about the whole thing.
Right, let's make a Ward Eight.
50ml Kyrö Malt Rye Whisky
25ml fresh lemon juice
25ml fresh orange juice
7.5ml grenadine
10ml simple sugar syrup
Add all the ingredients to an ice-filled shaker and shake hard. Strain into a chilled coupe and garnish with an orange wedge and a maraschino cherry. You could also serve in a tumbler on the rocks.
Whiskey Cocktails: 40 recipes for Old Fashioneds, Sours, Manhattans, Juleps, Sours, and more by Jesse Estes is available from Master of Malt. Click here to buy.