Today's cocktail is one for all those mixing Scotch whisky doubters out there. We're using Black Bottle Double Cask to make Scotland's answer to the Manhattan. It is, of course, the Rob Roy!
We spent a very jolly 45 minutes last week with Brendan McCarron from Distell tasting through the Black Bottle range*. You can watch him in action here. These are blends that speak for themselves, though having the always amusing McCarron as a guide certainly heightened the experience. Everything from the lightly-smoky standard expression, the 'standing on the south coast of Islay in a gale' Island Smoke to the mellow 10 Year Old are well worth your time and money. But this time it was the sweet and spicy Double Cask that stood out for me.
A blend for mixing
One little sip and I thought what a fantastic cocktail whisky it is. The rich, toffee-laden spicy flavour profile comes from a mixture of malt whiskies finished in Spanish sherry casks and grain whisky aged in red wine casks. Also, according to McCarron, there's a lot of virgin American oak in here as well. It all adds up to a blended whisky that majors on all the things that make bourbon so mixable: smoothness, sweetness, and spice, but there's a whisper of smoke in here too. Best of all, it's bottled at 46.3% ABV, so the flavour really comes through.
So think of all those cocktails that taste great with American whisky like an Old Fashioned or Boulevardier, and use Black Bottle Double Cask instead. Substitute rye for Scotch in a Manhattan, and you've got a Rob Roy. 
The Rob Roy story
Learned Master of Malt customers might assume that the cocktail was named after the novel by Walter Scott based on the life of Rob Roy MacGregor (made into a film with Liam Neeson and Tim Roth that was completely overshadowed by another Scottish history film that came out at the same time starring Mel Gibson). But in fact the Rob Roy gets its name from a now-forgotten Broadway musical based on the story which opened in New York in 1894. There seems to have been a trend for naming cocktails after musicals. The Pink Lady is named after a show that ran on Broadway before the First World War.
The Rob Roy is simply a Manhattan made with Scotch whisky instead of bourbon or rye. If you want to make it with Irish whiskey, it becomes an Emerald. As with a Manhattan you can make a dry version by using a dry vermouth like Dolin, or make it 'perfect' by combining sweet and dry. I'm sticking with sweet in the form of the decadent Azaline Saffron Vermouth.
For the whisky component, I find a big rich blend works best, like Black Bottle Double Cask, Johnnie Walker Black Label or Hankey Bannister. But a well-aged grain like Compass Box Hedonism would be great too. What's also quite fun is to add just a teaspoon of something smoky, like Island Smoke, to give it a dose of peat.  Oh and don't forget a dash or two of Angostura bitters.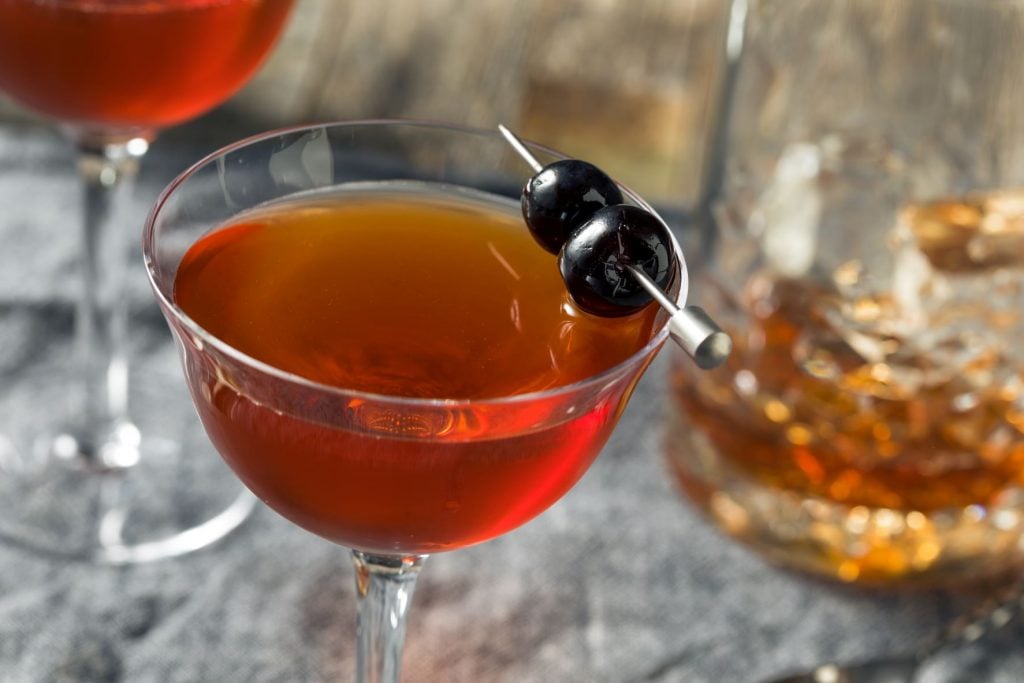 How to make a Rob Roy
Right, let's cocktail!
50ml Black Bottle Double Cask
25ml Azaline Saffron Vermouth 
2 dashes of Angostura bitters
Stir all the ingredients with lots of ice in a shaker or jug. Strain into a chilled coupe or Nick & Nora glass, and garnish with a twist of lemon or a maraschino cherry. Or both!
*For a limited time only we are offering the Black Bottle bundle – all four expressions for a very good price.