Today, we're taking a stroll down memory lane and looking at the history of the most relaxed cocktail ever, The Boulevardier. It's a bit like a Negroni, but made with whiskey.
Let's take a moment to reflect on what a great name The Boulevardier is for a drink, conjuring up as it does carefree young men of leisure like you might find in PG Wodehouse stories, ambling around '20s Paris, London or New York stopping for a cocktail with only an overbearing aunt or two to worry about.
The cocktail is named after a magazine based in Paris run by an American called Erskine Gwynne in the 1920s and 1930s. A nephew of railway tycoon Alfred Vanderbilt, we can assume that Gwynne was not short of a bob or two. I bet he didn't have to worry about whether his magazine would have enough adverts in it. 
The cocktail was created for him by Harry MacElhone from Harry's New York Bar in Paris. A Scot by birth, MacElhone had honed his craft in the US during the golden age of cocktails before leaving because of prohibition to set up his own bar in France. Prohibition was brilliant for unleashing a wave of American-trained bartenders, not all of them were named Harry, on Europe's bars. So, thank you 18th amendment!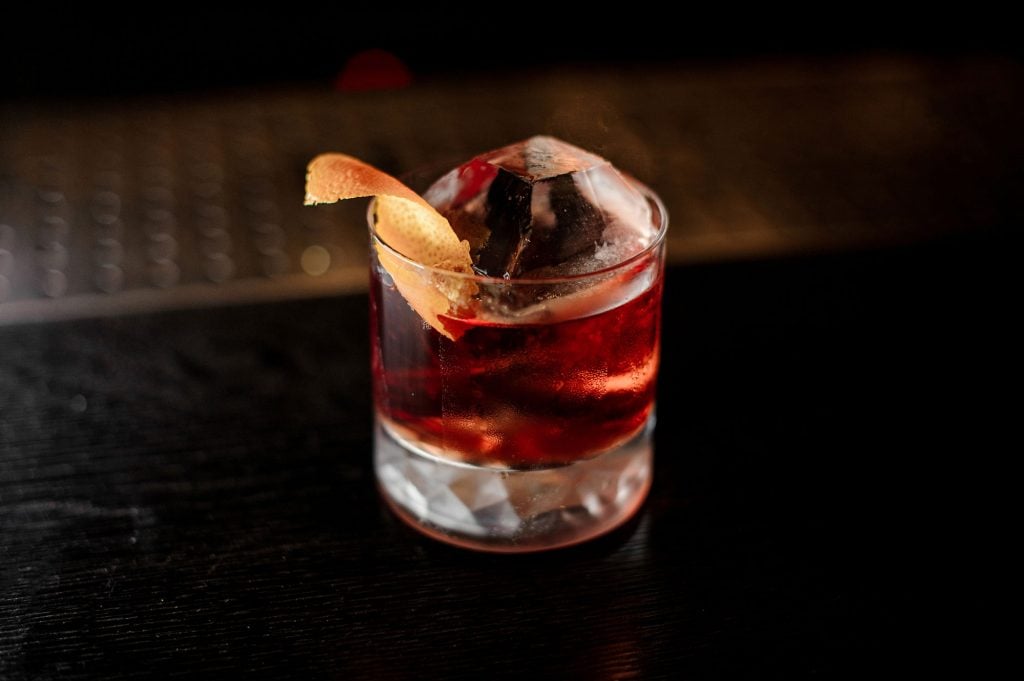 The cocktail appeared in MacElhone's 1927 book Barflies and Cocktails: Over 300 Cocktail Recipes but despite this, until recently it remained quite obscure. It's not in quite a few cocktail books I have that were published between the 1930s and the '90s. David Embury writing in the 1940s has something called a Boulevard which is a Dry Manhattan with 2-3 dashes of Grand Marnier – so not much like a Boulevardier. Since the great Negroni explosion of 2009/10 bartenders and drinkers have taken an interest in its whiskey-based cousin and it's now firmly established on every bar menu.
The Boulevardier is not, however, simply a Negroni with the gin swapped for whiskey. It is usually made with a higher percentage of spirit. We've gone for 1.5 parts to 1 part vermouth and Campari, but the 2:1:1 ratio is great if you like a strong drink (and if you're reading this column, we imagine you do.) Most recipes call for bourbon though I think even better is a good spicy rye whiskey like Michter's.
The first time I ever had a Boulevardier was made by Alessandro Palazzi at Duke's Bar in London using Grand Old Parr – a blended Scotch that's very popular in Colombia. And you're not going to argue with Palazzi when it comes to cocktails. Other things that I find work really well are big spicy Irish whiskeys like Redbreast 12 Year Old, high ester Jamaican rums like Plantation 2003 or a sturdy Armaganc like Château du Tariquet L'Armagnac du Centenaire though you probably don't want to use a £200 brandy in your cocktails. Or maybe you do. Sometimes, you have to ask yourself, 'what would Erskine Gwynne do?'
And finally, there's a whole world of Amari to choose from but we're sticking with Campari and for vermouth, we're very taken with Starlino Hotel's Rosso, aged in bourbon casks, no less.
Right, got your ingredients? It's time to button up your spats, grab your boater and take a leisurely stroll down the boulevard.
45ml Michter's US*1 Straight Rye Whiskey
30ml Hotel Starlino vermouth Rosso
30ml Campari 
Fill a tumbler with cubed ice, and add all the ingredients. Stir for 10 seconds and garnish with an orange twist.