Today, we're shaking up a modern classic using Old Tom gin created by Erik Lorincz when he was head bartender at the American Bar at the Savoy. It's the Green Park!
The American Bar at the Savoy in London is definitely a contender for the most famous bar in the world and the head bartender job is one of the biggest jobs in the industry. Think of the people who have held that position. There was Ada Coleman, inventor of the Hanky Panky, who held the role from 1903 to 1925. Her successor was none other than Harry Craddock, who would go on to write The Savoy Cocktail Book. 
Big shoes
As Erik Lorincz, who was head bartender from 2010-2018, said: "Once you become head bartender at the Savoy, you will always be head bartender at the Savoy."* He left to start his own bar, a Speakeasy style venue around the corner called Kwant backed by Mourad Mazouz, the man behind Sketch and Momo in Mayfair. In 2021 it was chosen as the 31st best bar in the world by 50 Greatest Bars. It's currently closed temporarily but will be relaunching in a new venue in April 2023. 
It was while he was at the Savoy that Lorincz came up with his signature cocktail named after the nearby park, and of course all that green basil in the drink. Make sure you use the freshest basil you can get your hands on. The Green Park harks back to the 19th century by using Old Tom gin rather than the more normal London Dry Gin.
A real Old Tom
The Old Tom I'm using is a bit special. It was created by Dane Christian Jensen who got in early in the gin boom with his eponymous gin in 2005. At the instigation of Simon Difford from Difford's Guide who clocked that it would be in-demand from bartenders looking to make authentic 19th century cocktails like the Martinez, Jensen decided to create an Old Tom. 
The resulting Old Tom appeared in 2008 and has become a great favourite ever since. Unlike most Old Toms, it's not a sweetened London Dry-style gin. Instead Jensen went back into the recipe books to create his. One of the things he discovered is that though Old Toms would have had much higher levels of spice and juniper, mainly to cover up the less than smooth alcohol used, they wouldn't as a rule have sugar added. This was normally done later in gin houses to cover up illicit dilution. So while Jensen's Old Tom tastes rich and sweet, it doesn't contain any sugar.
Originally it was made at Thames Distillers before Jensen opened his own distillery in Bermondsey in 2012. That big whack of botanicals makes it ideal for strongly flavoured cocktails like this one. It's got the oomph to stand up to lemon juice, sugar and basil like in Lorincz's signature cocktail.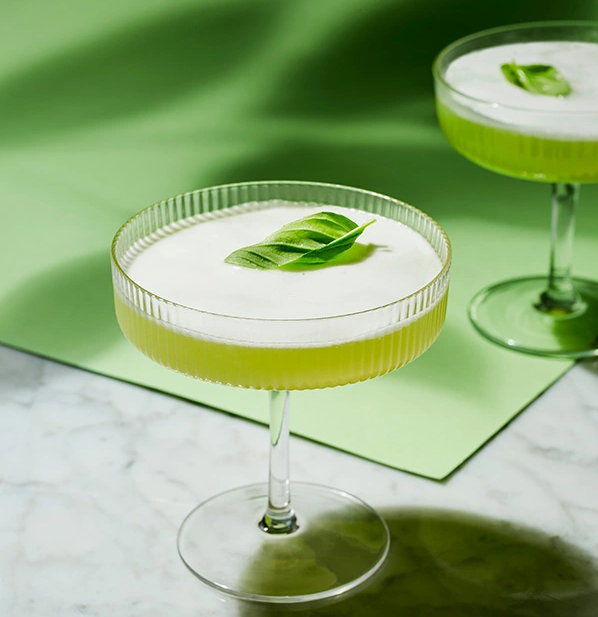 So without further ado, here's how to make a Green Park.
45ml Jensen's Old Tom Gin
30ml lemon juice
15ml sugar syrup
Dash of egg white
6-8 basil leaves
Blend all the ingredients with a hand blender and then shake with ice. Double strain into a coupe and a Martini glass.
*Quote and recipe taken from The Home Bar.