As long term fans of London's whisky pioneers, Bimber Distillery, we are delighted to be teaming up with it for The Four Elements Collection for a series of exclusive single malts which we will be releasing over the next five months. First we had Bimber Fire, and now there's Bimber Earth! And you can only buy it from Master of Malt. 
The Bimber Distillery story
The name 'Bimber' comes from the Polish word for moonshine. The distillery was founded in 2015 by Dariusz Plazewski with the first new make spirit coming off the stills in 2016. To make his single malts he uses only floor-malted English barley from Warminster maltings. Fermentation times are slow, around seven days to create lots of fruity esters.
The first distillation takes place in a 1,000-litre alembic still named Doris, after the sea nymph in Greek mythology, whose name represented the bounty of the sea. A second distillation follows in Astraea, a 1000-litre spirit still named after the Greek goddess of innocence and purity, who was said to strive for perfection with great attention to detail. Unusually both stills are direct-fired. 
For ageing Plazewski uses mainly bourbon casks. Bimber Distillery released its first single malt in 2019 to great acclaim and since then has released a series of whiskies including ones aged in sherry casks and Islay whisky casks. In addition to whisky, the distillery also makes two gins.
Introducing the Bimber Four Elements Collection 
According to Bimber: "The Four Elements Collection examines a quartet of the distillery's distinctive production processes – all of which underpin the character of Bimber's celebrated single malt. From single-farm, floor-malted barley and the use of mineral-rich London water, through to meticulously sourced peat and the extensive use of hand-charred casks – the Four Elements Collection presents a showcase of Bimber's whisky artistry and rigorous attention to detail."
First came Bimber Fire to be followed by Earth, Water and Air later in the year. We will keep you up-to-date as each release comes in.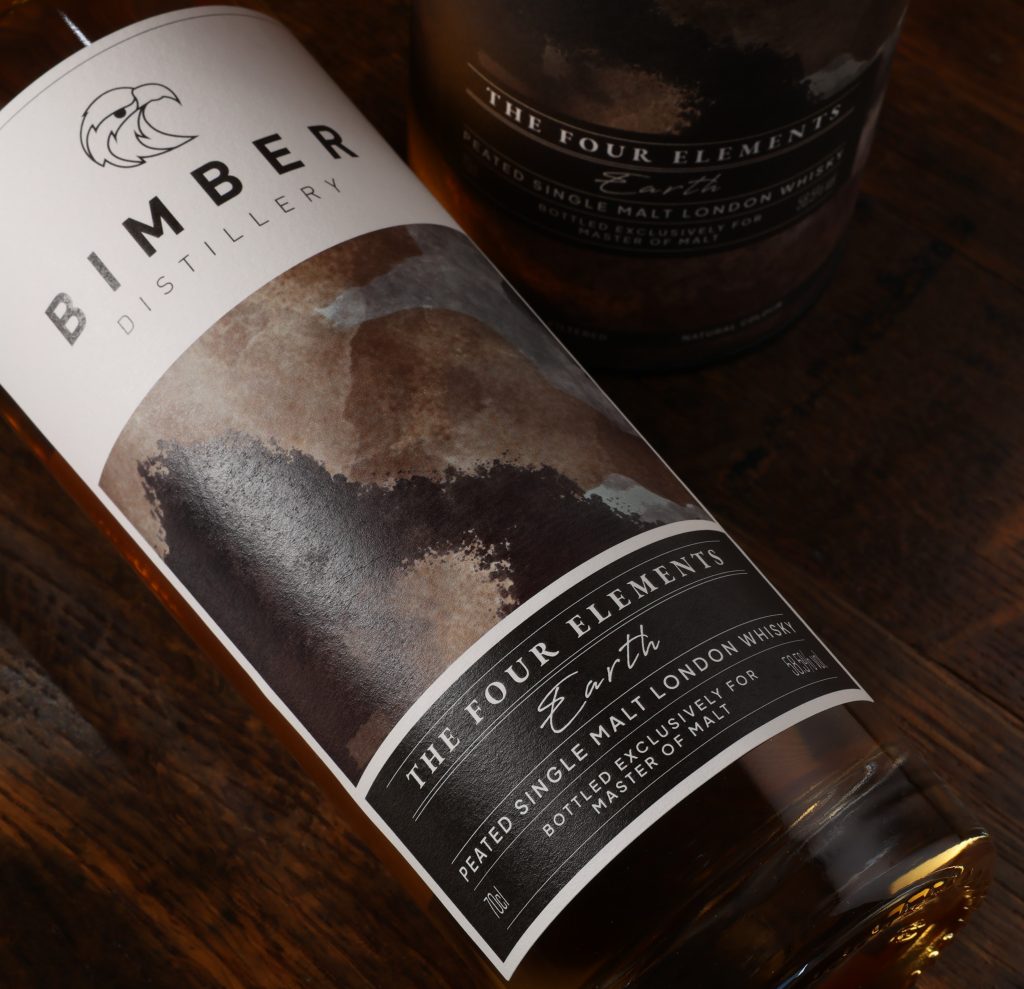 This second release was distilled from malt made using Aberdeenshire peat which has a major impact on the flavour of the resulting whisky. It comes from a single ex-bourbon cask, #478 to be precise, and was bottled at 58.5% ABV. This is a Master of Malt exclusive with only 275 bottles available.
Tasting note from Bimber
Nose: A compote of orchard fruits is married together with wisps of in-land peat smoke. Golden syrup sits with gingerbread men whilst syrupy stone fruit joins asides of damp
autumn leaves.
Palate: Sweet, tinned apricots are wrapped up in warming touches of wood smoke, whilst barley sugars and toasted oak is joined by ginger and cinnamon spice.
Finish: Linger fruity sweetness with touches of persistent, but delicate smoke.
Bimber The Four Elements Collection Fire 
This came from a single virgin American oak cask, cask #332 to be specific. 242 bottles were filled at 58.9% ABV. As you might have guessed from the name, this features heavily-charred oak for a big-flavoured single malt but where the fruity character of the distillery style still shines out. 
Tasting note from Bimber
Nose: Orange peels, tinned peaches and spit-roasted pineapple join marzipan and roasted nuts whilst cinnamon and ginger provide liveliness.
Palate: Gently spiced tinned fruit – peach and apricot – sit together with vanilla cream, oven-baked pastries and milk chocolate alongside fizzing cask spices.
Finish: Dry earthy spicing with shaved chocolate and fading stone fruit.
Bimber The Four Elements Collection Earth is only available from Master of Malt. 
THIS IS NOW SOLD OUT