It's time once again for a victor to be crowned in Whisky Magazine's epic Battle of the Blends and you can be one of the judges! Simply pop a 1p(!) Judging Set into your Master of Malt order now.

Those of you who read Whisky Magazine will already be up to speed with their exciting second Battle of the Blends, and many of you will of course remember last year's heavyweight bout. For those of you who haven't followed its progress, we're currently in the midst of another heroic blending tussle, this time between the reigning champion Neil 'General Mashtun' Ridley and George 'Aegir' Keeble to produce the perfect blended whisky and claim all glory!

Their whiskies have now been lovingly constructed and once again we've been working alongside Whisky Mag to find a winner in this fantastic contest. This means that there's a chance for you to join the illustrious judging panel!
HOW CAN YOU BECOME A JUDGE?
It's as easy as placing one of our 1p Battle of the Blends Challenge No. 2 Judging Sets into your basket (along with anything else you fancy) and heading to the checkout! All the information you'll need is included in a letter inside the set. The final day for submitting results will be 1st March 2017.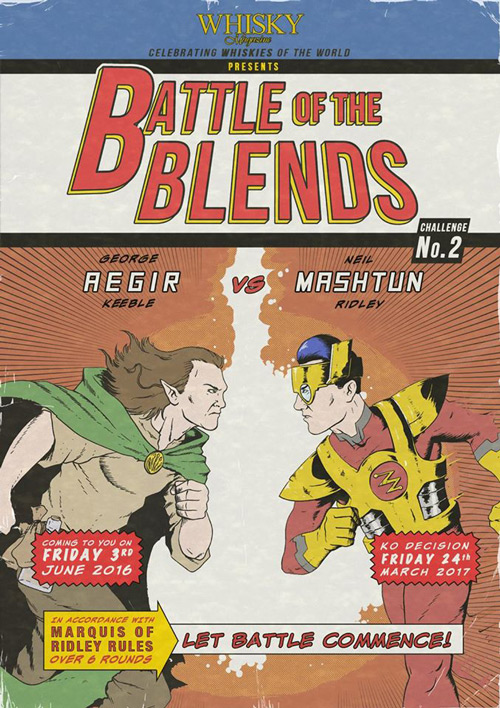 A battle for the ages!
This second battle pits Soho Whisky Club's George Keeble (or Aegir, the Elven Whiskymancer from the hills of the heavily wooded, heftily peated planet of Caskton) against the reigning champion Neil Ridley (or Mashtun, Whiskologist General of the sky city of Dystilleria, comprised of still-scrapers and piped plazas)!
The fascinating challenge they face is to create the best whisky possible through rounds of incremental blending within a provided 20 litre cask in accordance with the Marquis of Ridley Rules. These state that affordable whiskies available in the UK must be used, starting with a litre of Clynelish 14 Year Old and covering all the Scottish whisky regions. Combatants are given a free choice as to the origin of their grain and are permitted one slightly more expensive wildcard from anywhere in the world. At least 15 litres of their final whisky had to be produced, under 50% abv.
*Spoiler Warning* If you want to taste the blends truly blind, you may wish to skip this next paragraph…
Neil has opted to season his cask with Port this time around before blending Auchentoshan Three Wood, Springbank 10, Ardbeg Uigeadail, Lagavulin 16, Glenfiddich 12, 15 & 18, Teeling Single Grain, Royal Brackla 12 and the Clynelish 14. The challenger George, meanwhile, used Oloroso Sherry before combining Glen Scotia Double Cask, Glenkinchie Distillers 2003 (Amontillado Finish), Finlaggan Cask Strength, Kavalan Solist Sherry, Tullibardine 228, Glen Moray 16, Benromach 10, Glenfarclas 15, Bruichladdich Classic, Teeling Single Grain and, of course, Clynelish 14.
Let battle commence!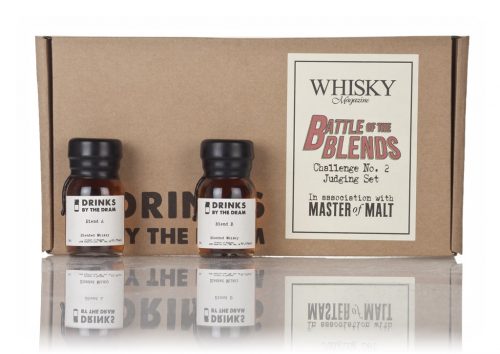 Battle of the Blends Challenge No. 2 Judging Set – £0.01!
Get involved, taste some delicious whiskies and crown a hero folks!
The final result will be revealed at the end of March.

The Mountain