The Shortie Smoky Porter has finally arrived. We spoke to Brendan McCarron at a virtual tasting to get the lowdown on Ardbeg's first beer.
You love Ardbeg. We love Ardbeg. What's not to love? The Islay distillery has a distinctive style, an impressive core range and a canine mascot, Shortie, the Jack Russell. Wonderful. But today, on International Beer Day, no less, the brand has given us another reason to adore all things Ardbeg by releasing its very first beer. It's a porter called The Shortie Smoky Porter (yep, it's named after the dog – we approve) which will be available exclusively in the UK for a limited time (UPDATE: it's here at MoM Towers!).
You may well have heard all of this before because the project was announced earlier in the year but, for obvious reasons, was considerably delayed, meaning we've all had an anxious wait to get our hands on this cross-category first for Ardbeg. It was originally meant to launch on World Water Day (March 22) as it was created in collaboration with clean water charity Brewgooder as part of its Global Gathering campaign. This means all profits of The Shortie Smoky Porter will be donated to support clean water projects in Malawi. So it's a win-win product. You get to enjoy a tasty new beer and help out a great cause.
The project began life as a conversation between Alan McIntyre, global brand manager at Ardbeg, and Alan Mahon, founder of Brewgooder, who are flatmates, which makes you wonder why this didn't happen sooner. Both were present last night alongside Brendan McCarron, head of maturing whisky stocks at The Glenmorangie Company, for a virtual tasting and presentation (sort out that Wifi, McCarron) where McIntyre recalled its inception. "I was blown away by the concept and said to Mahon it would be amazing if Ardbeg could get involved in this. Then we looked at each other and had this lightbulb moment – why don't we just try?".
The idea was run by McCarron and Dr Bill Lumsden, Ardbeg's director of distilling, whisky creation and whisky stocks, who initially needed to be convinced of its practicality. One meeting with Mahon changed this. "After the initial meeting, we all agreed that Mahon was the man and the idea was amazing and we loved it. Then he said he needed it four months and we all said we hate him and want to kill him," McCarron jokes. "We just didn't think it would be possible. But it shows how passionate we were about this project that, having never made a beer and with everything else going on at Ardbeg, we decided that we couldn't miss the opportunity and we needed to make it happen".
While it's not exactly common to see a whisky company swap disciplines and release a beer, there is a history of crossover expressions between the two drinks. The Belgian Brouwerij de Dochter van de Korenaar has actually used casks from Ardbeg Distillery to create peat notes in its beer, while Glenfiddich Experimental Series – IPA Cask Finish and Jameson Caskmates were finished in beer-seasoned casks. There's also a lot of familiarity in the process of creating beer and whisky, as Mickey Heads, Ardbeg distillery manager, explains. "Helping brew a beer may seem like uncharted territory for Ardbeg, but as any whiskyphile worth their malt will tell you, beer and whisky share the same DNA. Just like brewers, we ferment our malt. The only difference being, we hold on to the hops". 
Fundamentally, both drinks include three of the same ingredients; water, barley and yeast, and are really almost identical until the end of the fermentation phase. In both processes, barley is wetted, laid for germination, kilned and then ground at the mills. Then the grist (the ground malt) is mixed with hot water in mash tuns so it releases sugar and becomes the all-important wort. After this step whisky distillers will add yeast to induce fermentation, while brewers will bring hops into play first, then yeast.
Ardbeg didn't take on the challenge of brewing this beer all by themselves, as you probably suspected, instead opting to join forces with Williams Bros Brewing Co, who McCarron and Dr Lumsden both rate as their favourite brewery. The same peated malt as Ardbeg Ten Years Old whisky was utilised and, while McCarron couldn't say how much was used, he did confirm that Ardbeg opted against going for the smokiest option as it simply didn't work. A lot of sample beers were made, including a host of IPAs that McCarron says were delightful complements to the Ardbeg style and spectacular beers, but in the end, the brand opted for a porter as it was felt this style was better able to capture the distillery profile. And no, before you ask, there are no plans for this beer to be cask-aged so an Ardbeg equivalent of Caskmates isn't on the cards.
However, McCarron was certainly inspired by the project and we could well see some interesting experimentation at Ardbeg in the future thanks to it. When answering a question about the difference in timescale between producing beer and whisky, which he described as "mindblowing" and remarked that he was in the wrong job ("I could have had my career five times over if I was a brewer!"), he revealed that the process had demonstrated to him what distillers can learn from brewers. "There's quite a bit of learning whisky can do from how agile and quickly the process moves in beer. I've also now got a whole host of ideas to take back to Ardbeg regarding different raw materials, preparations of barley and fermentations," he explains.
Coming in at a hefty 6.2% ABV and possessing what the brand has described as a "peat bog brown" colour, which might seem a little convenient but is honestly not much of a reach, The Shortie Smoky Porter has quite the reputation to live up to and there will be questions about the best way to enjoy it. I highly recommend having a can of this with Ardbeg 10 Year Old, which was what we did at the tasting. It's the classic distillery expression and its DNA is present in the porter so it makes for a fascinating comparison. I'd be intrigued to see if this works in a Boilermaker and you can imagine pairing it with food quite easily, particularly blue cheese. 
So, what can you expect from The Shortie Smoky Porter? Dr Lumsden said in the press release that, as with most porters, this beer is smooth and creamy but that "our malt has helped make it distinctly smoky – the way we imagine an Ardbeg beer is meant to taste!" In the tasting, McCarron commented that the profile of this smoke is not the medicinal, woodsmoke note the whisky has, instead it's more of a tarry, coal dust smoke. "We did think about doubling down on the smoke, but it's a divisive profile in beer and super-smoky beers aren't that pleasant. We wanted the beer to recognise the character of Ardbeg, but also to have a contrast," he says. "It's complex and has a lovely sweetness as well as a long finish. it's a real sipping beer." Here's the full tasting note plus my own thoughts.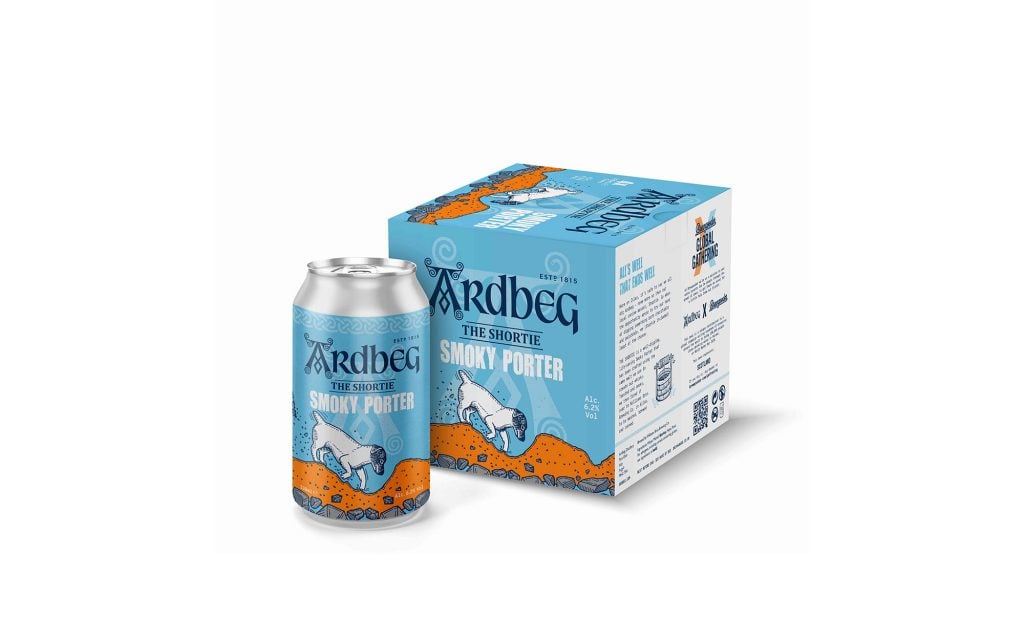 The Shortie Smoky Porter Producer's Tasting Notes:
Nose: On the nose, Ardbeg's distinctive peat gives rise to more oily notes intermingled with sour cherries, rich coal tar and pine. Ardbeg's malt then begins to reveal itself, with aromas of toasted nuts and sweet lemon and lime.
Palate: On the palate, this smoky porter boasts a typically creamy texture, with bitter dark chocolate, malty biscuit, dry espresso coffee and a hint of liquorice.
Finish: In a finish that lingers long beyond the can, delicious and distinctively smoky notes guide the palate towards the bitter end.
My thoughts: Wow. I honestly didn't expect to enjoy it as much as I did. Peat and beer can be a tricky combination but it's done beautifully, it's really well measured and doesn't overwhelm the other flavours at all. It's rich, creamy and ridiculously moreish. I have a few cans left but honestly, I'll probably try and buy more.
The Shortie Smoky Porter is available to purchase from Master of Malt, as well as online at Ardbeg.com and via Ardbeg Embassies. It's priced at £14 for a four-pack.