One of the original pioneers of the UK gin boom, the family-owned 6 O'clock Gin is celebrating its tenth anniversary this year. We chat to its founders about its history, how gin has exploded in this decade and how they plan on marking the big 10.
At 6pm the Kain family would retire from a long day of working on their Devon fruit farm with a refreshing glass of G&T. It's a tradition started by Edward Kain, a merchant seaman and engineer who would take a daily dose of quinine product medication at the same time every evening. His grandson, also named Edward and his wife Penny continued the practice while they made artisanal liqueurs under the Bramley & Gage brand and Penny would often say "Oh! It's 6 o'clock! I can have a Gin and Tonic."
It's the kind of family tradition we can all get behind, it's social, quintessentially British and boozy. Lovely. It also seemed like the perfect name for a gin brand to Edward and Penny's children and the founders of 6 O'clock Gin, Michael and Felicity Kain. "It's a great name, it chimes with a lot of people. It's an occasion to drink to. We could have picked a geographic name, which an awful lot of brands have done. But actually an occasion is more transferable and has more longevity," says Michael Kain (superb name), who's chatting to MoM about how the family is gearing up to celebrate the 10th anniversary of the successful gin brand with a series of new releases, promotions and events. 
A lot has changed in that decade. Outside of all the various armageddon-inducing events (Trump, COVID-19, Liverpool winning the league), in the drinks world, it's very much been the era of gin. When Michael and Felicity first started crafting all kinds of juniper-based deliciousness, their distillery was one of just 23 in England. There are now 441 distilleries across the UK. They were there at the beginning of the gin boom and have seen the industry soar and change in front of their eyes. "We've always loved gin and as we started to work on our own expression Sipsmith launched in 2009. At that moment I knew we were onto something," Kain admits. 
In many ways, the story of this brand is much older than a decade, however. 6 O'clock Gin is really an extension of the family-run artisan spirit company Bramley & Gage that Edward and Penny Kain founded in 1988. The duo were struggling to add value and make a profit on strawberries, raspberries and blackcurrants and decided to diversify their 21-acre Devon fruit farm by making the surplus supply into liqueurs. "They were made with high quality 100% British fruit. It was proper artisan stuff, it all started with jugs and funnels on the kitchen table," says Kain, who remembers picking fruit and filling bottles as a summer job when he was a student. "After seven or eight years the farm was sold and they carried on production in a small industrial unit nearby. By that stage, sloe gin was the biggest selling line they made, which Dad made through a maceration process. It's very different from the distilled London dry that we make and love today".
The business continued to grow organically through to 2007 when Edward and Penny decided they would sell up and fund their retirement. Michael and Felicity, however, decided that the business should remain in the family and took over the distillery and moved it to Bristol. "You'll be pleased to know that my father Edward still does two days a week, he'll never stop," jokes Kain. By this point, the range had increased to 13 flavours. "Dad already had a gin recipe to his name, but he never believed it to be good enough to be sold in its own right, so we set out to make our own". With all the family experience and local ingredients, you might assume this process was a simple one. Not quite. "There are lots of examples of fantastic distilleries where entrepreneurs brought together experts and make great products. We were definitely on the trial-and-error learning scale of experience," admits Kain. 
Kain's signature product and brand, 6 O'clock Gin, was launched in 2010. It took two and a half years to develop the recipe, which was helped along the way with the expertise of Charles Maxwell of Thames Distillers. "He gave us a lot of confidence and told us which botanicals we could use to achieve the flavour profile we wanted. All of our liqueurs taste of their main ingredient so we wanted our gin to be the same and be juniper-led. He helped us get there," says Kain. The final botanical line up consists of juniper, coriander, angelica, orris, winter savory (a favourite of Maxwell's), elderflower and orange peel. The elderflower is sourced locally and Bramley & Gage also use it to create a liqueur. The gin is distilled in a custom made Arnold Holstein still, Kathleen, which has a double sphere condenser, adding an extra cycle to the process (thus more copper contact) and creating an extra smooth spirit in turn. "We charge our still with a neutral grain spirit, then we load the water and our botanicals thereafter," Kain explains. "Once the juniper has soaked through we add heat and after a few hours, we have enough 80% ABV spirit. We that leave to rest before we take it down to 43% ABV with Tarka Springs water brought in from North Devon. It's a fairly conventional process, but when you've got a product that works you don't change it!" 
6 O'clock Gin wasn't just one the first expressions to appear on the market as part of the 'craft' gin boom, but it was also made at one of the first solar-powered and energy-neutral gin distilleries in the country. The brand was also ahead of the curve with its green initiatives, thanks to its sustainable use of spent fruit, reusable bottles and compostable disposables. "We started on a farm and have always had that connection with nature. It's important for us to be responsible citizens, we cannot keep burning carbon to create energy. It's our obligation to move things on as fast as we're able to, as every business is. Our solar panels and reusable bottle initiative are all important but in some ways, it's just a part of being in a game," Kain explains. "You know, every business should be like that. It shouldn't be a point of difference, it should be the norm. Consumers should expect it. I'm always very cautious about celebrating that we're all lovely and green because we can always be better".
Kain's drive for self-improvement is not surprising to hear given how many different products the brand has launched over the last decade. They tried their hand at tonic water but felt that wasn't their strength, so instead focused on exploring flavour. "We're not scared of a bit of innovation. Sometimes it's painful because for all the successful innovations, you've got 20 failures. But if you look at a product like our 6 O'Clock 5 Year Old Sloe Gin, that's the oldest aged gin product available. Although it's never going to be a massive revenue game-changer for us, it's an interesting and fun project," says Kain. "Expressions like our Damson, Sloe, Jekka's Bouquet Garni Edition and Brunel Edition give us a point of difference. The London dry is still our best seller and these other innovations help keep life fun and interesting for us. The huge variety and range of gin and means defining what exactly gin is getting harder and harder. But, although we all complained about the trading standards rules and the British standard and European standard rules on what is and isn't gin; actually, the innovation that's happened has helped to extend the category. The success of the fruit and flavoured extensions on gin is fascinating".  
While Kain might have beaten the rush when he launched 6 O'Clock Gin 10 years ago, he says he had no inkling of the gin boom to come. "Maybe we made it look so easy that a lot of other people thought they could do this too. The most striking thing is that consumer demand is reflected in the supply of distilleries. There's not been consumer fatigue like you might expect on the sheer scale of supply," Kain says. He credits changing consumer attitudes as a big factor in ensuring this growth has been vast and consistent. "The spirits world has become really exciting. People don't necessarily want to drink more, they want to drink smarter and enjoy the experience, whether that's at home or in a cocktail bar. And there's still more innovation to come".
Kain believes that there is no gin bubble. He says the change in gin is here to stay. "We're not going to go back to the '70s. Or even the '80s or the '90s. There'll be a little bit of a shakeup if there is oversupply and consumers may get a bit too baffled by some of the gin options available to them. But they also go with familiar brands and familiar flavours. It's got a strong future. I don't think the 'gin bubble' will burst as others have said because I don't think it is a bubble, it's just gin-flation, it's changed drinking habits," Kain says. "Pubs used to have one or two gins, now they have ten. Some have 50 – 100 and I think those ones will go back down, there will be some change, but it's a lovely tasting drink. Unlike wine or a whisky, in gin, we can control the parameters. For a whisky distillery or winery, they have to try their best with the terroir, the grapes, the weather, the ingredients, the ageing barrels; so they never fully know 100% what it will end up like. Whereas in gin we can engineer repeatable, nice flavours, and unique ones too".
I asked Kain if there was anything he'd wished he'd known 10 years ago when he started off. "Everything. There's loads of stuff I wish I'd known. The names of all the supermarket buyers, that would've been quite good. But I don't have any regrets about any of the decisions I've made". It's not surprising. Ten years on, the company is thriving, selling its gin across the country and worldwide. And the Kains aren't slowing down. 2020 sees two new products launched as part of the 10 year celebrations. The first is Romy's Edition, a deliciously moreish mango, ginger and lime flavoured gin made in collaboration with celebrated British/Indian chef, Romy Gill MBE (it's coming to MoM Towers soon). The recipe's herbs and spices are distilled before being infused with the juice of the native Indian mango. "We wanted to create an Indian-type expression that wasn't just cumin and cardamom and curry, something that captured some traditional Indian fruits and our own fruit experience," says Kain. 
The other expansion to its range is a ready-to-drink series which features two new fruity flavours; Exotic Orange and Damson & Ginger, as well as a Light alternative to their classic London Dry Gin and Tonic. "In these tough COVID times, we wanted to find innovative solutions that actually help people. The RTDs are for those who haven't got the bartender resource to make a decent cocktail, or a proper Gin and Tonic, in the way they want. We've got a solution for that. We've mixed it in the distillery, so just have to pour it over ice and you've got an amazing drink," Kain explains. "That also applies to our light and low options. There's been a lot of media noise on light and low beverages and consumer demand is there. We've haven't been able to produce a zero alcohol product that to my palate tastes enough of gin. So our light and low Gin and Tonic in a can is still half a percent ABV, and that allows us to extract the right sort of flavours out of the juniper. If you put a shot of vodka in it, you've got a Gin and Tonic again!"
Rounding off the tenth anniversary year celebrations is a plan to offer a free G&T from 6pm on Friday to 6pm on Sunday in participating pubs and bars in the South West throughout September. Kain says the details are still being ironed out, but the idea is that when the clock strikes six they can celebrate 10 years with consumers. If you'd like to do the same at home, we've done a few classic MoM tasting notes below and recommended some serves to boot so you can enjoy all things 6 O'clock Gin with ease. Amidst all the hectic planning and work, I hope the Kains remember to pour themselves gin at 6pm. It's safe to say they've earned it. Cheers to 10 years of 6 O'clock Gin!
6 O'clock Gin Tasting Notes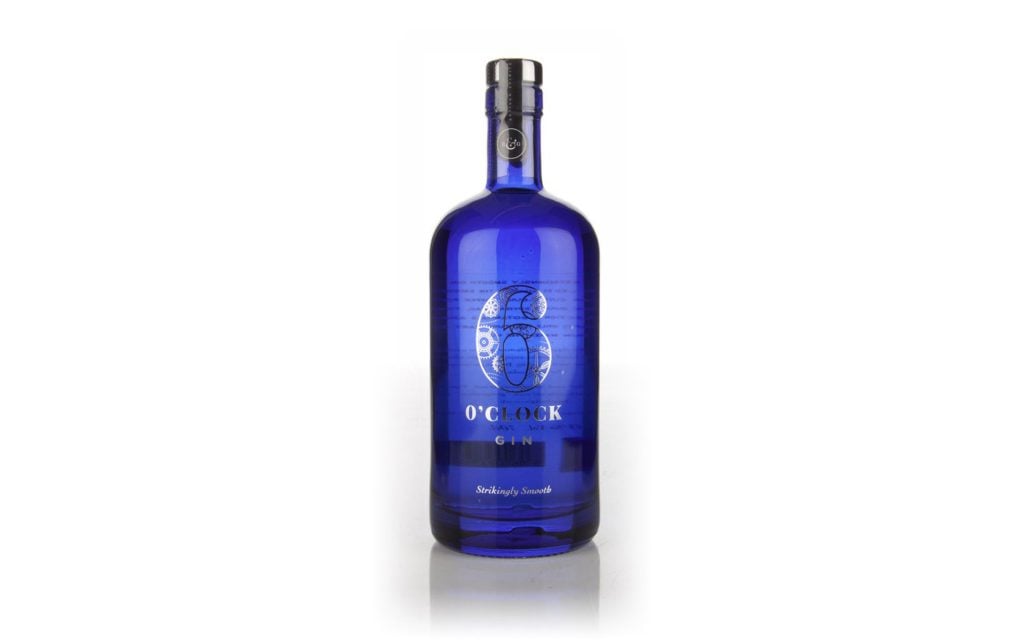 6 O'clock Gin Tasting Note:
Nose: Vibrant, clean and classic in profile from the get-go, it's a textbook London dry nose. The juniper leads, full-bodied and fresh with plenty of pine before elderflower adds this subtle, summery sweetness. The coriander and orange peel are unmistakable and work in tandem to deliver a crisp, warming and an aromatic dose of citrus throughout.
Palate: The palate is a continuation of the nose: juniper-forward and proud. The citrus and floral notes are beautifully balanced and the juniper is refined and bolstered by a full, almost chewy texture.  
Finish: The coriander seed's heat comes through a touch heavy in a long and resinous finish.
Overall: 6 O'clock Gin is thoroughly delicious and it's of no surprise to me that its character has proved such a big hit with gin drinkers who are looking for a classic London dry profile. What I enjoy most is how ridiculously mixable it is. I enjoyed my 6 O'clock G&T (brings out the citrus element beautifully), my 6 O'clock Negroni (ditto), my 6 O'clock Martini (highlights the floral characteristics), but above all, I think it makes a delightful Southside (both. Hallelujah).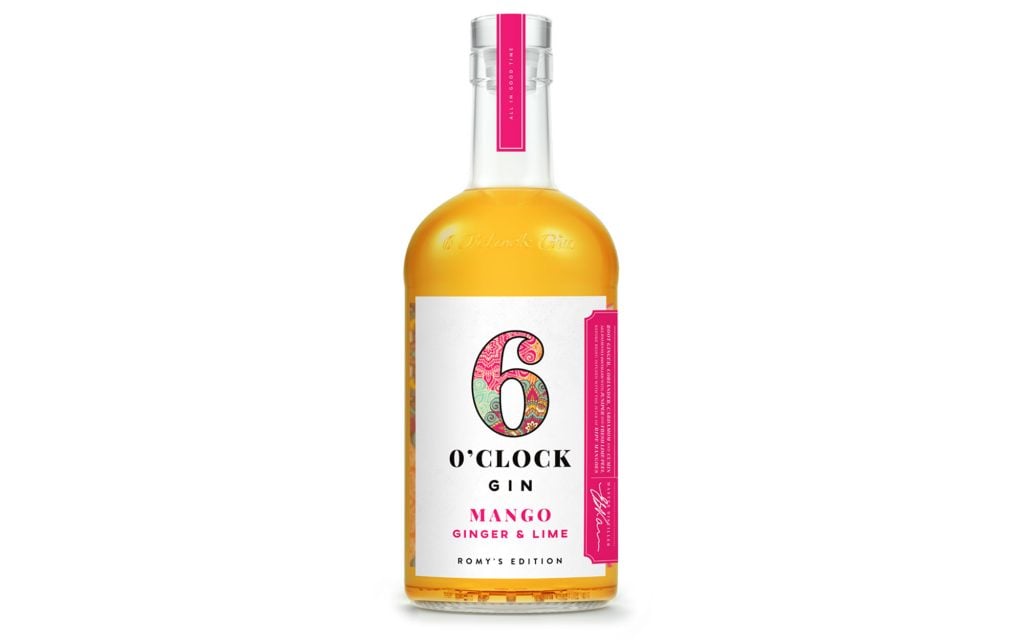 6 O'clock Gin Romy's Edition – Mango, Ginger & Lime Tasting Note:
Nose: Zingy orange (marmalade-esque), ripe mango and a creamy lime element (key lime pie?) emerge first, then vanilla, toasted almond and a hint of woody juniper add depth. The ginger isn't very spicy for me and its aromatic influence is subtle on the nose. 
Palate: A big hit of lime immediately rushes to the fore, which tropical fruit sweetness then supports. Baking spice adds a measured kick of spice and heat.
Finish: There's a really pleasant, full-bodied and juicy mango note that lingers here along with a prickle of that ginger spice.
Overall:  I'm really struck by how delicately balanced the sweetness is. This isn't sickly or liqueur-like. The spice is also quite reserved. I could go for a little more, but I think 6 O'clock Gin has done well to ensure it doesn't overwhelm or disguise the other flavours.
6 O'clock Gin RTD Gin and Tonic Round-up: 
6 O'clock Gin London Dry Gin and Tonic: Gorgeous. Light, refined and easy drinking. You'd happily have a few cans of this at a picnic or BBQ. Should come into its own in this period of distance drinking.
6 O'clock Gin London Dry Gin and Tonic (Light): Lovely and hard to distinguish from the previous can. Same taste, same viscosity and similarly easy to imbibe. Smashing.
6 O'clock Gin London Dry Gin and Tonic (Light and Low): Slightly sweeter than the previous G&Ts to an extent that it probably loses me, but still mighty impressive given its profile. The health-conscious will love this. 
6 O'clock Gin Exotic Orange Gin and Tonic: I'm really impressed by how mellow this is. It balances sweetness, acidity and some citrus sharpness beautifully. Possibly the highlight of the range.
6 O'clock Gin Damson and Ginger Gin and Tonic: The aromatic note of ginger might be a little toning down, but its spice is beautifully tempered. Damson is such a great choice. It's juicy, fruity and darkly delicious and never veers into the synthetic sweetness you often get from these drinks.