Hey, guess what? If you buy a bottle of Bunnahabhain then you could be in with a chance of receiving a bottle of its Fèis Ìle whisky!
Every year thousands of whisky enthusiasts attend Fèis Ìle (or The Islay Festival of Music and Malt) for a celebration of music, special events, and, of course, whisky. Arguably the feature of Fèis Ìle that makes people most excited, however, is the exclusive bottles the distilleries on Islay create to mark the occasion. Every year big queues will form wherever these treasures are sold. And because these limited-edition offerings sell for a pretty penny and sell out fast, it's easy to miss out.
But what if there was a way that you could get your hands on the Fèis Ìle bottling of one of Islay's finest distilleries? Let's say you could simply buy a bottle from our first MoM Whisky Icon champion, Bunnahabhain, and automatically be entered into a random draw to win a 70cl bottle of its special release this year: Fèis Ìle 2021: 2013 Mòine Bordeaux Finish. Wouldn't that be neat?
Well, as you might have guessed, that's exactly what you can do thanks to our 30 Days of Bunnahabhain giveaway! Here's how it works. Head here to pick up some whisky from the Bunnahabhain range (excluding independent bottlings) and you'll become part of the draw.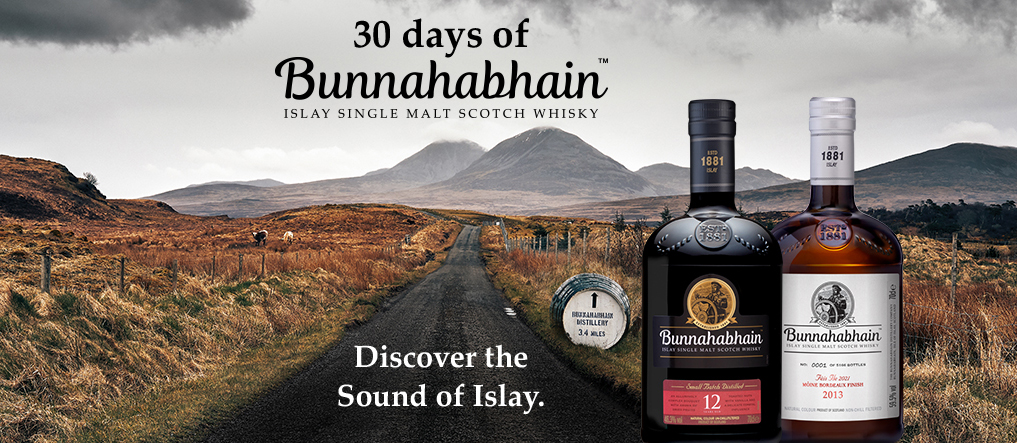 Then from each day between 1 November 2021 to 30 November 2021, one winner will be chosen. So there will be a winner out of all the people who buy Bunna on 1 November 2021, and then a second winner on 2 November 2021, and so on and so forth. Hence, 30 days of Bunnahabhain!
Each winner will get their own 70cl bottle of Fèis Ìle 2021: 2013 Mòine Bordeaux Finish, which eagle-eyed readers will have noticed was finished in Bordeaux wine casks, adding a touch of French flair to the Scottish single malt.
So, the only question that remains is, what are you waiting for? T&C's are below if you need any more info. And if you need a bottle of Bunna, which we're guessing you do, then this is the place to go. Good luck everyone!
MoM 30 Days of Bunnahabhain 2021 open to entrants 18 years and over. UK only excluding Northern Ireland. Entries accepted from 12:00:00 GMT on 01 November to 30 November 2021. Winners chosen at random after close of competition. Shipping restrictions apply. Postal route available. Prizes not transferable and cannot be exchanged for cash equivalent. See full T&Cs for details.
View Full Terms and Conditions.