WIN a fancypants, one-of-a-kind, specially-created-for-you decanter of Teeling Irish Whiskey hand-drawn and signed by the distillery's very own master distiller Alex Chasko from a 1991 single malt cask. Your name will even be on the label!
Enjoy £5 off Teeling Single Malt right up until St Patrick's Day!
Delicious, delicious single malt Irish whiskey AND the chance to win something fabulous… what more could you want this March?!
It's that time of year again. St Patrick's Day (17 March) is just around the corner and we increasingly find ourselves reaching into our drinks cabinets for a drop of something tasty from the Emerald Isle (we do this throughout the year, but nothing quite hits the spot quite like Irish whiskey in early March…). So we're super excited to team up with Teeling Whiskey to give you the chance to win a very special bottling from a 1991 single malt cask!
So what's up for grabs? Only a single malt whiskey decanter, specially drawn from a 1991 cask by the distillery's very own distiller Alex Chasko! The label will include the winner's name, and Alex will sign it, too. A truly personalised, one-of-one bottling of something remarkable and delicious. Huzzah!
How do you get your mitts on this fine liquid? Everyone who snaps up an eligible bottle from Teeling's range of Irish whiskeys will automatically be entered into the contest. Simples. This includes Teeling Single Malt, Teeling Small Batch, Teeling Single Grain, Teeling 14 Year Old – The Revival Volume III, Teeling 15 Year Old – The Revival Volume IV, Teeling 24 Year Old – Vintage Reserve Collection, Teeling Brabazon Bottling Series 1, Teeling Brabazon Bottling Series 2, or Teeling Small Batch with 2x Glasses. Phew. (No purchase necessary – see Terms & Conditions below.)
If that's not good enough, we've also got £5 off Teeling Single Malt right up until St Patrick's Day, so you can celebrate in style AND max out the moolah. Most ideal.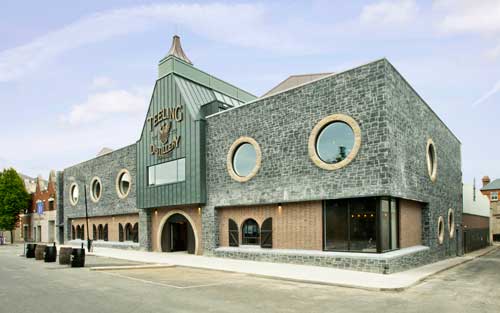 The Teeling Distillery in all its glory
If you're not familiar with Teeling, let's get you up to speed. While the name might be relatively new in today's rapidly developing Irish whiskey scene, the family behind the distillery can actually trace its boozy roots back to 1782, when Walter Teeling set up a production site in Dublin's Liberties area. Fast forward to 1987, and John Teeling transformed Ceimici Teo (a site that made alcohol from potatoes) into the renowned Cooley Distillery. That was sold to Beam in 2011, but the Teeling clan didn't wait long to get back in the game. The Teeling Whiskey Company was born in 2012!
Since then, the family has released an array of single malts, blends and a single grain, and, perhaps most excitingly, even built their own Dublin distillery which opened in 2015 – the city's first new distillery in 125 years. Quite the feat!
What's handy is that Team Teeling knows how to construct delicious whiskey, not just distilleries. Most useful in the run-up to St Patrick's Day!
£5 off Teeling Single Malt?
Yes please.
Good luck, all. And Lá fhéile Pádraig sona dhuit!