Redbreast is doing its best Willy Wonka impression with its latest competition. Just find the golden ticket cork and you'll win a bottle of Redbreast Dream Cask whiskey.
When Redbreast launches a new Irish whiskey, you stand up and take note. The brand has an exceptional core range as well as an array of much-loved limited edition bottlings, like its annual Dream Cask releases. 
Each whiskey is selected by master blender Billy Leighton in collaboration with blender Dave McCabe. Last year's edition was a dram matured for a minimum of 28 years in a combination of ex-bourbon barrels, an Oloroso sherry butt, and a ruby Port-seasoned cask, which was then married in the ruby Port cask to mature further as a single Dream Cask before being bottled at 51.5% ABV. 
A new Dream Cask
This year's bottling is Redbreast Dream Cask Oloroso Sherry Edition. It's a 29-year-old single pot still Irish whiskey aged in ex-bourbon, sherry and ruby Port-seasoned casks which were then married together in a single Oloroso sherry butt and left to mature for a further 15 months before being bottled at 51.2% ABV.
Expect all the luxury, complexity, and rich sherried goodness you've come to love from Redbreast in this one. Leighton describes it as "undeniably special and yet unmistakably Redbreast" and says to expect notes of dried fruits, herbs, and toasted oak and a complex aroma of liquorice, leather, and nutmeg.
Seeing as these expressions usually sell out quicker than Daniel O'Donnell tickets at an Irish monastery (nuns love him), Redbreast introduced a new balloting system in 2020 to cope with demand. Redbreast Dream Cask Oloroso Sherry Edition will be similarly available in limited quantities via the brand's private members' club, The Birdhouse.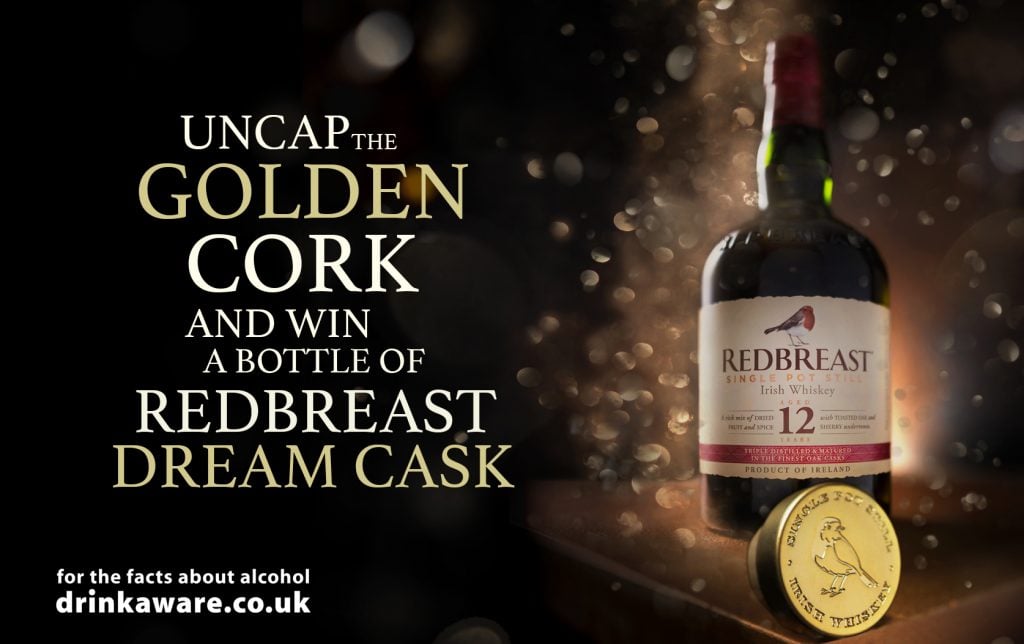 Here's how you can win a bottle
And another route that involves us. How? With a competition straight out of Charlie and the Chocolate Factory.
Simply buy a bottle of Redbreast 12 Year Old and you might just find one of six golden corks hidden among them. If you do, a bottle of the Redbreast Dream Cask Oloroso Sherry edition could be heading your way. 
Let's clarify exactly how this works so you don't miss out: 
Buy a bottle of tasty whisky

here

 (multiple entries are allowed)

. 

If you find a golden cork, you've won.

Make sure you check. Don't just throw away the cork. 

If you are one of the lucky Golden Cork Winners, take a photo of the cork and code on the side. Email the photo with your contact details to 

[email protected]

 and they will be in touch with the next steps.

There will be six prizes for six winners. 

And the prize is a 50cl bottle of Redbreast Dream Cask Oloroso Sherry Edition, including packaging and carriage. 
Clear? Great, now get entering and best of luck everyone!
MoM Redbreast Dream Cask Competition 2021 open to entrants 18 years and over. Entries accepted from 12:00:01 GMT on 17 May to 23:59:59 GMT on 31 December 2021. UK only excluding Northern Ireland. Prizes not transferable and cannot be exchanged for cash equivalent. See full T&Cs for details.
View Full Terms and Conditions.