There's no denying that a White Port and Tonic is a solid drink. It's refreshing, relatively low in alcohol, and makes a great aperitif or summer sipper. But what else can you do with white Port?, asks Lucy Britner.
Once the preserve of Douro Valley locals, white Port has enjoyed spreading its wings over the past few years. The thing is, pretty much every time you hear anything about it, the talk is of White Port and Tonic. And if gin fever has seen you overdose on tonic, this is the Port (feature) for you.
To explore how else we can enjoy this wonderful creation, let's get going with some background.
Grape expectations
White Port is, unsurprisingly, made from white grapes grown in Portugal's Douro Valley. There are many grapes that it can be made from, with Viosinho, Gouveio, Malvasia and Rabigato among the line-up.
The drink has been around for nearly 90 years; the first white Port was introduced in 1934, by Taylor's. Since then, loads of other brands have followed. While most white Ports are released young, a few see long cask ageing, giving them nutty, complex characteristics – notes certainly worth exploring in mixed drinks or as accompaniments to food.
Churchill's, for example, barrel ages its white Port for an average of ten years to create a fuller, complex style with a rich golden-orange colour. The grapes are crushed with stalks in granite 'lagares' (presses) and undergo a light maceration by foot treading followed by fermentation on the skins. This, along with the barrel ageing, adds to the complexity of flavours.
Cocktail hour
Zoe Graham, sales & marketing director at Churchill's says: "Dry white Port is an approachable style that has great potential to appeal to younger drinkers, drawing on fond associations with summers in Portugal. It's a versatile wine that can be served chilled, on its own as an aperitif, or as a premium modifier in cocktails."
The Churchill's team suggests trying the Port in a Gricha Mule (Quinta da Gricha is the company's winery and vineyard in the Douro valley). The cocktail was invented at the 1982 bar at Churchill's Lodge in Villa Nova de Gaia. Here's how you make it: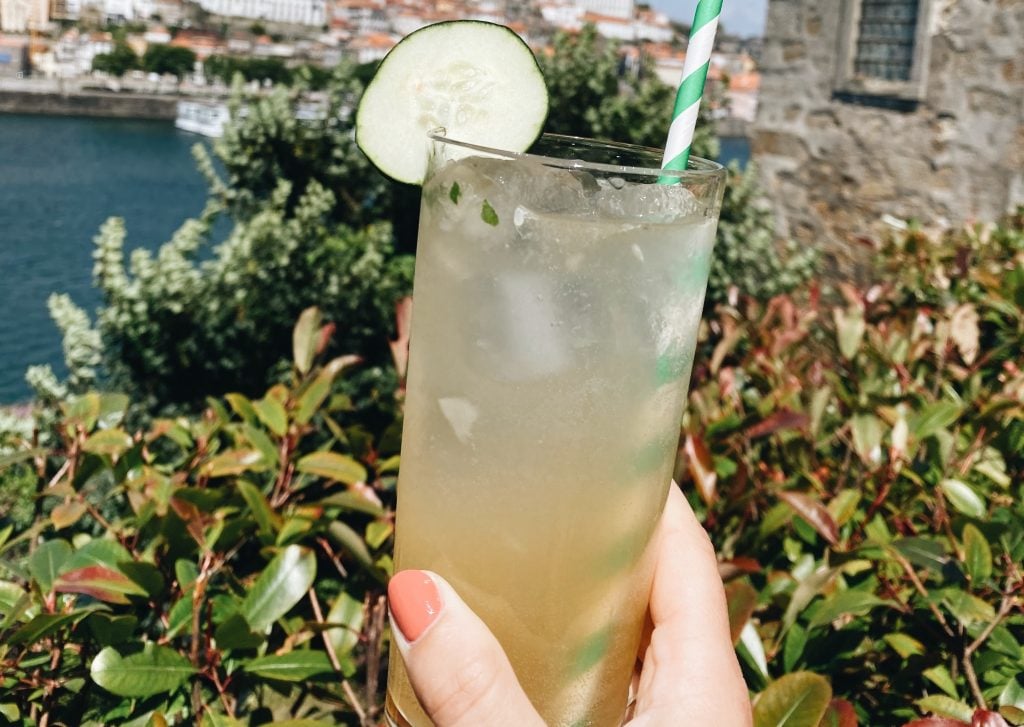 Gricha Mule
60ml Churchill's Dry White Port
60ml ginger beer (not ale)
Two lime wedges
Three slices of cucumber
Sprig of mint
Muddle the lime wedges, cucumber and mint in a cocktail shaker. Add the Port and ginger beer, fill the shaker with ice and shake vigorously. Pour the entire contents into a Highball glass, top with soda and garnish with a cucumber wheel.
Taylor's, too, has a great bank of cocktails for its Chip Dry white Port brand. David Guimaraens, head winemaker at Taylor's, describes the expression as a versatile aperitif Port, complex and nutty, with intense but delicate flavours.
When it comes to mixing Chip Dry, apple and citrus – especially lemon – flavours get lots of mentions and MoM's favourite is a take on a Sour, called the Canary.
Canary
50ml Taylor's Chip Dry
30ml fresh lemon juice
15ml honey
3 egg whites
5 mint leaves
Dry shake all ingredients, then shake again with ice. Double strain into a chilled coupe and garnish with lavender.
Food for thought
Beyond cocktails, white Port is an excellent partner for many different foods – and you should always start with a bowl of salted almonds or olives with a chilled glass of white Port to whet your appetite, while you decide what else to eat. We recently explored some options with Quinta do Noval's Noval Extra Dry White – a Port with a certain amount of body and richness, with an almond nuttiness on the nose, and fresh fruit on the palate.
The Port is a blend of wines with an average age of two years – 90% aged in old wooden vats and 10% in stainless steel. Carlos Agrellos, technical director at Quinta do Noval describes it as a "citrine colour with an intense and fruity bouquet", with a "good alcohol, sugar and acidity balance". All important stuff when you're considering what to eat.
MoM recommends starting with something like a light terrine or paté (nothing too strong) to balance the acidity and alcohol, as well as bring out those fruit flavours. The creamy texture will also complement almond or vanilla notes on the finish. If meat's not your bag, a hard sheep's cheese is also a hit, especially when it has a good dose of salinity.
The almond and vanilla finish also inspires dessert matches, and dishes such as almond tarts, crème brûlée or even a trifle made with white port, rather than sherry, are on our menu.
Just the tonic
There's loads you can do with white Port, besides serve it with tonic. But if tonic really is your jam, you might be interested to know that you don't even have to mix your own white Port and tonic anymore. Earlier this year, Taylor's released Taylor's Chip Dry & Tonic, the first ready-to-drink white Port and tonic in a can. The launch was closely followed by Cockburn's Fine White Port, tonic water, lemon & fresh mint – all in a can.
As far as pairings go, we recommend a bag of ready-salted crisps and a picnic blanket.