White Port and Tonic in hand, we take a stroll around the beautiful city of Porto which despite the cancellation of this year's Festival of São João is welcoming visitors once more with the opening of the much-anticipated  all-singing, all-dancing World of Wine museum. 
If you're in Porto and someone hits you over the head with a plastic hammer, do not be alarmed. It's just the Festival of São João and the person hitting you means you no harm. Ostensibly a religious festival celebrating John the Baptist, it probably predates Christianity and offers an excuse for the whole city to go bananas on midsummer's eve, 23 June. There's music, fireworks, concerts, sardines and squeaky plastic hammers. Don't ask why, just join in. Apparently, Tripeiros (tripe eaters, as people from Porto are known) used to hit each other with leeks which makes complete sense but at some point this changed to plastic hammers. And to keep you refreshed while bashing your neighbour, there's a choice of two drinks: Super Bock beer and White Port and Tonic, Porto's answer to the G&T.
Sadly this year because of Covid, São João has been cancelled. It's hard to social distance while hitting someone on the head with a plastic hammer (unless you have a really big one.) But you can still get in the spirit by having a White Port and Tonic at home. We're using Taylor's Chip Dry white Port. This label dates back to 1934, the name comes from the old English expression 'dry as a chip.' The name is apt because there's less sweetness than most white Ports; the alcohol in the form of aguardiente is added later so more sugar is fermented into alcohol. It's not, however, as dry as fino sherry. The principal grape variety is the honeyed Malvasia Fina combined with other white Portuguese grapes, then aged in oak for between four and five years which gives it a nutty roundness without losing the fresh fruit. It's a great tapas sort of wine sipped chilled and neat with cheese, or especially melon and ham. Or, of course, mixed with tonic as they do in Porto.
São João might have been cancelled this year but the city is opening up again. According to Adrian Bridge, CEO of Taylor's, Portugal has had a relatively good Covid. "Portugal has come out as a very safe destination," he told me. Restaurants and hotels are once again doing business, the border with Spain opens up on the 22 June and Michael O' Leary from Ryanair is itching to get flights running to Porto airport. Bridge has a particular interest in some degree of normality returning to the city as his €100 million World of Wine (WOW) is due to open at the end of July consisting of six museums, devoted to fashion, cork, Portuguese history, chocolate and, of course, wine all housed in historic Port warehouses on the Vila Nova de Gaia side of the river
There will also be five restaurants where I imagine thirsty visitors will get through a lot of Chip Dry and Tonics. Just as with a Spanish G&T, it's fun to play around with garnishes. Mint and lime are good though I find a piece of rosemary brings out woody spicy notes in the wine and a piece of orange peel accentuates the fruit. The orange bitters is a nice addition but not essential. And don't forget the plastic hammer. In fact, an idea for the Taylor's marketing department, free plastic hammer with every bottle. I'll suggest to Adrian Bridge now.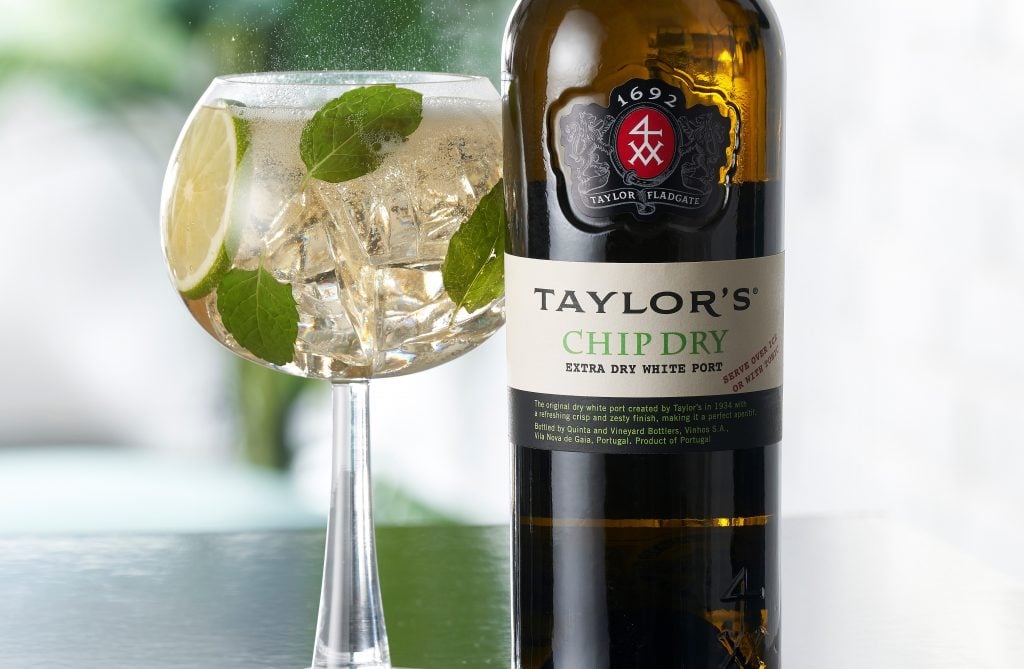 Right here's how to make a White Port and Tonic:
35ml Taylor's Chip Dry
65ml Tonic water
1 dash Fee Brothers Orange Bitters
Fill a Highball or goldfish bowl glass with ice, add the white Port, stir, and top up with tonic, Add one dash of orange bitters, stir again gently and garnish with a spring of rosemary and a piece of orange or lemon peel (or mint and lime if you prefer).