Whether they're bourbons, single malts or blended whiskies, some brands are so famous that they're iconic. But which is the biggest whisky icon? We're running a poll on social media to find out, and this is the page to follow the results.
The Oxford English Dictionary defines the word 'icon' as: "A person or thing regarded as a representative symbol or as worthy of veneration."
So, what makes a whisky an icon? Well, it has to be a great whisky to start with. One that's revered across the world. But more than this, it has to have a strong memorable image. Say the name of a particular distillery or brand, and it should instantly resonate. 
Worthy of veneration
Now this could be a globally famous brand like Johnnie Walker or Jack Daniel's. Many people who have never even drunk whisky will have heard of these brands. Jack Daniel's for its association with music, and Johnnie Walker because it's an icon of consumer capitalism (as well as a great whisky). Then there's Macallan, a symbol of luxury up there with Rolls Royce or Cartier. 
But lesser-known names can be iconic among the whisky cognoscenti. Take Springbank, for example. You have to know a bit about whisky to have heard of it but it's undoubtedly "worthy of veneration." We've seen grown men and women go all tearful at the thought of a rare bottle of Springbank. 
But your whisky icon might be Lagavulin from Islay, Four Roses from Kentucky or even a newer distillery like Mackmyra from Sweden. So to decide this once and for all, we're giving Master of Malt customers the opportunity to shout about their favourite brands. 
Vote for your whisky of icon
Social polls will be posted on a @masterofmalt Instagram story Monday to Friday this week (simply view our story and tap on the distillery/brand you wish to vote for). Or alternatively you can vote over on the @MasterOfMalt Twitter page where a poll will be posted to our feed.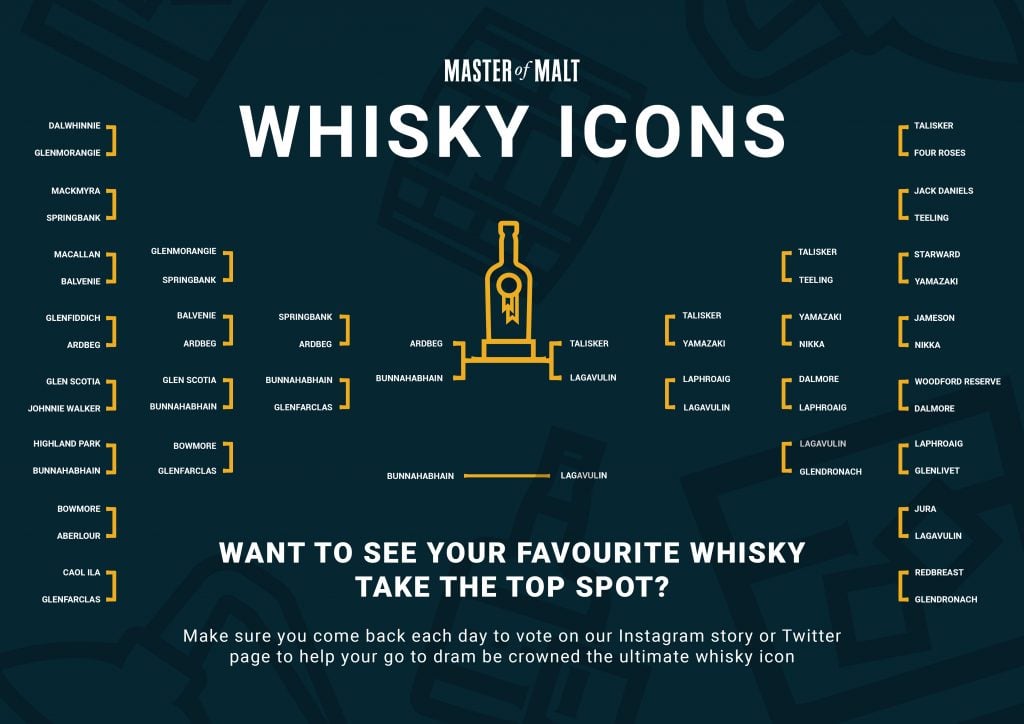 The tournament will end on Monday 27 September with the winner announced that day. This is how it will work:
Monday 20 September – first round with 32 whiskies
Tuesday 21 September – second round with 16 whiskies
Wednesday 22 September – quarter finals 
Thursday 23 September – semi finals 
Friday 24 September – finals
Saturday 25 September – voting closes
Monday 27 September – announcement of the winner
Get voting so we can say once and for all what the greatest icon of whisky is! And then we find something else to argue about. 
UPDATE, 27 September:
The winner was… Bunnahabhain with Lagavulin as the runner-up.