Diageo's 'Four Corners of Scotland' grand plan for whisky tourism is very nearly complete. We visited the Speyside outpost, Cardhu, to see how the team had got on revamping the visitor experience, and whether it makes our list of must-see distilleries. 
Cardhu has everything you could hope for in a Scotch whisky distillery: a hidden location down a narrow winding road, and then nestled beneath a hill, a perfect stone distillery with its twin pagodas poking above the trees. There's even a herd of impossibly picturesque Highland cows out the front.
Shakira and Beyoncé 
According to Fiona Hunter-Wood, a recent addition to Diageo's marketing team, rather than have normal Highland cow names like Angus or Lorna, they're named Beyonce and Shakira. She knew them well having attempted a few days before to corral them for a photoshoot. I bet she didn't expect that when she decided to swap a high-flying fashion job in London for the whisky industry..
We were there to check out how Diageo's multi-million pound investment in whisky tourism was going, the so-called 'Four Corners of Scotland'. We've already visited the Johnnie Walker brand home in Edinburgh and the stunningly revamped Glenkinchie. Now it's Cardhu's turn.
We were shown round by one of the regular guides, Natasha. She's been with the distillery for four years now and her father was in whisky so she knows her stuff. We were given the standard tour, though we were the only people on it. 
Resilient women
As usual with the new Diageo tours, we were assured that "there's no right way or wrong way" to enjoy whisky. I really want to see someone testing this mantra to the limit by pouring whisky into their ear or trying to set it on fire.
Then we went into a darkened cinema, where we watched an animated film telling the story of Cardhu which is something of a gift to the marketing people. The theme was 'resilient women' such as Helen Cumming who, during Cardhu's illicit years, would raise a red flag to warn neighbouring distillers when an excise man was about. She was succeeded by her daughter-in-law, Elizabeth, who took over the distillery when husband Lewis Cumming died. 
Unlike at Glenkinchie, there's a strong Johnnie Walker connection, too. John Walker & Sons bought the distillery from the Cumming family in 1893. The characters in the story all appeared as silhouettes which gave the cartoon a spooky quality which may or may not have been intentional. Ghostly figures from the past coming back to life. Woooohhhhhh!
Olfactory overload
Just as with Glenkinchie and Princess Street tours, the emphasis was on flavour. We sniffed various pots, and asked to say what we thought they smelled of. There was one that smelled of freshly cut grass and another of apple crumble. And, of course, there is no right or wrong answer! Though, you'd probably get some funny looks if you said the grassy one smelt of chicken soup. Anyway, I digress, this part of the tour is a great way of learning to talk unashamedly about flavour and primes your nose for the tasting at the end.
Before looking at the distillery set-up, our guide explained the production process beginning with the barley and talking about malting, mashing and fermenting using various diagrams and models. Which was fun though parts of it, I found a little hard to follow.
The Cardhu set-up
Natasha came into her own, however, when we looked around the equipment where her experience and knowledge really showed. The set-up of the distillery begins with a Porteus mill. The team uses lightly peated barley. Fermentation takes place in eight Douglas fir washbacks over 80 hours, quite long for Scotch whisky. There are six stills, three spirit and three wash, all slim and tall so lots of copper contact. The lyne arm slopes upwards creating more reflux and there's a shell and tube condenser. The aim throughout the process is to create a light fruity new make. The distillery produces around 3.4 million litres of whisky a year.
Before moving on to the tasting we sniffed some old casks, including a Caol Ila in a red wine cask and an old Cameronbridge grain which we were told was "the glue that binds the blend together". It's another good way to get your olfactory system going before diving into some whiskies. 
Aspirational tasting room
Tasting took place in a room that looks like an aspirational kitchen complete with white tiles and copper pans. It was as if the designers were told to create something that was as far away from the gentleman's club feel previously associated with Scotch whisky. And their answer was: swanky Notting Hill kitchen showroom!
Again, Nastaha's enthusiasm and love for Cardhu was apparent during the tasting. Those smells from the beginning just came roaring back. There's full tasting notes below – Cardhu isn't perhaps the distillery that gets whisky fans all hot and bothered, but the whiskies were all superb. The 12 year with it's apple sweetness is really a textbook fruity single malt, while the NAS Amber Rock was like a riot going on in a peach orchard. So much fun.
It was a shame to see such a great space completely empty on our visit but as Scotland, hopefully, follows England out of Covid restrictions, then visitor numbers should increase. The standard Cardhu tour is very much aimed at whisky beginners but there's enough to surprise even a jaded old drinks hack like me. And it helps that the whisky at the end was so good.
Our Four Corners odyssey will be back with Clynelish next and, when it opens, Caol Ila.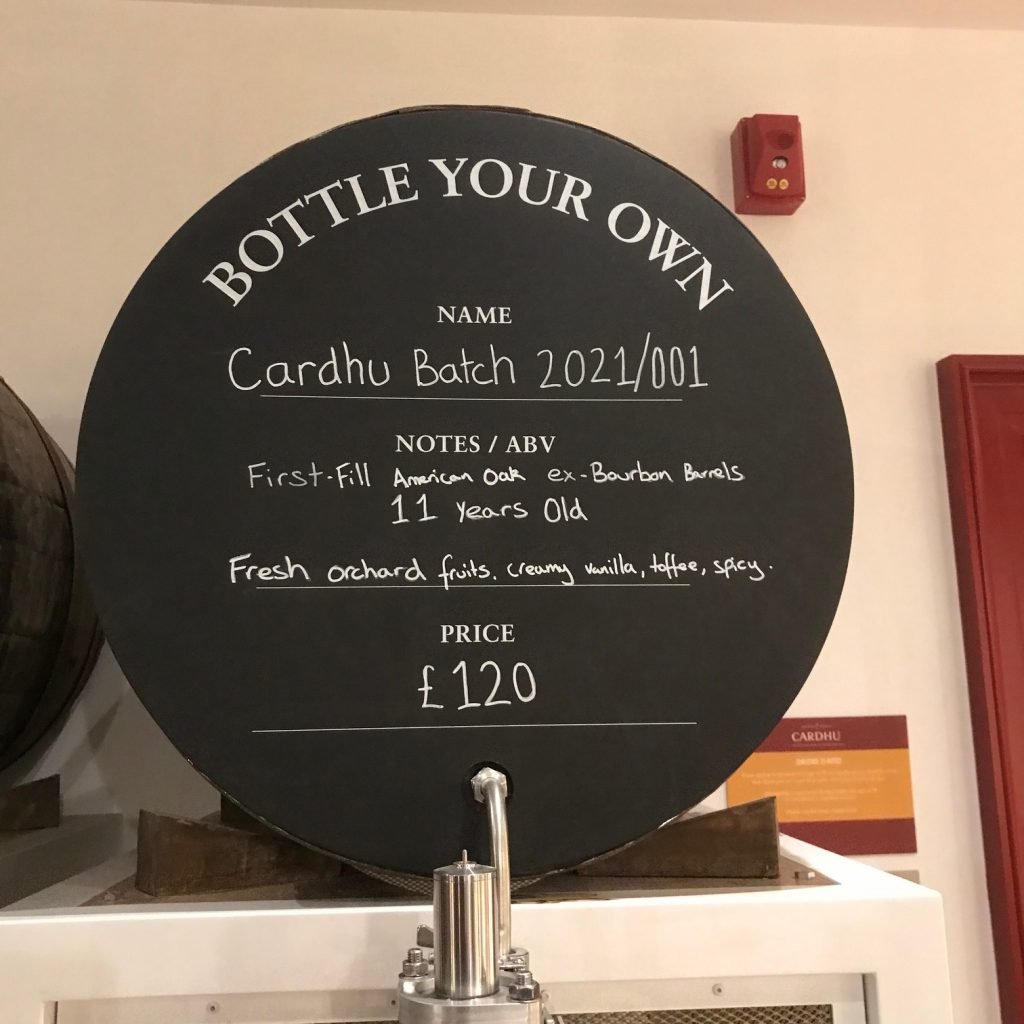 Tastings notes:
Bottled at 40% ABV.
Nose: Green apple, cut grass, vanilla, and a note like apple crumble (I smelt this earlier from the atomiser) plus a touch of funky cider vinegar
Palate: Apple, vanilla, touch of chilli, toffee, mellow and creamy
Finish: Creamy, round and complete.
NAS whisky aged in charred casks, 40% ABV.
Nose: It smells so sweet: orange peel, nutmeg and cinnamon,
Palate: Super creamy, peaches, apples and apricots. This is lovely.
Finish: That stone fruit note just goes on and on.
Cardhu Distillery Exclusive 48% ABV
Aged in bourbon, re-charred bourbon and California wine casks.
Nose: Red fruit and caramel, burnt caramel, cinnamon and vanilla.
Palate: Very spicy, creamy smooth, toffee, hedonistic, chocolate oranges, cloves.
Finish: Nutty and spicy.  
Cardhu fill your own single cask
11 year old, ex-bourbon and bottled at 56.3% ABV
Nose: Toffee and spice on the nose.
Palate: Super punchy with black and Szechuan pepper, but also creamy and fruity.
Finish: Punchy spice persists joined by notes of toffee and vanilla.