Fans of The Macallan listen up: we've only gone and got one bottle of The Macallan 40 Year Old Sherry Oak and one bottle of The Macallan 50 Year Old! Clearly these are two very exciting single malt Scotch releases, and we'll be auctioning both here on the site, with everything over RRP being donated to our nominated charity, Malaria No More UK.
So. The Macallan's super-old expressions are highly sought-after (and are, frankly, exceedingly delicious). 40-year-old and 50-year-old releases just don't come along every day. These are proper once-in-a-lifetime bottlings from a classic Speyside distillery, and interest is high. So, following on from our The Macallan in Lalique 65 Year Old – Peerless Spirit auction last year (when we raised over £6k for Malaria No More UK!) it's time for its 40- and 50-year old siblings to take the spotlight!
Charity Auction Timeline
The auction action for these highly-prized bottles will go down on the product pages on between the following dates (all times BST):
The Macallan 40 Year Old Sherry Oak
Mon 30th April 16:00 (registration opens from 15:00) – Mon 7th May 14:00
The Macallan 50 Year Old
Mon 7th May (registration open from 15:00) – Mon 14th May 14:00
Everything raised over RRP (net of any applicable VAT) will be donated to the charity Malaria No More UK to support their vital work helping to protect literally millions of children and their families against an entirely preventable and treatable disease.
What about the drams and RRP lottery? As we only have one bottle of each, we'll only be running a charity auction this time. If you're new to this or are wondering what all the fuss is about, check out this blog post which explains all our reasoning in lots of detail.
About these bloody lovely Macallan bottlings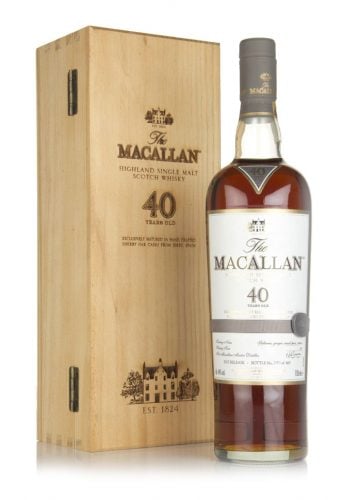 The Macallan 40 Year Old Sherry Oak: RRP £6,250
This absolute beaut of a 40-year-old Scotch whisky has been matured in three different casks: oloroso-seasoned casks from Spain: European oak sherry butts, European oak sherry hogsheads and American oak sherry butts. The result? An incredibly complex expression perfected over four decades, with that gorgeous entirely natural deep copper hue. We're a little bit in love.
Tasting notes from The Macallan:
Nose: Sultanas, ginger, wood spice, sweet cinnamon and citrus
Palate: More cinnamon spice, with unctuous date and fig notes.
Finish: Long and rich with more of that cinnamon spice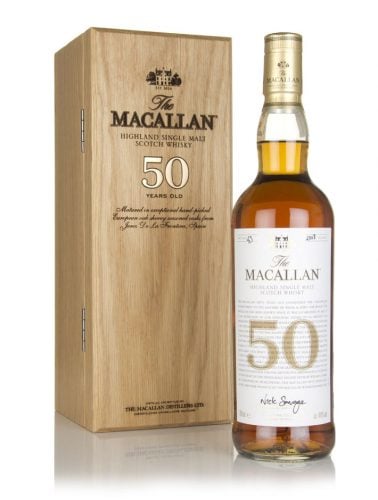 The Macallan 50 Year Old: RRP £25,000
We brought you news of The Macallan 50 Year Old launch via the medium of The Nightcap back in March. And wow. It's a stunner. Macallan's master distiller Nick Savage calls it "world class and extraordinary", and we're inclined to agree. This little number has been matured in sherry-seasoned European oak casks and after five decades of snoozing, it's really rather wonderful. (And unusual. Whisky so rarely gets that long to slumber!)
Tasting notes from The Macallan:
Nose: Woody vanillas, ripe blackcurrants with an earthy tone, and a background of subtle peat
Palate: Sweet oak vanilla, fudge, toffee, black peppercorns, orange peel and fig
Finish: Incredibly viscous, long and slightly dry from the subtle peat
Best of luck in the auction, folks. And remember, every penny over RRP (minus any applicable VAT) goes to Malaria No More UK. So be generous!