Whether you're one of the millions of people attempting Dry January or you're simply looking to scale back on the sauce this year, the age-old 'what to drink when you're not drinking' issue has never been so easily remedied. We take a look at the fast-growing alcohol-free drinks category…
There was a time where a sober night out would translate to an icy pint of Coke (from the gun) with a couple of lemon slices thrown in. You'd manage two, three at best – and as far as subtlety was concerned, it was like carrying a bald eagle with lasers for eyes that screeched 'NOT DRINKING TONIGHT' at every person you encountered.
"Five years ago the non-alcoholic category didn't exist," affirms Ben Branson, who launched the world's first alcohol-free spirits range Seedlip back in 2015. "While researching herbs online to grow at home, I came across a book written in 1651 called The Art of Distillation, which documented apothecaries' distillations of both alcoholic and also non-alcoholic herbal remedies.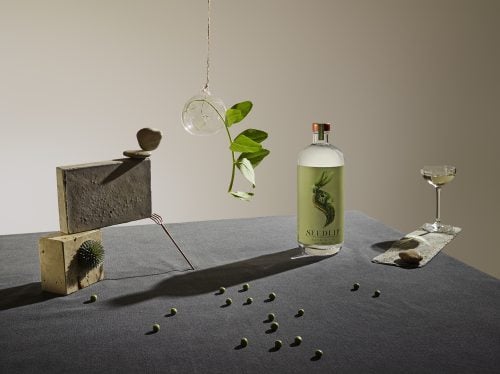 Seedlip Garden 108
"No stranger to arts and crafts, and a keen naturalist, I began experimenting with a little copper still in my kitchen and herbs from my garden. Three months later I was out for a meal and asked the waitress what non-alcoholic options they had. Her sad, apologetic face was the moment all the dots joined and I decided to do something about it."
Since Branson's experimental endeavour, alcohol-free has transformed into a category in its own right – and perhaps most excitingly, it promises to be equally as dynamic, innovative and boundary-pushing as its high-abv equivalents.
From non-alcoholic distilled spirits to booze-free beer and wine, there are now more genuinely delicious alternative drink options than ever before. And it's not all about being teetotal, either.
"People want the flexibility to drink less, but to be able to have an enjoyable beverage," explains Tom Tuke-Hastings, founder of newly-launched non-alcoholic spirit, Borrago. "They want to mix and match; it does not have to be an all or nothing approach."
Alcohol-free: What sparked the movement?
So, why are so many of us choosing to drink less? Branson reckons there are four key reasons. First up, "we're healthier," he explains, "or at least know we should be, as we have unprecedented access to information about what we should or shouldn't be eating, drinking or doing". Indeed, this is the age of kombucha, Fitbits and Instagram personal trainer programmes.
"We're public," he continues, "our lives are now well documented on social media, and curating how we appear to the world has greater importance when your potential boss or partner has the opportunity to snoop around online." Wearing a traffic cone as a hat on the walk home from the pub? Not in 2018, my friend.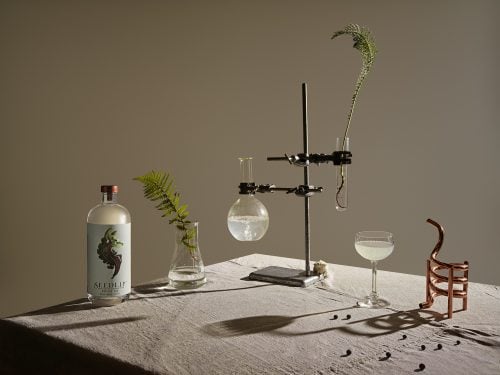 Seedlip Spice 94
His next point is applicable to almost everyone, and it's to do with time – or rather, lack of it. "A personal life, a work life, a digital life… It's a balancing act that sees us seemingly busier than ever, in a hyper-connected world that changes by the minute. Less time to be hungover, more opportunity to miss out; increasingly we're more mindful of how and with who we spend our precious time."
We're also more demanding. "We can create driverless cars, put people on the moon, yet if you're not drinking for whatever reason, the fact that you can't get a good grown-up non-alcoholic drink is bordering on ridiculous," concludes Branson. "We demand quality, provenance, morality and aren't afraid to speak up for it."
Our penchant for 'premium' goes hand-in-hand with the cocktail renaissance we've seen in recent years. Bars are elevating the drinking experience with quirky vessels, fancy garnishes, top-notch ingredients and even food pairings, says Aiste Valiukaite, innovation champion for Funkin Cocktails (which focused on non-alcoholic cocktails at its first Innovation Lab in October last year!).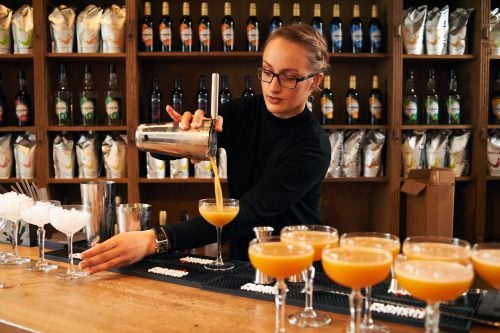 Aiste Valiukaite, innovation champion for Funkin Cocktails
As a result we're all drinking "less but better", she explains. "Quality ingredients are of the utmost importance and the same holds true for non-alcoholic cocktails. People are looking for alternative beverages that are equally exciting flavour-wise and presented with the same attention to detail as alcoholic cocktails are."
And we're not too shy to order alcohol-free, either – no matter whether we're sipping a cocktail at a high-end bar or kicking back with a pint in our local. "The stigma of alcohol-free has been removed," explains Mark Utley, retail sales director at Proof Drinks. "Quality and innovative products are bridging the gap between alcoholic and alcohol-free."
Utley points to booze-free lager, Pistonhead Flat Tire, and a non-alcoholic prosecco by Scavi & Ray. "[Pistonhead] is a great example – it has all the quality cues of a great craft beer, but without the alcohol. The same with Scavi & Ray; the winery has created an alcohol-free version that uses the same glera grape as its alcoholic counterpart, so the final liquid is of the same premium quality and taste."
A cocktail made with Scavi & Ray Alcohol Free
We're getting through it too, so there's certainly demand there. UK drinkers consumed just over 18 million litres of low- and no-alcohol beers last year, Utley says, up by 18% on the previous year – the highest growth seen in the last five years.
While "low- and no-alcohol beers currently represent less than 1% of total beer sales in the UK, one in five beer drinkers have expressed that they will either be teetotal or include 'low and no' as part of their future repertoire," he adds.
Alcohol-free: The future
Looking across the wider category, where exactly is alcohol-free heading? "Although it's early days, the sector is set to flourish globally," predicts Branson, when asked for a five-year forecast. "We will see the lines between what makes a great drink blur to the point of alcohol content irrelevance with the right taste for the right time being the key driver of our choices." In addition, he expects units, allergen symbols and calories will be included on menus.
You can say sayonara to dated drinking establishments too; from here on in, 'experience' is everything. "The drinking man's pub and the nightclub will continue to die a death, and the rise of people wanting to get together around an experience – think bowling, mini golf, darts, even axe throwing! – rather than just going out to drink will become more of the norm" says Branson. "Alcohol's role in our lives will shift to special occasions and revert back to weekends. [In bars] menus will be equally balanced, with 'No, Low and Alcohol' cocktail options."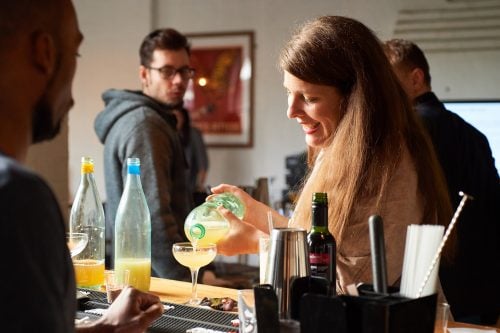 Scent technician Ericka Duffy at the Funkin Innovation Lab 2017
Not just any old cocktails, either. Valiukaite reckons the drinks of the future will mimic the structure of their boozy counterparts. "Flavours like sweet, sour, smoked, salty, bitter, umami are all flavours that consumers still want to experience even when not consuming alcohol," she explains.
This goes hand-in-hand with a ramped-up focus on health. " I think calorie and sugar reduction will be a big trend," adds Tuke-Hastings. "We have already seen a lot of people who have been very excited by the fact that we don't have sugar or calories in our drink, and I think this is going to be more and more important."
As and for this year? For one, there's a new Seedlip spirit slated for launch this spring, with further non-alcoholic innovations in the works. Trend-wise, however, Branson suggests 2018 will be the year that alcohol-free "will really establish itself".
"Expect to see more products launching – some after a quick buck, some making really good quality options – [as well as] more noise from the big brewers, more adult flavoured sodas, more bar suited formats of products like kombucha, coffee and teas," he suggests.
Alcohol-free: The serves
Fancy a crack at some booze-free beauties? We've assembled six alcohol-free cocktails from brands and bars for you to whip up at home.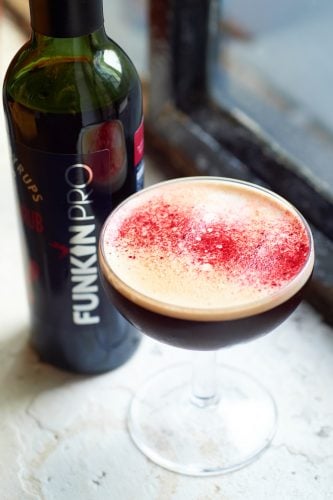 Dark Beets
Dark Beets
Created by Alistair Kelsey of Mr Lyan, at the Funkin Innovation Lab 2017
Ingredients: 50ml Sandows Cold Brew Concentrate, 15ml Funkin Pro Beetroot Shrub, 20ml Funkin Pro Agave Syrup, 35ml tonic water
Method: Add first 3 ingredients to a shaker, shake hard over ice. Add tonic to a cocktail coupe and then fine strain the other ingredients from the cocktail shaker over the top. Garnish with dehydrated beetroot powder.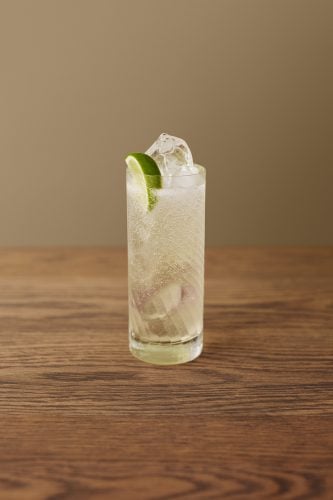 Seedlip Mule
Seedlip Mule
Ingredients: 50ml Seedlip Spice 94, 15ml ginger syrup or juice, lime wedge, soda to top
Method: Fill a tall glass with ice, add the Seedlip Spice and ginger syrup or juice. Squeeze the lime and drop it in. Top with soda.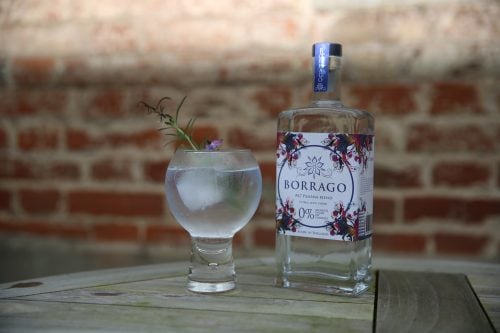 Borrago and Tonic
Borrago and Tonic
Ingredients: 50ml Borrago #47 Paloma Blend, 200ml tonic water
Method: Pour Borrago #47 Paloma Blend over ice, top up with quality tonic and garnish with a squeeze and a slice of lime.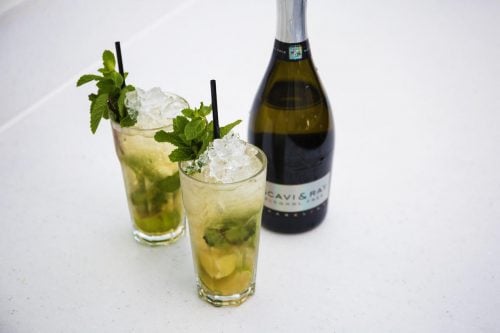 Apple, Elderflower and Mint Sparkle
Apple, Elderflower and Mint Sparkle
Ingredients: 25ml elderflower cordial, cloudy apple juice, handful of mint leaves, Scavi & Ray Alcohol Free to top
Method: Add ice to a tumbler glass. Fill half of the glass with cloudy apple, add 25ml of elderflower cordial and top with Scavi & Ray Alcohol Free.
Seedside
Seedside
Available at Sexy Fish, London
Ingredients: 50ml Seedlip Garden 108, 25ml fresh lime juice, 15ml 2:1 sugar syrup, 8 mint leaves, soda to top
Method: Combine all ingredients but soda in a shaker and shake. Double strain into high ball filled with cubed ice. Top with soda and garnish with lime wedge and mint sprig.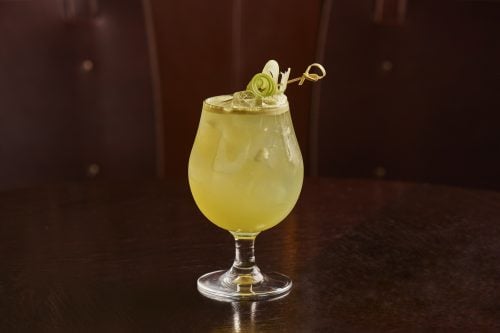 Seedlipicious
Seedlipicious
Available at Aqua in London
Ingredients: 25ml Seedlip Garden 108, 20ml fresh lemon, 10ml honey water, 50ml homemade celery soda, 5ml cinnamon syrup
Method: Mix all the ingredients together, shake over ice, double strain and top with celery soda and garnish with celery.