It's the weekend! How do we know that? Because The Nightcap is here. Those are the rules.
We always recommend you have a tasty drink in hand before you start Nightcapping. A dram of whisky is a classic option for those who like to kick it old-school, or maybe you like to mix-up and create a homemade cocktail. Today it might be a good idea to grab a beer, seeing as it's International Beer Day. Also, the weather here is roasting hot and it's the law to have a cold lager in-hand on the weekend when it's this warm (probably). Whatever your drink of choice, it's perfect because you're pairing it with The Nightcap. It's a belter this week.
This week on the blog we launched our super Summer Sale, so if deals on whiskies, gins, rums, Tequilas and loads more sound great to you we suggest giving that blog a visit. Elsewhere, Lucy Britner looked back on an incredible 47 years in the whisky industry with Chivas Brothers legend Colin Scott while Annie enjoyed a virtual tour and tasting of Warner's Distillery and a refreshing drop of Mint Julep. Adam, meanwhile, had the pleasure of trying the delicious new Ardbeg beer as well as an unaged Australian Agricole made on a family-owned farm distillery. He then grabbed five minutes of Swift co-founder Bobby Hiddleston's time to chat about what it's like to open a bar during the COVID-19 pandemic before speaking to the founders of Lindores Abbey about 500 years of distillation history. Now, to The Nightcap!
Join us for Scotch & Sofa, the ultimate virtual whisky festival!
As you may have read over on the blog, we've teamed up with Diageo to bring you Scotch & Sofa, a one-day extravaganza on Saturday 5 September celebrating all things whisky. Due to, well, we all know why, there just aren't any whisky festivals on right now. This makes us sad. We love the chance to discover new drams, catch up with whisky friends, and generally geek out about all things delicious. So… we're bringing you the next best thing! We've got eight sessions running from 12pm covering almost everything from campfires on Skye and a boat trip to Islay, to deconstructing Johnnie Walker and whisky Highballs. And the best part? You can actually join in! We've got tasting sets galore. Check out the programme and then snap up a tasting set. Then all you need to do is tune in on our Facebook page, and join in the festivities. See you there!
Bowmore and Aston Martin unveil £50,000 whisky 
This week an iconic Islay whisky brand and a legendary car manufacturer announced that they were buddying up for a new release of an exceptionally rare Scotch whisky worth £50,000, and we pushed the 'Nightcap this sucker' button faster than somebody who owns an Aston Martin can bring up the fact they own an Aston Martin in conversation. The two brands say the exceptionally rare Black Bowmore DB5 1964 is a celebration of time. You see, the new whisky was distilled back in 1964, the same time the distillery traded coal fires for steam to heat the stills with the arrival of a new boiler. Not the most exhilarating event in the world, but interestingly enough the first distillation produced spirit which went on to become iconic Black Bowmore whisky. This particular beauty was first distilled on 5 November 1964 and matured for 31 years in a Williams & Humbert walnut brown Oloroso sherry butt. It's said to have notes of ripe exotic fruits, creme caramel, soft tobacco smoke, rich black cherry and acacia honey and has an outturn of just 25 bottles. Inside your string-grain calfskin handmade presentation box, you'll also find a genuine Aston Martin DB5 piston integrated into the bottle. The mid-60s was also something of a golden era for Aston Martin as it launched the Aston Martin DB5 in 1963. Just a year later it was being driven by that 007 fella. "1964 represents a significant date in the modern history of the distillery. Not only a key moment in how we distilled our spirit, but perhaps even more significant as this very spirit went on to create Black Bowmore," said David Turner, distillery manager at Bowmore. "These defining moments are fundamental to the history of Bowmore. This collaboration with Aston Martin has allowed us to once again showcase this iconic single malt in the most incredible way." 
Talisker teams up with Loch Fyne Oysters to raise money
Talisker has long had an association with oysters. You can find the tasty little treats all along the beaches of Skye and a suggested serve from Diageo's premium Scotch whisky brand has been to shuck and eat an oyster and then pour Talisker in the shell and drink it. This week has taken its love of seafood even further by creating a campaign of support by partnering with Loch Fyne Oysters Ltd to offer a new at-home whisky and oyster pairing experience that will raise funds for The Fishermen's Mission. The initiative, which launched on National Oyster Day (5 August) means that you can now buy a limited edition Talisker & Oyster Signature Pairing Kit through Loch Fyne Oyster's at-home delivery service, which consists of two Talisker 5cl bottles along with one dozen oysters for the cost of £12 (if you don't know how to shuck the oysters, this video should help). Furthermore, each time a photo of the signature pairing kit is shared via social media, using the hashtag #SHUCKTOGETHER, Talisker has confirmed it will pledge £1 to The Fishermen's Mission, to help support the economic recovery of coastal communities that have been severely impacted in recent months following the impact of the pandemic. Talisker UK brand manager, Nick Moore, commented: "We have always known that Talisker pairs brilliantly with oysters, but we are thrilled to be able to bring this ritual to people's homes whilst being able to support the fantastic work of The Fishermen's Mission in supporting the recovery of coastal communities across the UK through these challenging times"
Scotch salvaged from 80-Year-Old shipwreck to be auctioned
This week a pretty special whisky went on sale on The Grand Whisky Auction's site, a Scotch that was salvaged from a shipwreck that occurred more than 80 years ago! Lot 160320 was rescued from the SS Politician, which ran aground off the shores of Eriskay in the Outer Hebrides in 1941 on its way to Jamaica. Nearby islanders attempted to retrieve the 28,000 cases of Scotch it was carrying when it foundered on rocks, a 'whisky rescue' that eventually led to a protracted battle between tax collectors and the islanders in a story that I'm sure is sounding increasingly familiar to you. That's because it's Whisky Galore. Yep, that novel and British comedy that is surely known to every whisky fan. This is Scotch from that ship. However, this particular bottle isn't part of that controversially recovered booty, it was actually raised more than fifty years later by George Currie. The deep-sea repairman was able to recover a VAT 69, Ballantine's and four bottles of a now-defunct brand known as Gibbey's. Back in 2013, a pair of similarly aged whisky from the SS Politician sold together for £12,050, to give you an indication of the kind of price such a bottling can fetch. This expression is believed to be a blended Scotch whisky but there is no labelling of any sort so its distillery, age statement and tasting notes are unknown. Nonetheless, the airtight wax top and high fill-level suggest that there's been little oxidation here, which means there's a fair chance the spirit will taste much like it originally did nearly 80 years ago. Not that there's any chance of this bottle being opened. From being lost to the deep to being lost to the sealed glass case. Still, the collector may get to enjoy the other spoils of Lot 160320, such as the diving helmet, bricks from the actual SS Politician and an original movie poster for Whisky Galore (the 2016 remake).
People's Choice Wine Awards opens to spirits – and you could be a judge! 
Booze lovers and producers alike, consider this a PSA. The People's Choice Spirits Awards is now open for entries! It's also the first time the wine awards have a separate section for spirits, and we're excited. And not just because our very own Kristiane is part of the judging panel! While distillers, blenders and bottlers head off in a flurry to prep their entries, everyone else, listen up. If you've ever fancied yourself as a spirits judge, now is the chance! The organisers are on the hunt for people to join the assessment panel. If you buy whisky, gin or rum, and love tasting all kinds of different boozes, this is an opportunity for you. If you can get to Manchester in mid-November, tell your blended Scotch from your bourbon, then keep your eyes and your tasting glasses peeled. The People's Choice Spirits Awards will want to hear from you! The application process will be unveiled soon, and check out the website for more. But as this is the only awards in the business to take drinks fans' views into account, it's a big deal. We hope to see you there later this year!
Rémy Martin teams up with chef Kwame Onwuachi for flavour series
Feeling peckish? Well, look away now. Cognac brand Rémy Martin has signed award-winning chef Kwame Onwuachi for a year-long contract celebrating flavour and hospitality across drinks and gastronomy! It's kind of a zhuzhed up cocktail and food-pairing partnership, and we're here for it. Onwuachi has kicked things off with a video called Flavor by the Grill, which brings together regional grilling dishes with Cognac based serves (with Rémy Martin, obvs). The whole point is to highlight the versatility of Cognac, especially Rémy Martin 1738 Accord Royal and Rémy Martin VSOP. His inspiration comes from his travels across the US, most notably Northease, South, West and Midwest. "Rémy Martin's commitment to excellence is something that I am truly excited about being a part of," said Onwuachi. "Rémy resonates with me on a personal level because it's part of my heritage and has been a favourite drink in my family for generations. I am looking forward to growing with this amazing brand and creating authentic experiences!" Ian McLernon, president and CEO Americas at Rémy Cointreau, added: "Chef Kwame's wholehearted dedication to excellence in his craft and the culinary space inspires us and is celebrated here at Rémy Martin. We are excited to see his culinary prowess in action with our liquid and look forward to his talent being spotlighted in this partnership." Keep an eye on remymartin.com for more, including deets of masterclasses and culinary events! The brand has also discontinued gift boxes for its Remy Martin VSOP Cognac as part of a wider initiative to "protect the environment with each and every action it undertakes." Quite the busy week for our friends over at Remy Martin!
And finally… Team MoM finally goes to a real bar!
Something really rather exciting happened in Team MoM this week. That's right, we went to our very first bar opening since lockdown began! It felt so good to get back out there (responsibly, of course). We picked quite the location for it, as we headed to Deli Cat & Sons, a shiny new riverside bar that sits right across the river from the Tate Modern. It was originally set to open back in March, so it's been a long wait! Its name is a little nod to the word Délicat, meaning refined in French, and if you say it really fast it sounds like 'delicatessen'. By day, it's a cafe serving sourdough sandwiches and salads inspired by local farmers. By night, it turns into a rather chic evening destination, with music and a sprawling outdoor area that couldn't be closer to the river unless you decided to start paddling. It boasts six signature cocktails and, well… We had a taste of all of them. A couple of firm favourites were the Tequila, chilli and cucumber-based Green Glitter, and the floral lavender, grapefruit and gin-based Paloma Sky. You'll also find spritzes and rum-based concoctions as well as cheese, mezze and charcuterie sharing boards, so there is truly something for everyone. Especially while the sun shines, we can't think of a better place to spend an evening.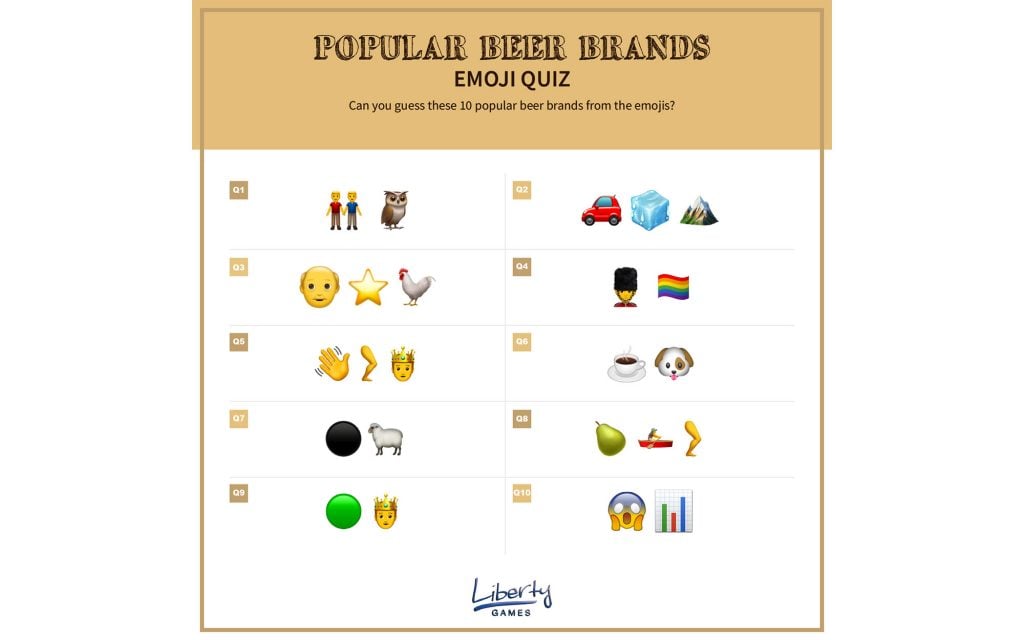 Bonus: Can you name these 10 popular beers from their emojis?
Given that it's International Beer Day tomorrow (7th August) Liberty Games has decided to mark the occasion by creating the Popular Beer Brands Emoji Quiz. The game is simple: you have to name the ten popular brands from the emoji. It's like that Whisky Emoji Challenge we did on our social channels back when nobody was allowed outside, remember? The fastest time to get all 10 is 1 minute 46 seconds, so that's your target to beat. Answers are below. No cheating. 
Popular Beer Brands Emoji Quiz Answers.