Aston Martin and Bowmore's latest collaboration is a single malt inspired by the golden ratio. And a limited number of bottles have just arrived at Master of Malt. To tell us more we spoke with master whisky blender Ron Welsh.
We reported earlier this month about a new collaboration between Bowmore and Aston Martin. And now stock of Bowmore 21 Year Old Aston Martin – Masters' Selection has arrived at our Fort Knox-esque rare spirits vault deep beneath MoM Towers. Click here to find out how you can get hold of a bottle. 
This is the first release in the Masters' Selection, and it's inspired by something called 'the golden ratio'. This is a mathematical ratio found in nature that creates aesthetically pleasing compositions. Apparently, it's something that the design team at Aston Martin have long worked with. And just from looking at cars from the DB5 in the '60s to the current DBS, it seems to work.
But just how do you apply this to whisky? The limited edition release is a combination of 61.8% 21 year old Bowmore matured in first fill PX and Oloroso sherry casks, while the remaining parts are made up of exact ratios, including some Bowmore whisky matured for over 35 years. To explain more, we spoke to master whisky blender Ron Welsh. 
Master of Malt: How did you and Aston Martin designer Marek Reichman collaborate on this whisky?
Ron Welsh: Since lockdown, myself and Marek have collaborated over Zoom and I've been sending Marek samples of Bowmore to try. Throughout the process, we both put forward our favourites – the combination of these put together became the final product you see today.
MoM: Is Reichman a big whisky fan?
RW: Very much so. Every time we had a session – around four online tastings in total – his passion was evident. Everyone involved in the project was invested in creating something truly incredible
MoM: Can you explain the concept of the 'golden ratio'?
RW: "The golden ratio is a principle very much adhered to by Aston Martin in their car design. When creating cars with such an iconic British design heritage, Aston Martin has to ensure the ratio is consistent throughout the entire design process. The golden ratio concept was completely new to me at the beginning and something I've never thought about before when creating whiskies.
MoM: And how does it apply to this whisky?
RW: We started off by talking about the possibilities of embedding the golden ratio at the heart of the blend, and when the initial pilot whiskies were created during the collaboration, this is then where myself and the team started to input the golden ratio. Each part of the whisky – there are six parts in total – is in ratio to the other part of the liquid. This meant we have been able to get different flavours from each cask type included in Masters' Selection. I had free reign to use the Bowmore stock and ages how I wanted to. This meant using our 35 and 36 year old whiskies in the final liquid, albeit in small portions.There were a lot of people involved across the whole process and together, we probably tried over 30 different whiskies. Throughout, we found different ways to put together each whisky and gradually, built up the flavours to find 'the one'.
MoM: How would you describe the flavour?
RW: When taking the first sip, it coats your mouth initially, then the taste explodes. When I try to explain the vision I had in mind, Aston Martin creates beautiful, powerful cars and I wanted the whisky to have the same impact and feel – a powerful and enjoyable taste, while creating a memorable experience from start to finish. This was the initial thought and my own personal desire, especially after driving an Aston Martin for the first time in August 2019 – what an experience!
MoM: Is the sherry character quite heavy?
RW: I wouldn't say so. Although it does have more sherry influence than a standard whisky, this element is very matured, meaning it's not a sherry bomb when you sip it.
MoM: What next for Aston Martin and Bowmore?
RW: "The first-ever collaboration between Bowmore distillery and Aston Martin was the Black Bowmore DB5, unveiled in 2020. Distilled in 1964, this whisky was presented in a unique decanter, made with a genuine Aston Martin DB5 piston. Only 27 bottles were produced, due to the rarity of both the whisky and the car. Earlier this year, we also collaborated on three limited edition bottle designs for global travel retail as part of our collaboration with Aston Martin. Every Aston Martin has its own character, and we want our whiskies to feel the same, so no doubt there will be more to come in the future as part of our ongoing partnership. I'm certainly excited to see where we end up next on our journey together.
MoM: Will Aston Martin be producing a car inspired by Islay?
RW: Aston Martin has created a special edition DBX Bowmore Edition Bowmore Q Car. Just 18 special edition Bowmore DBX's will be built before they are delivered to customers at a private lifestyle experience in Scotland. The car is finished in a striking Bowmore Blue made with copper touches from an original whisky still from the distillery and elements of Bowmore tweed.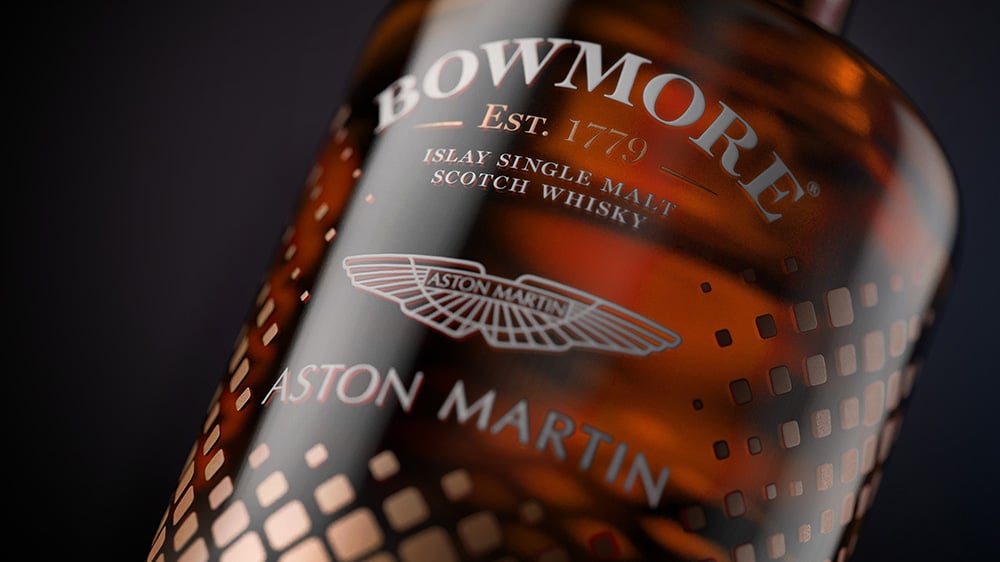 To enter the lottery to get your hands on a bottle of Bowmore 21 Year Old Aston Martin – Masters' Selection, click here. 
Tasting note for Bowmore 21 Year Old Aston Martin – Masters' Selection
Nose: Sweet and nutty with notes of Manuka honey and maple syrup with praline and grilled hazelnuts; combined with rich aromas of freshly tanned leather, cigar tobacco, liquorice roots, dried thyme and heather blossom.
Taste: Richly elegant sherry merges with raw Islay peat, whilst bitter dark chocolate, black pepper, butterscotch sauce unites with vanilla and coffee beans, whilst a fruity flair is defined by Morello cherries and a touch of papaya.
Finish: Sweet, spicy and mouth warming, with notes of oak spices, chestnut cream and coconut lingering.