We're taking you to Islay today to learn about the island that creates arguably Scotland's most distinctive whisky and remind you how to win a trip there!
Over the next week we're getting into our Master of Malt branded eight seater aircraft and taking a trip around the five whisky regions of Scotland. We looked at the Highlands and Speyside last week and now it's the turn of the small island that's home to nine, or is it 12?, distilleries. It's hard to keep up. Buckle up, make sure your seat is in the upright position, and prepare for a bumpy landing, because we're off to Islay. And you could be too if you enter our new competition.
The Jewel of the Hebrides
Islay sits just off the west coast of Scotland at roughly the same latitude as Glasgow. Known as the Jewel of the Hebrides, it's the most southerly of the Inner Hebrides system of islands. It's only 25 miles from end-to-end but it's a whisky powerhouse home to nine working distilleries with three more in the pipeline.
Illicit distilling had probably been going on on the island for centuries but the first licenced distillery on the island was Bowmore in 1779 which was founded by John Simson. It was followed by Ardbeg, which began distilling commercially in 1815, Laphroaig in the same year, Lagavulin in 1816, and many others. In the 19th century Bowmore was sold and marketed as a single malt outside Scotland but by the mid century most distilleries were providing whisky for west of Scotland blenders like John Walker of Kilmarnock.
For peat's sake
The island's geography with natural harbours like that at Port Ellen made it well-connected by boat with the rapidly expanding towns of the West of Scotland notably Glasgow. But what made Islay particularly famous was peat. The island is full of this natural source of fuel so it would have been used to dry the barley during the malting process imparting a smoky smell. Furthermore Islay peat was different, made up of seaweed, giving the whisky a distinctive medicinal character that was much prized.
In the early days of whisky most Scottish and indeed Irish distilleries would have used peat but as transport improved most switched to anthracite – smokeless coal. But with a couple of exceptions, they didn't on Islay, partly because of the abundance of local peat, but also because the island's heavy smoky whisky was much in demand by blenders. You can still taste that West Coast style blend in Johnnie Walker Red and Black label with their characteristic smoky cut, so different to the sweeter Perth blends like Bell's or Famous Grouse.
Hard times
Islay fell on hard times in the 1970s and '80s when oversupply combined with changing tastes away from smokier whiskies led to many distilleries like Port Ellen being closed permanently. Others such as Ardbeg and Bruichladdich were just a whisker away from sharing a similar fate.
But in the late 1980s and '90s, drinkers discovered and fell in love with Islay in the form of single malts. People began to appreciate the distinctive flavours and Islay slowly became a mecca for whisky lovers saving distilleries that would have been closed down. The very first Islay festival, Feis Ile, was held in 1986. Meanwhile the whisky from the now-shut Port Ellen, once just used in blends, became highly-prized with values soaring as its rarity and reputation grew. 
 In 2005 the Wills family founded Kilchoman, the first new distillery on the island for 124 years. It was followed by the Laing family's Ardnahoe which began distilling in 2019 and now there are a further four in the pipeline. The great Port Ellen will soon once again be producing whisky for the first time since 1983.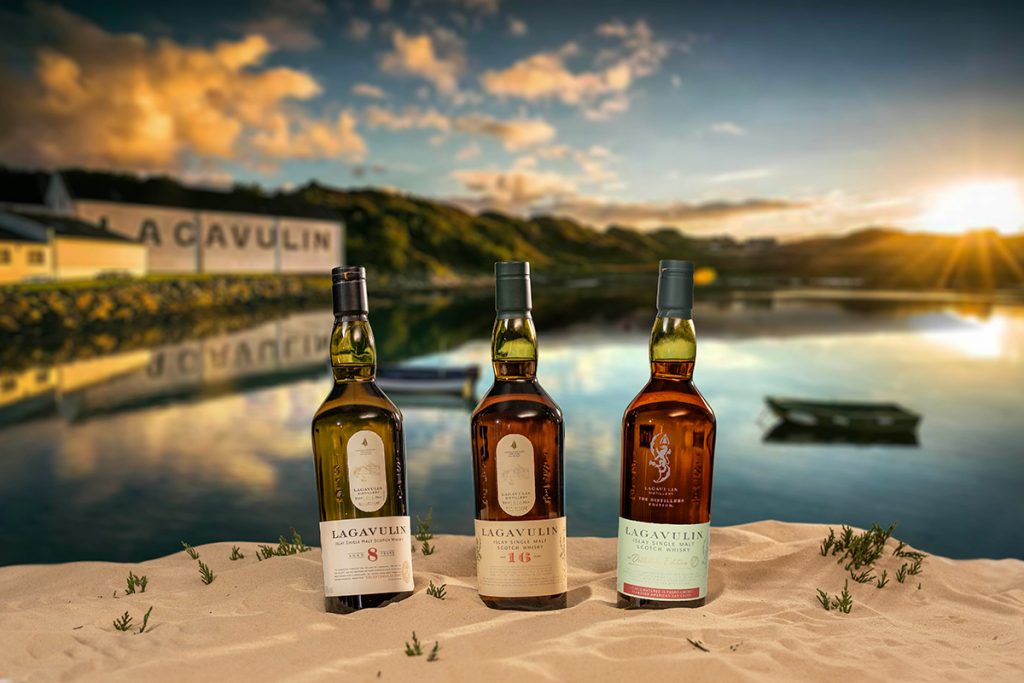 Tasting Islay whisky
Though the island is famed for its smoky drams, there's no one Islay style with Bruichladdich and Bunnahabhain both making unpeated whiskies. As usual, the best place to explore a whisky region is in the glass. Here are three to try (click on links for prices and to try):
Bunnahabhain 12 Year Old – A great favourite among Master of Malt customers, this classic bottling with its sweet, fruity flavours shows how you don't need peat to be an Islay whisky.
Lagavulin 16 Year Old – Another classic single malt, this aged expression from Lagavulin shows how brilliantly peaty flavours can meld with sherry casks to give you a whisky that's sweet and smoky. 
Seaweed & Aeons & Digging & Fire 10 Year Old – Mystery Islay whisky alert! We're not allowed to tell you which distillery this comes from but what we can say is that it packs a awful lot of coastal, peaty goodness for the money. Another firm favourite with MoM customers. 
Buy a bottle of Lagavulin 16 Year Old, Lagavulin 8 Year Old, or Lagavulin Distillers Edition – 2022 Collection and you could win a trip to Islay.