Big Diageo Special Releases fan? Wish there was a way to sample the whole caboodle in one go? You're in luck – prayers and petitions have worked and the Diageo Special Releases 2017 Tasting Set is now a thing!
The Special Releases drum up quite the following when the whiskies are unveiled each year. Love or loathe the concept, we bet your Twitterbooks feeds are packed with opinions and tasting notes as the liquid is revealed. With the 2017 outturn featuring the likes of Port Ellen, Brora, an unusual blended malt, and the oldest whisky ever bottled by Diageo (Port Dundas 52yo), this autumn saw Special Releases perhaps pack the biggest punch yet.

As promised previously, Drinks by the Dram has teamed up with Diageo to offer samples of all 10 whiskies in a tasting set format for the very first time! It's an exciting development, and one which hopefully means these whiskies (some of which genuinely are very rare) make it into as many glasses as possible.
The Tasting Set includes a 30ml sample of all 10 whiskies – just in case you've been snoozing all year (this year's collection really was the worst-kept secret in whisky) they are:
Blair Athol 23 Year Old 1993
Brora 34 Year Old 1982
Caol Ila 18 Year Old Unpeated
Collectivum XXVIII
Convalmore 32 Year Old 1984
Glen Elgin 18 Year Old 1998
Lagavulin 12 Year Old
Port Dundas 52 Year Old 1964
Port Ellen 37 Year Old 1979 – 17th Release
Teaninich 17 Year Old 1999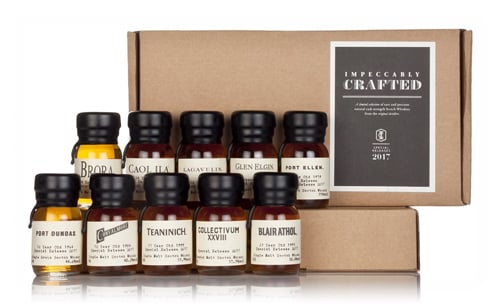 Two boxes of booze brilliance
When we got to sample the haul our highlights were the Port Dundas and the Brora (of course!), the Lagavulin (divine) and the Convalmore (utter deliciousness). We love that they're now all available in a pleasingly compact format!
Enjoy the Diageo Special Releases 2017 Tasting Set – and let us know your tasting notes in the comments below!