We've offered our blog readers two delicious alternatives to Irish whiskey for this St. Patrick's Day – poitín and gin. However, there remains another path you could follow. The Path of Irish Cream Liqueurs.
If you've been keeping up with the blog posts this week, you'll have seen two features each offering up a switcheroo on the traditional tipple of Irish whiskey for St. Patrick's Day (which is occurring this Saturday, 17 March). Our Adam gave us an in-depth history lesson on poitín, while our Annie took us on a whistle-stop tour of Irish gin distilleries. This is all well and good, but you might be thinking there's another tipple well worth exploring. I am, of course, referring to the extreme excellence of Irish cream liqueurs.
Adam and Annie proffered valid arguments for enjoying something other than Irish whiskey in celebration of St. Patrick's Day, whether it be historical value, surging popularity, versatility in cocktails or what-have-you. I'm going to be honest, my arguments aren't quite as based on facts and research as theirs. Mine are based on deliciousness alone. Irish cream liqueurs are delicious, and frankly, they don't get nearly enough attention outside of the Christmas season. Hence, a blog post.
What, you want examples? You want proof?! Well, you've come to the right place, bub.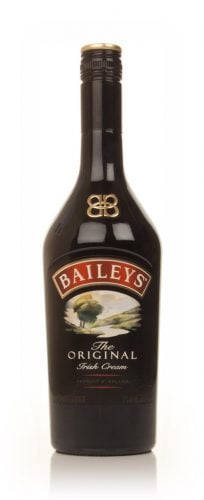 Baileys Irish Cream
Baileys Irish Cream
Classics are classics for a reason. People keep banging on about how good that first Daft Punk record is 20 years after it was released because it's a classic. Baileys is the Homework of the Irish cream liqueur scene. In fact, Baileys was created back in the 1970s by David Dand and his team, so it predates Homework by a few decades. Am I saying that Baileys is better than Daft Punk, or that Daft Punk was inspired by Baileys to make a phenomenal album? Well, I'm not not saying that.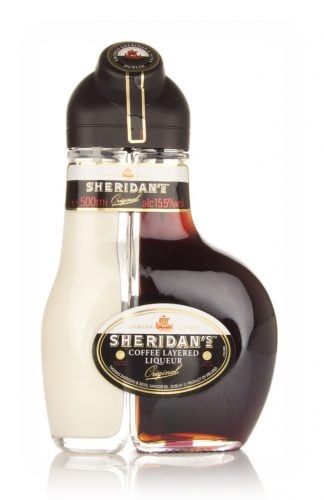 Sheridan's Layered Coffee Liqueur
Sheridan's Layered Coffee Liqueur
Sheridan's Layered Coffee Liqueur's quirky bottle shape and seemingly impossible split of liquid colour stands out on the shelf, but it isn't until you get closer that the plot twist is revealed – it's two bottles! In one bottle is a coffee and whiskey liqueur, while in the other is a creamy white chocolate liqueur. The idea is to mix the two together for a lip-smacking Irish coffee-style drink – the perfect cosy evening tipple. Also, it shares its name with a local cheesemongers where I got a big lump of cheddar and some tiny pickles last Saturday. Shout outs to Sheridans Cheesemongers.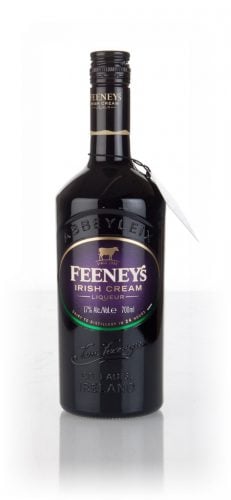 Feeney's Irish Cream Liqueur
Feeney's Irish Cream Liqueur
Though it may not be instantly familiar, Feeney's is a rather yummy alternative to more well-known Irish cream liqueurs. It's made in Abbeyleix, County Laois, using single grain Irish whiskey as well as fresh cream. Very fresh cream. The bottle brags that it takes only 24 hours for this stuff to go from dairy to distillery, which I assume is a bit like the Irish cream liqueur version of the "farm to frozen in x hours" boast you see on bags of peas.
So there you have it, folks. Conclusive proof that Irish cream liqueurs are the way to go this St. Patrick's Day. Have any of our blogs swayed you into trying something new and tasty, or have we completely missed something altogether? Let us know in the comments below.