There's so much more to Cognac than the big names. We talk to David Baker, Cognac sniffer-outer extraordinaire, about how he finds rare expressions, and then persuades the owners to sell.
It was a taste of 1840 A.E Dor at a hotel in Monaco that turned David Baker on to the magic of Cognac. Well, you might as well start with the best. It was the beginning of a great love affair. In 1987 he set up his own business, Hermitage Cognacs, to showcase the finest, rarest and oldest brandies that the region has to offer.
We met with Baker at a restaurant in Marylebone. As he poured the first glass, a 2008 Grande Champagne, a mere baby compared with what we would try later, the air filled with a heavenly scent of fruit and wood. But before we tasted, David told us a little about the region and how Hermitage fits in with the grand scheme of things.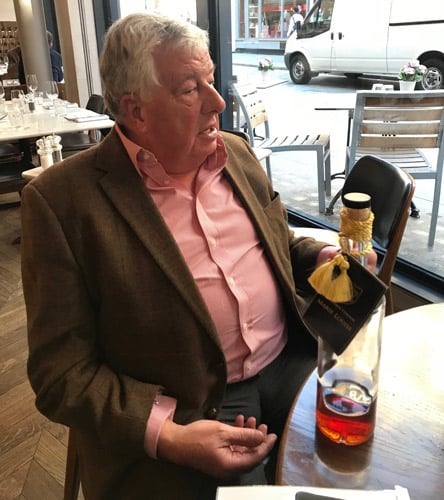 David Baker!
The vast majority of Cognac production is in the hands of the Big Four: Rémy Martin, Martell, Courvoisier and Hennessy. Hennessy alone, according to Baker, has "52% of the market". The big boys buy wines and eaux-de-vie, as well as aged brandies from producers all over the region. Most Cognacs are, according to Baker, "basically generics. You know the XOs, VSOPs, Napoleon, Hors d'âge, call it what you like, it doesn't mean anything. An XO these days has to be ten years old minimum and it's precious little more than that… And they're hugely blended, they perhaps have maybe a thousand different Cognacs all put into one bottle to blend them."
Hermitage Cognacs does things a little differently. Baker mainly buys from Grande Champagne, considered the finest part of Cognac, as well as Petite Champagne and Borderies. He bottles brandies from individual producers and much of what he sells is vintage. "There's a growing need for vintages," he said. Now, I've been doing this for 30 years and what I've always tried to do is get to a situation whereby we can actually talk to people about individual Cognacs rather than Cognac as a whole."
Finding these vintage Cognacs is not an easy business. Baker's experience and reputation help him sniff out the rare barrels, and he's reluctant to reveal his sources. He did tell me about one producer who usually only sells to Rémy Martin but keeps a little of the best stuff back for the family. Persuading a producer such as this to sell his rarest brandies is a little like asking someone to part with precious heirlooms. He knows that the family treasures will be in safe hands with Baker.
Some of these brandies are extremely rare. "When you get to these sorts of things, 1948, 1923, and all those, we're really talking about perhaps 30 [bottles available]," Baker told me. The older brandies are taken out of wood and put into big demijohns, once they've reached their peak maturation. "It's quite possible to actually make a Cognac and leave it in wood for too long," he continued. "Most Grande Champagnes will go 50 to 80 years fairly comfortably in wood."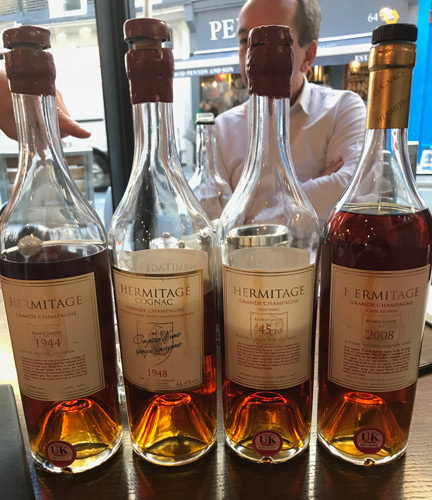 Just a small selection of Hermitage's spectacular range
Grande Champagne Cognacs age very slowly, he remarked. "That allows them to stay in the barrel longer and… develop what we call 'rancio effect' which is a sort of enriched maderisation if you like – if you can imagine a madeira wine, that sort of pineapple, musty flavour you get.". Rancio is a Portuguese word that comes from the fortified wine business that means literally 'rancid'. Mmm, rancid.
Hermitage is based in Bath and Segonzac, which, according to Baker, is "the very centre of Grande Champagne". The office there handles bottling operations. All Hermitage Cognacs are aged in France and 99% are bottled there. Baker does not use sugar or caramel but very occasionally adds a little boisé, "wood chips that are boiled many times and aged in Cognac. We use very old boisé, often 30 or 40 years old, to help develop the original flavour of the Cognac", he explained. He also adds distilled water to "balance" his Cognacs by bringing down the alcohol.
We've just received shipment which ranges from the quite affordable (a 1989 vintage for £123.95) to rare as hens' teeth (a 1906 vintage for £1,172). Pricey yes, but think what you'd pay for a Scotch whisky of similar age. The full range can be found right here. These are three that I enjoyed in particular: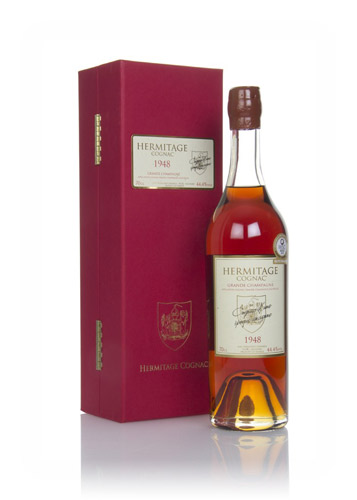 Hermitage 1948 Grande Champagne Cognac (£768)
It won a gold medal at IWSC this year. There's the all-important pineapple rancio note on the nose and then rum-like flavours of brown sugar and molasses. The palate in contrast is relatively lean and fresh with pungent peppery spice. Very long with aromatic notes of cedar and tobacco.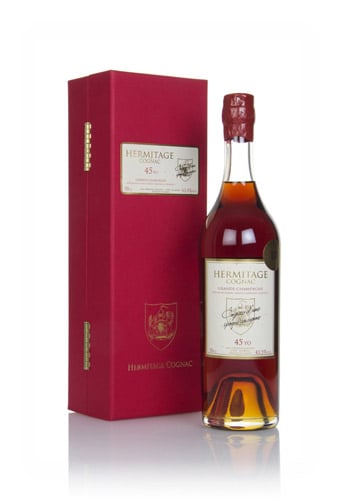 Hermitage 45 Year Old Segonzac Grande Champagne Cognac (£374.95)
This is from the distiller mentioned above that sells to Rémy Martin but keeps its best stuff for the family. According to Baker, it's nearer 50 years old. It's got a very savoury nose with walnuts, woody notes and tobacco; so aromatic. On the palate there's a citrus note (very Grande Champagne, apparently), with pineapple. The feel in the mouth is creamy, textured, nutty and very, very long.
Hermitage Marie Louise (£1543)
From the same distiller as above. Rich nose, toffee, walnuts, and ginger, then so fresh in the mouth. Initially it's grassy, and then explodes with tropical fruit, rather like a New Zealand Sauvignon Blanc. Incredibly complex, harmonious and long. It comes in a crystal decanter and won a top prize at this year's Spirits Masters Awards.