For a cocktail that traditionally contains just two ingredients and a garnish, the Martini is the ultimate test of bartending prowess and distillery finesse. Last week, six innovative gin brands and their esteemed partner bars battled it out for the title of World's Best Martini 2018 – here's how the competition went down.
When it comes to classic cocktails, there's no greater disappointment than a mediocre Martini, and no greater pleasure than an exceptional one. To quote American historian Bernard DeVoto, "the proper union of gin and vermouth is a great and sudden glory; it is one of the happiest marriages on earth, and one of the shortest lived."
Unfortunately, it's incredibly easy to stumble across the former, since the Martini is one of the world's most modified cocktail recipes. Dirty or Perfect? Wet or Dry? Shaken or stirred? Olive or lemon, or something different entirely? Vermouth rim? How much ice to use? It's genuinely a flavour minefield. If only there was a way to find the ultimate recipe…
Enter the World's Best Martini Challenge, which hosted its finale at Hackney's Oslo last Thursday. The competition, now in its second year, saw finalists Arbikie, Bertha's Revenge, Kokoro, Lilliput, and Pothecary – whittled down from a shortlist of 10 by founders Gary Sharp and James Thomas – join last year's winner Daffy's Small Batch Premium Gin in vying for the title of World's Best Martini 2018.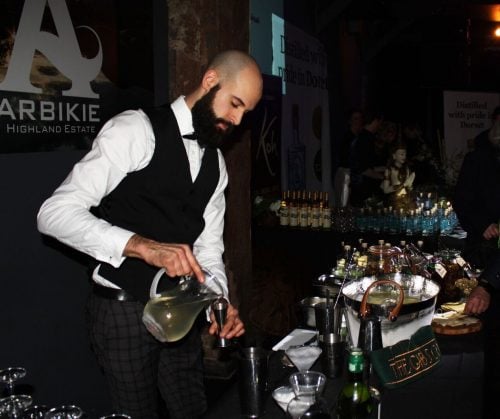 Francesco Petracci, bartender at The Gibson in London
Each contender created two variations on the cocktail: a 'classic', to be assessed and voted upon by the gin-loving audience; and a 'showcase', which was presented on-stage to a judging panel that comprised Witek Wojaczek, bartender at Artesian at The Langham; Mark Ludmon, editor of Bar magazine; and myself, Annie Hayes, features writer at MoM.
After revisiting our notes, tallying our scores and deliberating with one another backstage, the results were in: Arbikie Highland Estate Distillery was awarded the accolade of World's Best Martini 2018 for its highly impressive showcase serve.
Created by Francesco Petracci, bartender at The Gibson in London, the cocktail combined Arbikie's AK's Gin, sea herbs vermouth, smoked liquid and lemon zest, and was served with parmesan cheese and a selection of olives. Smooth, saline and slightly citrusy; this lip-smacking serve left the entire panel in agreement that if we were in a bar, we'd order another.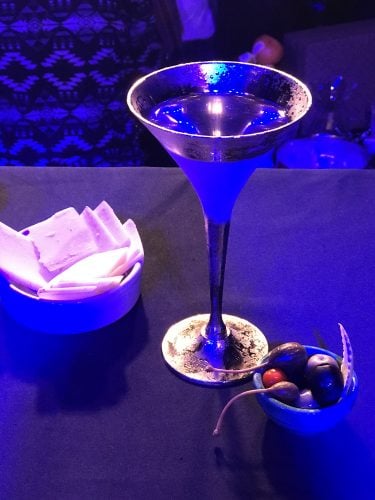 The winning showcase cocktail by Arbikie
Second place was awarded to Pothecary Gin, in partnership with Denis Apostolakas from Bread Street Kitchen in London, who deftly paired the aromatic gin with bergamot liqueur, oloroso sherry, dry vermouth and a lemon twist. The audience, meanwhile, were busy conducting research of their own, and selected Irish gin brand Bertha's Revenge – made using whey alcohol from cows' milk – as the creator of their top 'classic' serve.
Fancy having a crack at those showcase serves at home? Check out the recipes below – and let us know your favourite…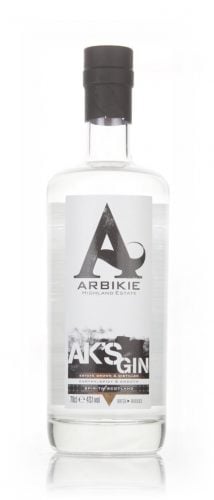 Arbikie's AK's Gin
Arbikie's AK's Gin
Created by Francesco Petracci from The Gibson, London
This gorgeous gin is distilled with honey and wheat farmed at the estate the distillery is set on, along with black pepper, mace and cardamom. Named in honour of Alexander Kirkwood Stirling, the father of the Scottish distillery's founders.
Ingredients: 55ml Arbikie's AK's Gin, 8ml sea herbs vermouth, 2 drops smoked liquid, lemon zest
Method: Chill the Martini glass with dry ice and zest the mixing glass. Place chunks of ice into the mixing glass, add the ingredients and stir. Remove the dry ice from the mixing glass and garnish with lemon zest.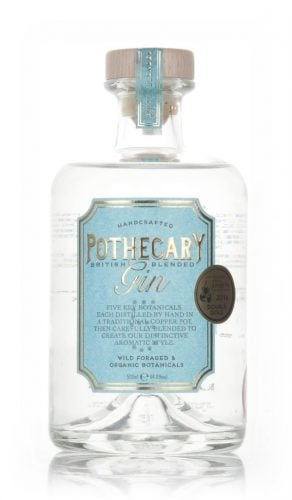 Pothecary Gin
Pothecary Gin
Created by Denis Apostolakas from Bread Street Kitchen in London
Hailing from Dorset, this soft, floral gin counts lemon from Sicily, tilia flowers from Poland, lavender from Provence and black mulberries from Anatolia among its botanicals.
Ingredients: 40ml Pothecary Gin, 15ml Italicus, 10ml oloroso sherry, 10ml dry vermouth, lemon twist
Method: Add all the ingredients to a mixing glass and fill with ice. Stir until very cold and strain into a chilled cocktail glass. Garnish with a lemon twist.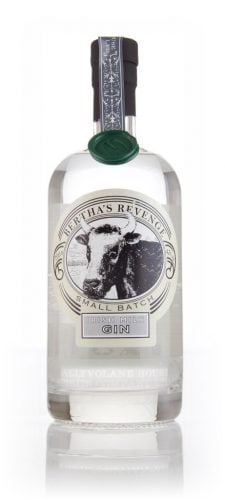 Bertha's Revenge Irish Milk Gin
Bertha's Revenge Irish Milk Gin
Created by Bertha's Revenge co-founders Justin Green and Antony Jackson
A truly unique Irish gin, Bertha's Revenge is named in honour of Bertha, a Droimeann cow from Kerry who, at 43, was the oldest in the world prior to her death in 1993. It's made by distilling whey alcohol from local dairies with a variety of foraged botanicals that include cumin, almond, elderflower, and sweet woodruff.
Ingredients: 106.5ml Bertha's Revenge Gin, 30ml of dry vermouth, lemon twist
Method: Chill a Martini glass in the freezer or fill the glass with ice for 10 minutes before serving. Fill a mixing glass with ice, add the gin and vermouth. Stir for 60 seconds, strain into the Martini glass and garnish with the twist of an unwaxed lemon.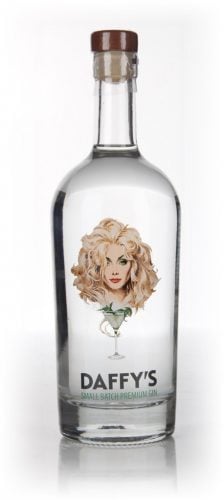 Daffy's Small Batch Premium Gin
Daffy's Small Batch Premium Gin
Created by Daffy's brand ambassador Nat Mathieu
Bright and citrusy, Daffy's is made with grain spirit from northern France, and features eight botanicals: juniper, Lebanese mint, coriander, angelica root, Spanish lemon and orange peels, cassia bark and orris root. This delightful recipe was crowned World's Best Martini 2017.
Ingredients: 1 ⅓ parts Daffy's Gin, ⅓ part dry vermouth, dash of orange bitters, 1 strip unwaxed lemon peel, 5 ice cubes
Method: Place the ice, gin, bitters and vermouth in a mixing glass. Stir down with a mixing spoon for 10 seconds. Strain into Martini glass and pinch a strip of lemon peel over the glass to release the oils, then drop it in.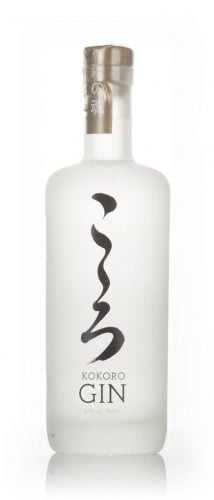 Kokoro Gin
Kokoro Gin
Created by Rasa Gaidelyte from Peony at Opium
This flavourful London dry combines juniper, coriander, angelica, almond, sweet orange, liquorice and lemon peel with Sansho berries (used to season food in Japan for more than 3,000 years) to create a gin like no other.
Ingredients: 60ml Kokoro Gin, 10ml triple citrus sherbet, 2 dashes Sansho berry bitters, 5ml dry vermouth, lemon twist
Method: Chill the Martini glass with ice. Add the gin, sherbet, bitters and vermouth to a mixing glass and stir. Strain into a chilled Martini glass and garnish with a lemon twist.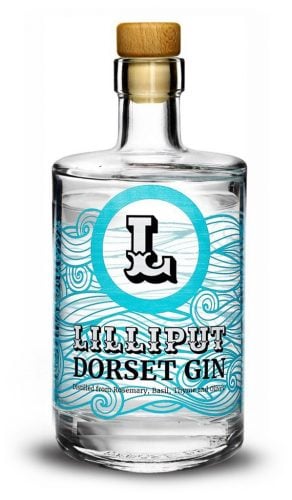 Lilliput Gin
Lilliput Dorset Gin
Created by Harley Stevens at Koh Thai Tapas in Bournemouth
Herbaceous and savoury, Lilliput Dorset Gin is intended to capture the essence of summer on the Dorset coast with its invigorating range of botanicals: organic basil, organic rosemary, organic thyme and organic freshwater fermented Kalamata Olives from Greece.
Ingredients: 50ml Lilliput Dorset Gin, 15ml Lillet Blanc vermouth, 5 white grapes, sprig of rosemary
Method: Muddle the grapes and the rosemary in a mixing glass, add gin and vermouth and stir. Double strain into chilled Martini glass and clip sprig of rosemary to the side of the glass with a wooden peg.