Royal Salute is celebrating a milestone. It's kicking off the new Kingdom Collection with a 26-year-old whisky that's fully finished in Scottish oak casks, a first for the brand. We spent some time with master blender Sandy Hyslop to find out where all this innovation is coming from, and where it's going. 
How does a Scotch whisky brand created in 1953 avoid getting held back by heritage? Get a master blender like Sandy Hyslop in, that's how.
If anyone can charm you into the world of not just Scotch whisky, but blended Scotch, it's him. His passion is pure and infectious, and that's after nearly 40 years in the industry, beginning in 1983 at Stewarts Cream of the Barley. In September 2016, Hyslop took on the role of director of blending across all of Chivas Brothers' blended Scotch whisky, including Royal Salute.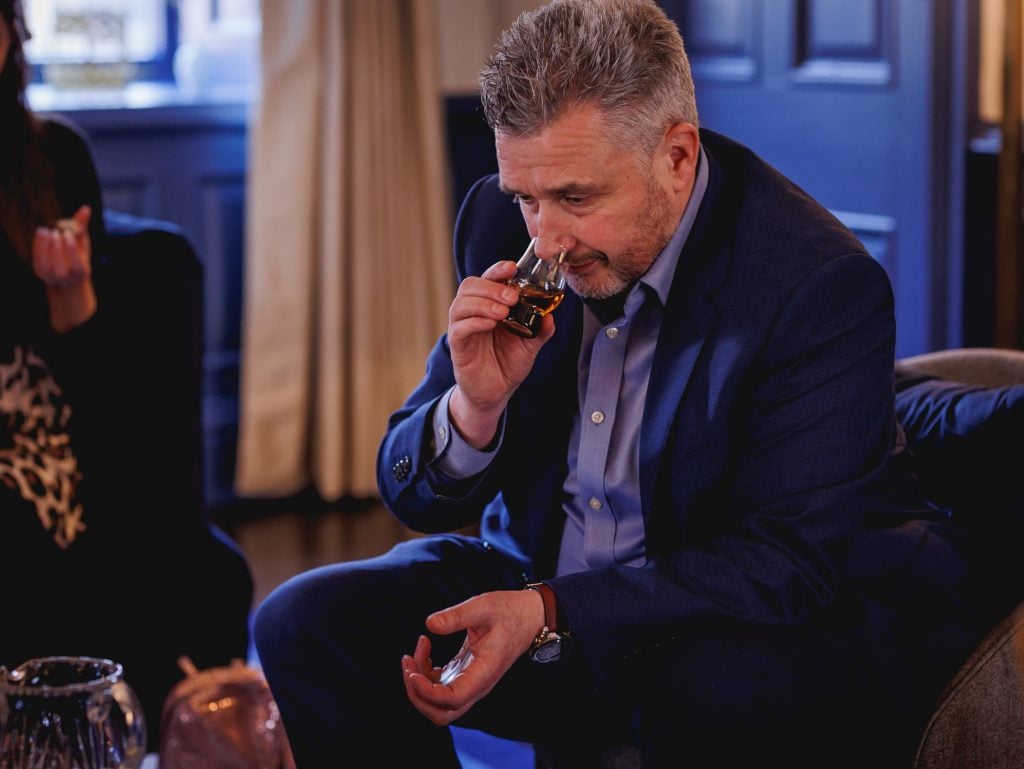 A milestone with Scottish oak
But we're not looking into the past here, but the future, as are Hyslop and his team. On a freakishly hot week in March, we're up in Speyside to celebrate the release of the newest addition to the Royal Salute family, the 26 Year Old Scottish Oak Cask Finish. The first release in the brand's limited-edition Kingdom Collection, it's the first time Royal Salute has dabbled with Scottish oak, and this is the first time anyone in the world (apart from the blending team, of course) has tried the brand new release. Even Royal Salute marketing director Mathieu Deslandes is in the same boat as us! 
The Scottish oak, a type of quercus alba, is sourced and selected by Hyslop from a single sustainably-managed forest in Scotland, and the wood was dried for two years prior to being made into a cask. "This isn't just something we've dreamt up overnight," Hyslop clarifies. Specifically, it was dreamt up three years ago. "There are a lot of milestones – we want to know the provenance of the oak, we want to be there when it's being cut down, we want to dry them properly." The credentials behind this must be strong. "We don't just want Royal Salute to be amazing. We want it to be amazing, and everybody know why."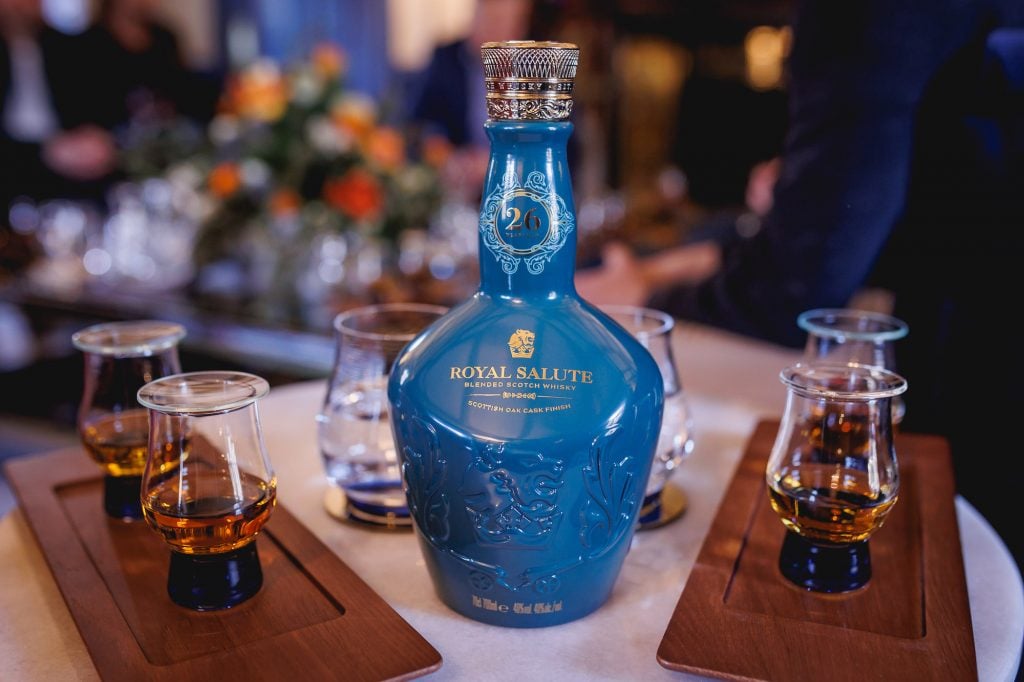 Speyside Cooperage foreman Darren Morrison shows us the types of char they've used; medium toast and heavy char (which only takes around 30 seconds of firing to achieve). Hyslop went for this combination to avoid the freshness of virgin oak that's so divisive, saying he desperately didn't want any 'cut wood joiner's workshop' flavours. The heavier the char, the better the cask, in Hyslop's opinion.
The team ordered about 70 Scottish oak casks, which Hyslop isn't afraid to admit were "eye-wateringly expensive". He and his team are there from start to finish, from the cutting of the oak to the drying and the barrel-making. "We're dealing with 26-year-old whisky here," he tells us. "It's got a lot to say for itself anyway, so the cask needed to be well-prepared to be able to give a bit of influence." It went so well that Hyslop has committed to buying this Scottish oak for the next three years.
A rampant flavour uptake
How was Hyslop comfortable sending this precious whisky into a somewhat unknown cask type? "I sampled it every two weeks. That's how comfortable I felt – not at all!" Needless to say, once you've made that call as a blender there's no going back. It turns out that Scottish oak imparts a wealth of flavour very quickly, so much so that this particular finishing period was just six-and-a-half months long. He tells us that the oak influence was "really rampant – it was freaking me out, actually." Hyslop makes an interesting point that 26-year-old spirit is much lower in strength than new make, meaning that it draws flavour more slowly from the wood. Just imagine the flavour uptake from freshly-distilled spirit.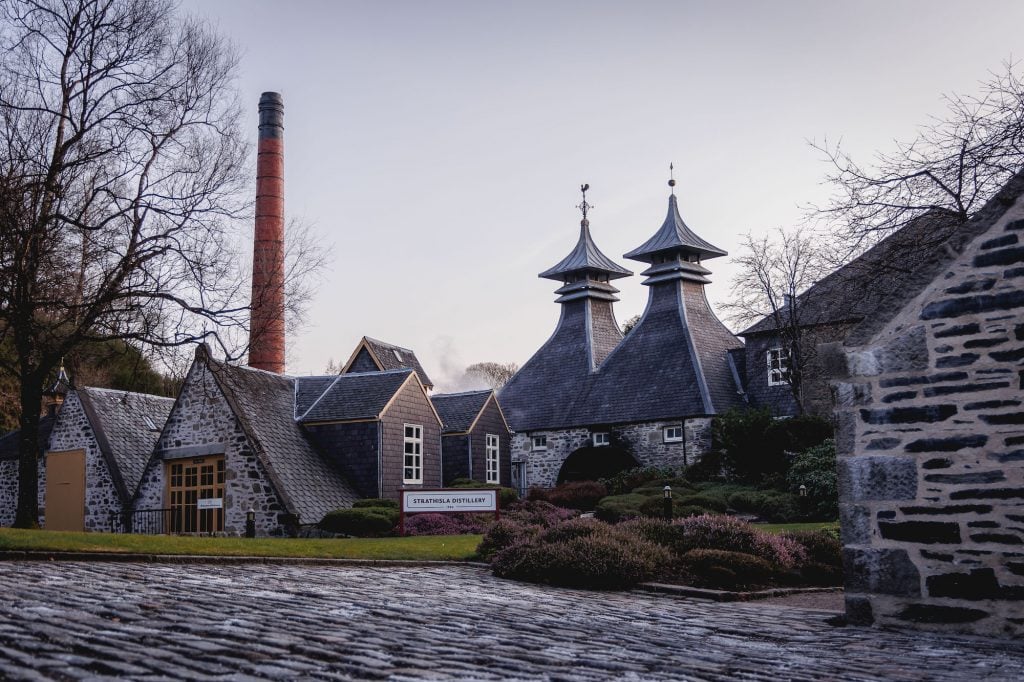 The 26-year-old is even more malt-led than the Signature Blend, with second-fill butt-matured Longmorn a crucial part, and Caperdonich adding a whisper of bonfire embers at the finish. "There's something like 28 different malts in this blend, with a very complicated cask recipe as well," Hyslop adds. The whisky proportions were crafted specifically for this edition and the Scottish oak was filled with the finished blend, rather than each individual component. "Without a doubt, I designed the blend to suit the cask finish," he tells us. "We knew it would need to be something pretty robust and flavourful to stand that period of time." The spirit was ready before the packaging was, so Hyslop had to take the whisky out of the Scottish oak and back into fourth-fill American oak so it didn't become overpowering. "We couldn't leave it. We were frightened it was going to go too far, with more oak than spirit influence."
So where does Scottish oak sit on a scale of spicy European to creamy American oak? Hyslop describes it as gingery spice and dark toffee – "not quite treacle, but dark, dark toffee" – almost immediately. The good news is that the team were so happy with how it turned out that they've already refilled the Scottish oak casks from this release: "I think second-fill is going to be ace, but we've got no plan for it." Hyslop is relieved though that he'll only have to sample the refill casks every month.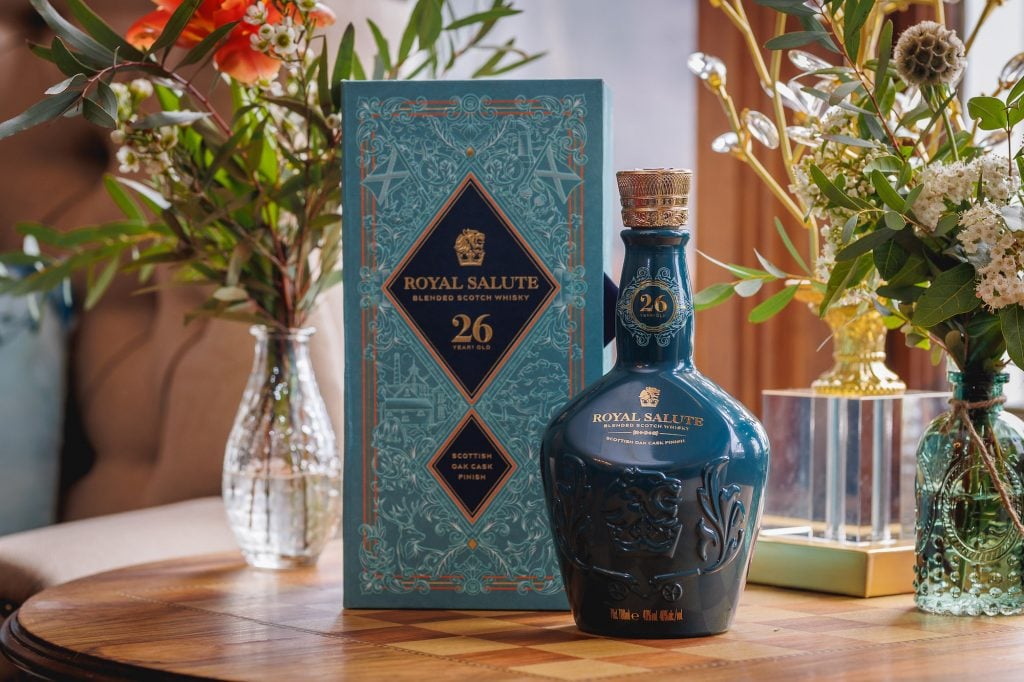 Hyslop gives us the opportunity to taste the new 26-year-old next to the 21 Year Old Signature Blend. Ripe orchard fruits (think apples and pears), sweet orange marmalade, toffee, and a dash of cinnamon spice are the hallmarks of the Signature Blend. We move onto the 26 Year Old Kingdom Edition, and there's that dark toffee and stone fruit, but this time with plum and apricot. It's thicker and sweeter than the original blend. "I know the 26 Year Old is five years older, but you can see the influence of the wood – lovely spicy, toasty, nutty, cinnamon flavours." 
A licence to fail
What drives the team is the fact that these experiments are blending room-led, rather than demands coming from the marketing department. "Had it not worked out, we wouldn't have released it," Hyslop admits. "It was all about knowledge and experimentation at the end of the day. Fortunately, this one worked absolutely perfectly."
What's also interesting is that the ceramic decanters are on their way out. In front of me is a new coated glass flagon, and it's almost impossible to tell the difference. If anything, the embossing is sharper than on the ceramic. It's part of Pernod Ricard's (owner of Chivas Brothers) move towards making everything either recyclable or compostable by 2025, while still keeping high-end brands like Royal Salute as luxurious as ever – but don't expect to see them everywhere just yet. 
"It's a golden period for Royal Salute," he continues. "We've got a phenomenal aged inventory, and the innovation we've done over the past few years is a pleasure. So many things that are led by Royal Salute then influence other expressions after. But if people want to copy you, then they're going to be one step behind you." Because Hyslop is actively encouraged to experiment, he has something which he calls his 'licence to fail', which no doubt encourages him to take risks, and seems to have done the brand a whole lot of good. He clearly relishes his work: "It's a lot of detail, but it's loads of fun." The devil is indeed in the detail, and Hyslop misses nothing.