The first royal Scotch whisky is once again having a crack at the core range game, introducing three new aged single malts, all finished in sherry casks. We tasted and were very impressed. Royal Brackla may just have found the winning formula.
Last week we headed to Berry Bros. and Rudd in St. James's, London to taste the new Royal Brackla core range. The revamped selection is made up of three age statement whiskies matured in sherry casks: a 12-year-old matured in Oloroso, an 18-year-old in Palo Cortado and a 21-year-old in a combination of Pedro Ximénez, Oloroso and Palo Cortado. 
A relaunch of a relaunch
The range was first announced in October 2019 but the launch has only just taken place, possibly because of that pandemic thing. But it's not the first time Royal Brackla has attempted to relaunch. Owners John Dewar & Sons LTD, itself part of Bacardi, introduced a core range as part of 'The Last Great Malt's' initiative it created back in 2014 along with other distilleries under its wing. Former owners United Distillers Vintners (which later formed part of Diageo) had a crack too with the Flora & Fauna range in the early 1990s, consisting of a 12, 16 and 21-year-old, and there have been other single malt releases over the years.
None have ever truly made a mark, however, for a brand that could be argued as being the least known of Dewar's five distilleries. Throughout its history, Royal Brackla has mostly been used in blends. Is it simply the case that this is a distillery destined to always play a supporting role? Well, not on the basis of what I've been tasting this week. 
The first royal whisky
And not if you know your history too. What most Scotch whisky fans could tell you about Royal Brackla is how it got its name. The distillery was the first Scotch whisky producer to be granted a Royal Warrant, and to do this day is one of only three to ever hold the title (there's a pub quiz question for you – can anyone name the other two?). What's really remarkable is this seal of approval from King William IV in 1833 came just over 20 years after the Highland distillery was founded by Captain William Fraser of Brackla House on the estate of Cawdor Castle (fans of the Scottish play will recognise this), near Nairn in 1812. 
Capt. Fraser was a controversial man. As a campaigner for a change in legislation, he helped pave the way for the introduction of the Excise Act of 1823, which sanctioned the distilling of whisky for a license fee and paved the way for the modern whisky industry. This made him deeply unpopular with the vast network of illicit distillers, of course, and history hasn't always been kind to him. That position has been revised recently and Matthew Cordiner, global brand ambassador for single malts at Bacardi Global Brands, says he was known as warm-hearted and generous with friends and employees and was "just not a big fan of extortionate taxes on ageing stock, which I'm sure any Scotsman would attest to even today". 
Changing ownership
His pioneering ways led to some early success for the distillery, not least with royalty but also with the London elites who bought his whisky readily. Capt. Fraser would ship orders of his whisky down frequently, which is pretty neat as William IV was known as the 'Sailor King'. In 1846, however, Fraser died and by 1879 his family's connection with Royal Brackla came to an end. Like most distilleries of its time, Royal Brackla spent much of the next century and more passing through a number of hands. Mitchell & Leict of Aberdeen, John Bisset & Co, and DCL all previously owned Royal Brackla until Bacardi got involved. At one point Andrew Usher, famous for helping to establish Scotch a global drink, was an agent for Royal Brackla and became a director in 1887, using its whisky in the first commercialised blend: Usher's Old Vatted Glenlivet.
An undercover single malt
But for much of the modern era, the distillery has been something of a secret. Despite its history, spectacular surroundings, and distinctive spirit. Things only really took a turn in the right direction for Royal Brackla when savvy marketing manager Stephen Marshall realised about a decade ago that nowhere near enough of this interesting and varied whisky was being bottled as single malt. 
Fortunately for Marshall, he was able to call upon the impressive Stephanie MacLeod to help set things right. Having joined the company in 1998, the same year Bacardi-Martini bought the distillery from Diageo, she became master blender in 2006. It's in the last few years, however, that she's made her biggest impact, revitalising the likes of Dewar's, Aberfeldy, and Craigellachie to such as standard that MacLeod recently became the first person to be named master blender of the year at the International Whisky Competition three years in a row.
What she's working with at Royal Brackla is a distillery that's all about clear wort, long fermentation (70 hours), long foreshots (20mins) and a slow distillation in two stills that emphasise copper contact and have angled, ascending lyne arms. The process and equipment are designed to capture esters and increase reflux to create the signature house style, one that's elegant and fruity, with a crisp acidity that global brand ambassador Matthew Cordiner describes as a "summer breeze".
The right sherry casks
This fresh and fragrant profile may sound delicate, but it's a deft combination that cuts through the powerful, distinctive flavours you get when maturing whisky in ex-sherry casks. MacLeod spent several years of trialling and exploring different varieties, eventually choosing three from Bodegas Jose y Miguel Martin in Jerez, Spain: Oloroso, Pedro Ximénez and the considerably rarer Palo Cortado. MacLeod says these styles were chosen to "complement the distillery's signature character, not mask it", adding that the secondary maturation phase gives "an extra dimension to the whisky – like a layer of icing on a cake – it adds the finishing touch". 
But that's not the biggest change that will interest hardcore whisky fans. No, that's the decision to ramp things up with no more 40% ABV, chill-filtration or additional colouring. The new Royal Brackla core range is full of big, bold 46% ABV drams that are bottled au-natural, baby. Rejoice, whisky geeks. Several times in the launch event the statement "you spoke and we listened" is said, referencing the number of times the brand was chastised at whisky shows for committing the sacrilege of bottling its whisky in any kind of adulterated fashion.
By prioritising quality single malts with an understanding of which casks elevate its spirit and doing away with post-maturation adulteration, Royal Brackla has managed to do something really impressive. The distillery has changed its spots. The whisky before was always enjoyable, but simply put the old core range always felt too safe and ultimately uninspiring. This is why Royal Brackla continued to under the radar. Cordiner says a common misconception of a brand like Royal Brackla is that, because it's an old distillery, it's bound to be stuck in its ways. "But I think this new range proves that whilst we have an amazing history and legacy which we are immensely proud of, we are progressive in our approach to whisky making". 
Tradition and innovation
I agree. And the reward is a really genuinely compelling and worthy core range fit for a king. The only misstep is pricing, which is pitched too high when compared to some drams of similar quality, and the fact that the 12 Year Old does lose some subtlety and finesse in the bid to add more personality. The slight discovery you lose, however, is redeemed by the fact that what you will find is a host of full-blooded Oloroso goodness which means the 12 Year Old still manages to be a rewarding sipper that will be a treat for fans of uncompromising, no-fuss sherried whisky. 
Where's there more intrigue, complexity, and personality to be found in the stately 21 Year Old, which exemplifies MacLeod's "exceptional ability to create balance" as Cordiner puts it so well and more so in the standout 18 Year Old. It's one of my highlights of the year, with a bright, bold and evolving profile full of citrus zing, spice, and fruit. MacLeod is evidently a woman on form and she's done a sublime job here for my money. Good thing the whiskies have all just recently arrived here at MoM Towers. 
You can purchase the new Royal Brackla core range here. 
Tasting notes from the Chaps at Master of Malt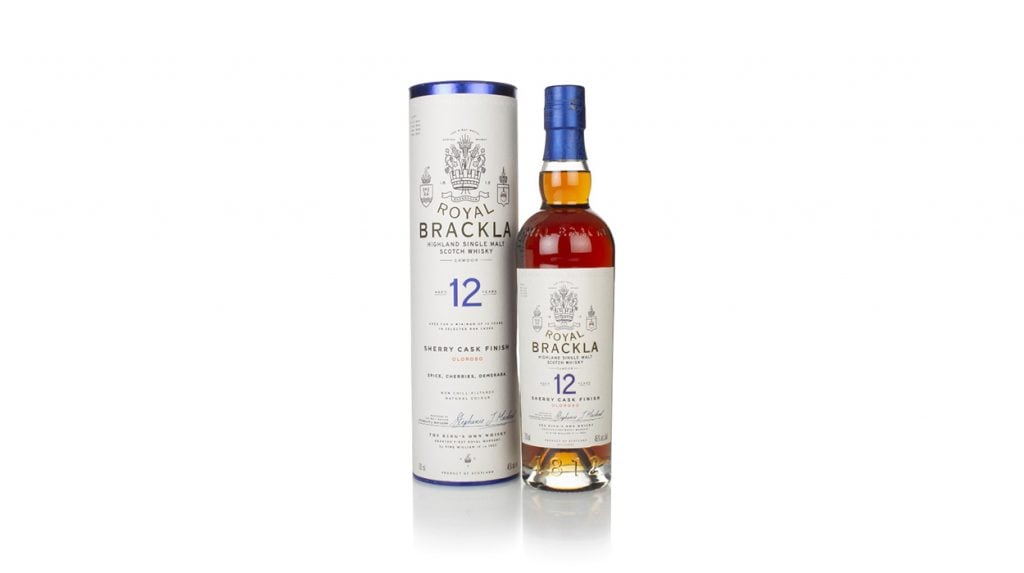 Nose: There's a wave of Oloroso goodness initially with nutmeg, orange marmalade, marzipan and black fruit compote. Caramel, toasted almonds, musky oak and overripe banana are then joined by sweet pear, apples and peaches as well as that bright, elegant Royal Brackla freshness, this time characterised by cut green grass and pine needles. 
Palate: The texture is delicate but carries rich flavours of dark chocolate, walnut and black cherries. Black tea, toffee, orchard fruit and cinnamon are present throughout alongside some bright acidity carrying Brackla DNA.
Finish: The finish is long, spicy (star anise, black pepper, ginger) and possesses more hints of fruit and chocolate.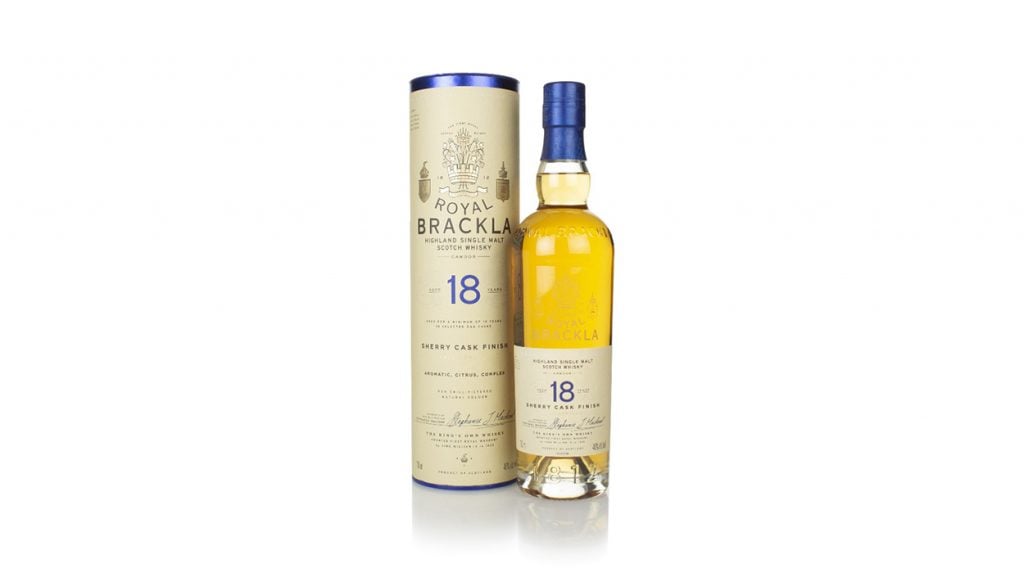 Nose: Lemon peel, dried apricot, salted caramel and almond flakes atop cherry Bakewells lead in a fresh, fragrant and complex nose. Sour apple cubes, acacia honey, rich fruit and a touch of pencil shavings develop with sherried spice (cinnamon mostly), subtle leather and tobacco as well as plenty of that grassiness in tow.
Palate: Orange sherbet, raisins and a flicker of aromatic baking spice is balanced by Conference pears, vanilla, rhubarb and apple crumble and herbal tea. In the backdrop, there's some hazelnuts as well as honeyed, waxy and grassy undertones. 
Finish: Refined, citrusy and delicately spicy with a teaspoon of cacao powder thrown in for good measure.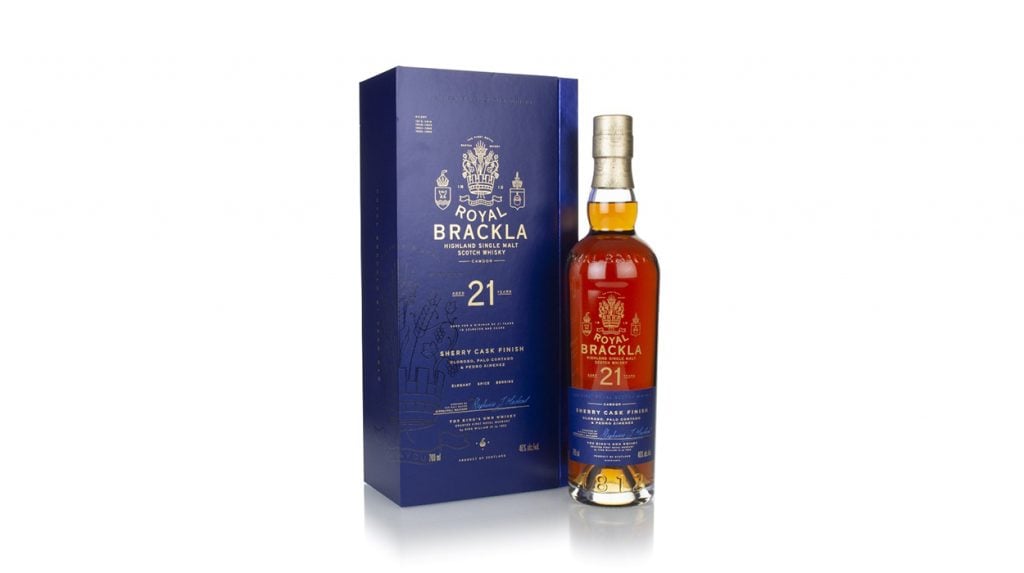 Nose: Caramel, blackcurrant jam and stewed fruits kick things off with demerara sugar, dark chocolate, antique wood and manuka honey close behind. Rich and sherried but still supple and delicate, the nose also reveals soaked sultanas, Christmas cake, orange peel, dried grass, walnut, star anise and a touch of peppermint.
Palate: A breezy start, with dried, syrupy fruits, fragrant citrus and pine needle freshness taking hold initially before things become deeper and bolder as the palate develops. The fruits are ripe but darker, there's chocolate ice cream, treacle toffee, liquorice and some salinity too. Throughout there are hints of fruit cake, apricot, black tea and some of that bright acidity keeping the energy going. 
Finish: More stewed fruits, sherried fruit and a dusting of muscovado sugar.