It's day nine of our countdown to Christmas with Drinks by the Drams Advent calendars. Today, we're tasting Ron Santiago de Cuba 11 Years Old Añejo Superior and knocking up a delicious rum-based cocktail too.
It's 9 December which means that you have 14 shopping days to go until Christmas. Maybe less if you're shopping online. Sorry, fewer, before the grammar patrol writes in. You know who you are. Anyway, not long to go now. It's easy buying for my father because he just likes a nice bottle of whisky, but whenever I ask my mother she says, "I could really do with a new spoon." But I want to get her something a bit more exciting. Any suggestions gratefully received.
Anyway, it's day nine of advent, and today we're delving into Drinks by the Dram Rum Advent Calendar (still not too late to buy one) and pulling out a delicious rum from Cuba that's a bit of a mouthful. Take a deep breath, it's Ron Santiago de Cuba 11 Years Old Añejo Superior.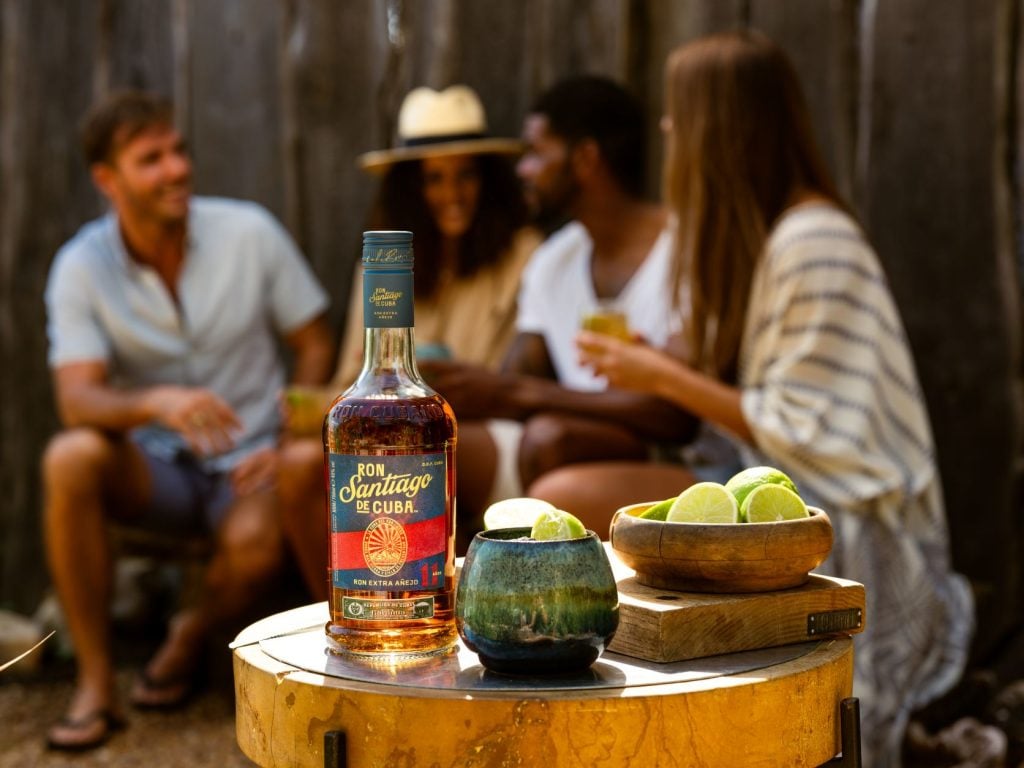 The Cuban rum story
Cuba is such a rum powerhouse these days that it's hard to imagine that, back in the early 19th century, the island was not famous for the quality of its spirits. Part of the reason is that the Spanish who ruled Cuba until 1898 wanted their colonies to be markets for home-grown goods like brandy and wine so discouraged them from making high quality products. It was a different story in Jamaica and Barbados which were exporting highly-prized rum to Britain and the world as early as the 18th century. But then again Britain didn't have a wine industry to protect. 
They may have started slowly, but the Cubans quickly caught up. First there was Bacardi which was founded in 1862. The firm pioneered a light smooth style of rum, perfect in cocktails like the Daiquiri. It was quickly followed by Santiago de Cuba which was founded in… Santiago de Cuba! Following nationalisation under the Castro regime, production moved to the Matusalem distillery in the Sierra Maestra region. A variety of rums are produced under the Santiago de Cuba label including a Blanco and aged expressions like the snappily-named Ron Santiago de Cuba 11 Years Old Añejo Superior.
It's made with molasses and distilled in a column which produces a high strength elegant spirit. In this case it spends a minimum of 11 years in American oak casks. As you might imagine, the government rum monopoly has sizeable stocks to choose from. The result is a smooth, almost Cognac-style rum that will appeal to lovers of Latin American rums. But unlike some from South America, Cuban rum tends not to be sweetened.
How to make a Palmetto
We love drinking it neat out of a sherry copita like you would a nice brandy but with its smooth but rich flavours, it's a great mixer in simple cocktails. It's particularly good in a Palmetto, which is a bit like a rum Manhattan but uses a 50:50 ratio. We're making it straight up but it would also be delicious served on the rocks. 
35ml Ron Santiago de Cuba 11 Years Old Añejo Superior
35ml Agora Rosso Vermouth
2 dashes Angostura Orange Bitters
Add all the ingredients to an ice-filled shaker or jug, stir for a minute and strain into a chilled coupe or Martini glass. Garnish with an orange twist.
Grilled pineapple, dusted with cinnamon and cumin. Black pepper develops. Green banana, caramel and perhaps a touch of sherry.
We'll be back tomorrow with another advent dram. Cheers!